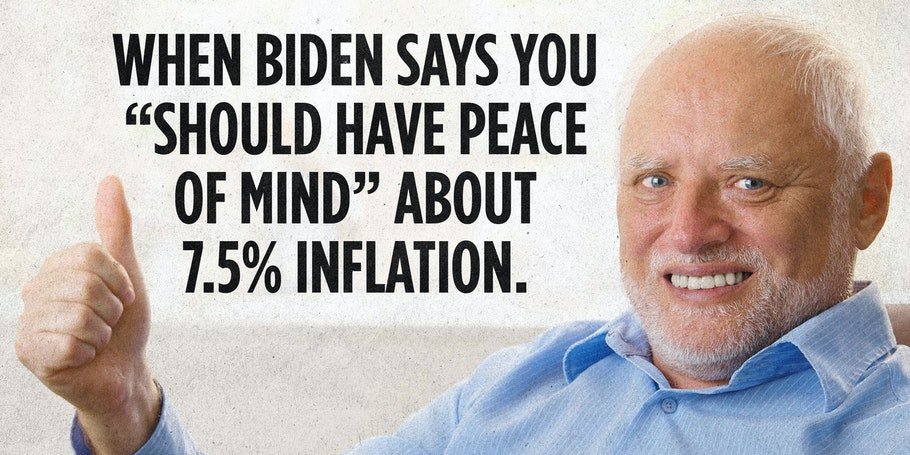 Inflation Is a Biden-Caused Disaster
By NATE JACKSON February 11, 2022 in Economy
Prices are up 7.5% since Scranton Joe took the helm, and if he has his way they'll go even higher
"We're in a situation now where, uh, um, you know, you should have peace of mind." —Joe Biden on inflation
We don't know about you, dear reader, but we absolutely do not have peace of mind knowing that everything we buy — if we can find it — costs significantly more than when Biden took office. Heck, everything costs a lot more than when he dismissively asserted last July that "no serious economist" believed all these price increases were anything but "temporary," all while bragging that he'd saved you 16 cents on a cookout.
In his Inaugural Address, which was all about his phony efforts to promote "unity," he never once uttered the word "economy." Perhaps that was for the best because all he's done in the last 12 months is hamper what otherwise would have been a roaring recovery.
The Labor Department reported yesterday that inflation over the last year is, as a whole, up 7.5%. That's yet another four-decade high, and a troublingly fast increase over December's 7% annualized rate. It's been above 5% now for the last eight months.
Real wages, meanwhile, declined 1.7%.
Food prices are up 7%, fast food is 8% higher, and meat alone is 12.2% more expensive.
Electricity is up 10.7%, natural gas is up 23.9%, and gasoline is up 40%. Energy prices overall are 27% higher since President Unity came to destroy what Donald Trump had done to boost the energy sector.
These items are a major part of most family budgets, which is why the latest analysis from Moody's Analytics says that the average family is spending $276 more per month than a year ago. "A lot of people are hurting because of high inflation. $276 a month — that's a big burden," said Moody's economist Ryan Sweet. "It really hammers home the point of 'what is the cost of inflation?'"
On the other hand, if you're looking for big-ticket items like a house or apartment, or a new or used car, you can only laugh and shake your head at $276. Used cars are up an astonishing 40% since last year. New cars, if you can find one, are 12.2% more expensive. Housing costs 25% more, again if you can find a place to buy or rent.
Why blame Biden? To be sure, the blame extends back before he became president. Government wrongly shut everything down for the pandemic, crushing the economy. Politicians then "came to the rescue," throwing out gobs of money to cover the costs of those government-imposed shutdowns. Our total debt now sits at an eye-popping $30 trillion because politicians rushed to add $6 trillion in debt with so-called COVID relief.
For perspective, that $6 trillion is more debt than was accumulated by every American president through Bill Clinton. And it only took a little more than a year, with the capstone being Biden's inflation-driving so-called "American Rescue Plan," which bombed your family budget.
Thus, "nothing in the January [inflation] report should be shocking," concludes the Wall Street Journal editorial board. "This is what happens when the government massively expands the money supply and over-stimulates demand."
One Democrat understands that. You guessed it — Joe Manchin. "For months, I have been ringing the alarm bell about inflation," which he rightly called a "tax." Now, Manchin's no conservative despite his attempts to sound like one in West Virginia (Trump by 39 points). But he did successfully torpedo Biden's "Build Back Better" plan, which would have spent another $5 trillion or so over 10 years.
Other Democrats are still pushing for chunks of that massive package to be spent, primarily on fighting climate change. If you think energy prices are expensive after a year of Biden regulating the industry and killing pipelines, just wait until the Green New Deal becomes reality.
In short, Biden isn't governing as a centrist with unity or economic growth in mind. He's running the show like a radical leftist bent on shaming Bernie Sanders. As long as Democrats are busy growing government, prices for consumer goods and services are going to grow right along with it. To say we should have "peace of mind" about that is an insult to our intelligence.
~~~
~~Reprinted with permission. See the original article here and leave some comments! 
By NATE JACKSON February 11, 2022 in Economy Prices are up 7.5% since Scranton Joe took the helm, and if he has his way they'll go even higher "We're in a situation now where, uh, um, you know, you should have peace of mind." —Joe Biden on inflation We don't know about you, dear reader,…
By NATE JACKSON February 11, 2022 in Economy Prices are up 7.5% since Scranton Joe took the helm, and if he has his way they'll go even higher "We're in a situation now where, uh, um, you know, you should have peace of mind." —Joe Biden on inflation We don't know about you, dear reader,…