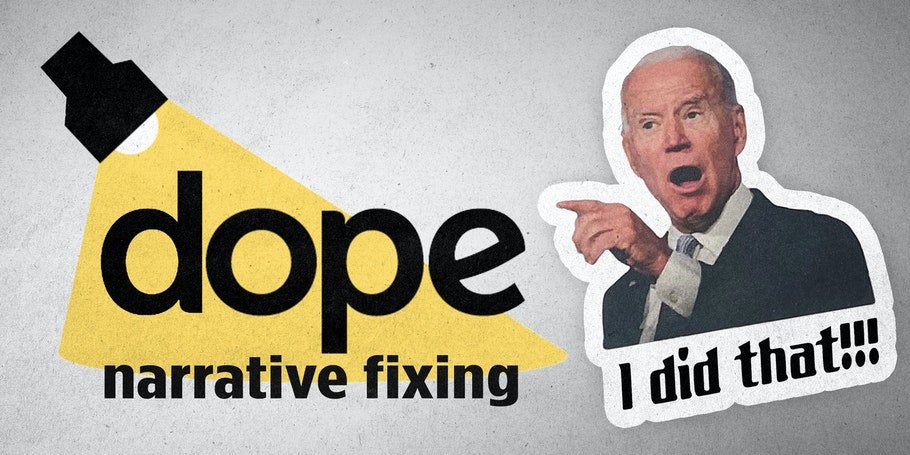 Smokin' Joe Courts the Crack Vote
By DOUGLAS ANDREWS February 11, 2022 in LeftMedia
Despite the best efforts of their "fact-checkers," the Biden administration was caught red-handed.
It's perhaps a sign of the times that Joe Biden is now trying to shore up the crack vote, and that his fact-checking legions have been reduced to defending as much. It seems like only a year ago that he and his fellow Democrats had high hopes for his presidency, for his glorious displacement of the Bad Orange Guy, and for his vows to unify our country and, uh, return it to normalcy.
All this began Monday, when a Washington Free Beacon story detailed how the Biden administration will use a $30 million grant program to fund smoking kits intended to limit the spread of disease among users of drugs such as crack cocaine and crystal meth. ("Meth is short for "methamphetamine," for those of you who think, as we do, that a one-hitter is a well-pitched ballgame.)
What's more, as the Beacon notes, "Applicants for the grants are prioritized if they treat a majority of 'underserved communities,' including African Americans and 'LGBTQ+ persons,' as established under President Joe Biden's executive order on 'advancing racial equity.'"
Because, of course, nothing says "normalcy" like free crack pipes, and nothing advances "racial equity" like rampant drug addiction.
Predictably, the narrative-fixing "fact-checkers" came racing to the barricades — first among them, the hard-left obfuscationists at Snopes. As Fox News reports, "Snopes … was mocked by critics this week for rating reporting on the Biden administration's alleged funding of crack pipe distribution to drug users as 'mostly false,' while also admitting that 'safer smoking kits' were required to be distributed as part of a Department of Health and Human Services (HHS) grant."
The National Review headline was even closer to the mark: "Snopes Confirms Biden Admin Crack-Pipe Story, Gives Story a 'Mostly False' Rating."
Actually, the translation from Snopespeak is quite simple. When these "fact-checkers" decree something to be "mostly false," they mean "irrefutably true." In any case, having deservedly made itself the butt of some great jokes, Snopes nimbly adjusted its rating to "Outdated," which, again in Snopespeak, means, "Yes, we were caught lying, but move along, there's nothing to see here."
As the Free Beacon's Patrick Hauf notes: "The federal government is denying pipes are in the 'smoking kits.' More than 48 hours after the story was published. I was previously told by HHS the kits are used to smoke crack." And, unfortunately, HHS itself lists "safe smoking kits/supplies" among the "purchase equipment eligible for the program."
Game. Set. Match.
Jen Psaki, though, who's Joe Biden's press secretary and, by definition, the hardest-working liar in Washington, gamely defended her boss: "They were never a part of the kit," she said, overwhelming evidence to the contrary be damned. "It was inaccurate reporting. We want to put out information to make that clear."
Oh, it's clear all right.
Republicans, to their credit, aren't taking this lying down. Or lying in a bathtub like Hunter Biden. Indeed, GOP senators have proposed a roadblock to the Democrats' goal of creating more crack addicts and thereby more Biden voters. How so? By putting forth "The Cutting off Rampant Access to Crack Kits (CRACK) Act." The bill, which was introduced Thursday by Florida's Marco Rubio, would ban a pandemic relief program from funding the distribution of crack pipes and other drug paraphernalia.
It's not a laughing matter, but it's not a stretch to say that a person would have to be on crack to vote for the Democrats these days. And perhaps that's precisely the point.
~~~
~~Reprinted with permission. See the original article here and leave some comments! 
By DOUGLAS ANDREWS February 11, 2022 in LeftMedia Despite the best efforts of their "fact-checkers," the Biden administration was caught red-handed. It's perhaps a sign of the times that Joe Biden is now trying to shore up the crack vote, and that his fact-checking legions have been reduced to defending as much. It seems like…
By DOUGLAS ANDREWS February 11, 2022 in LeftMedia Despite the best efforts of their "fact-checkers," the Biden administration was caught red-handed. It's perhaps a sign of the times that Joe Biden is now trying to shore up the crack vote, and that his fact-checking legions have been reduced to defending as much. It seems like…