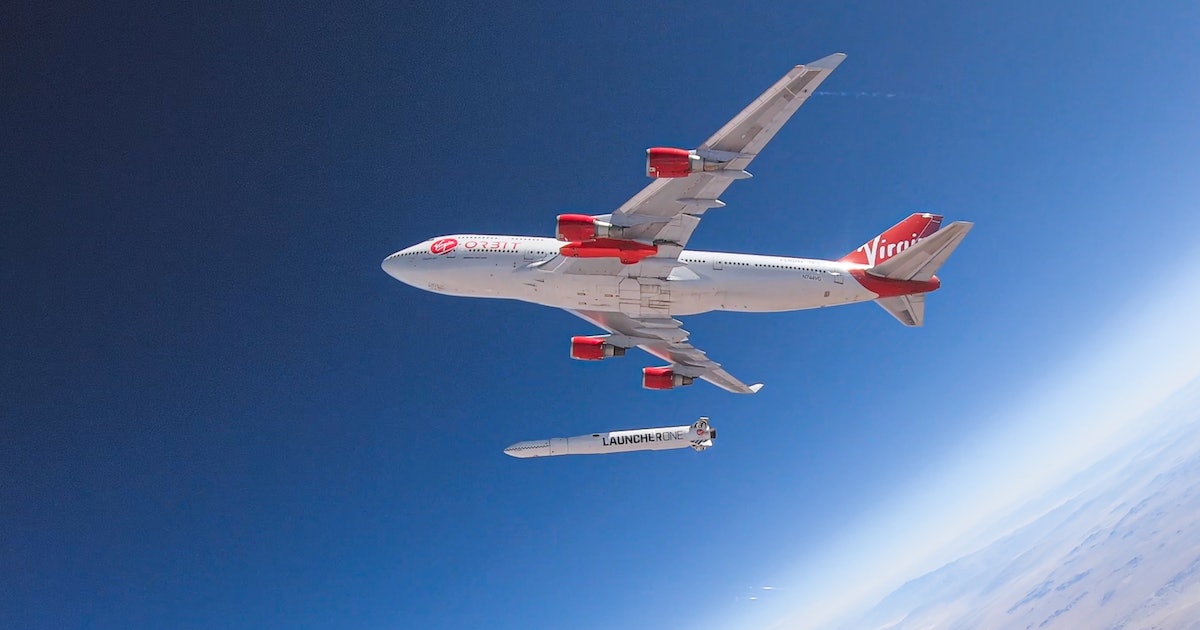 The historic mission fizzles out
Today, U.S. companies largely call the shots in the private space industry — but that could soon change. Entrepreneurs from around the world hope to catch up, including British billionaire Richard Branson. He founded the massive Virgin Group, which began as a mail-order record retailer in 1970 and has more recently set its sights on British space domination.
In 2004, Branson started Virgin Galactic, a spaceflight venture that sends tourists on rocket-powered planes to the edge of space. Over a decade later, he formed an aircraft engineering company called Virgin Orbit to shoot small satellites into orbit.
Virgin Orbit's latest move isn't going as planned: On January 10, what would become the first satellite mission from European soil failed to launch aimed to deliver satellites from commercial and government customers into low-Earth orbit on the LauncherOne rocket. The launch event, which included a silent disco tent, drew over 2,000 spectators.
The Start Me Up mission started well: A modified jumbo jet took off from Newquay in southwest England and successfully released LauncherOne at about 35,000 feet above the Atlantic Ocean. But a technical failure abruptly halted the mission just as the rocket was flying more than 11,000 miles per hour. U.K. air accident investigators are now trying to figure out what went wrong.
"Though the mission did not achieve its final orbit, by reaching space and achieving numerous significant first-time achievements, it represents an important step forward," Virgin Orbit wrote in a press release.
What is Virgin Orbit?
Branson founded Virgin Orbit in 2017 to offer launch services for small satellites. The company's LauncherOne rocket measures 70 feet long, can carry payloads weighing up to about 1,100 pounds, and provides 80,000 pounds of thrust.
Virgin Orbit has also repurposed a Boeing 747 plane called Cosmic Girl to carry LauncherOne under its wing and fire the rocket into space, an unusual tactic for satellite missions.
Virgin Orbit has completed six missions. All previous missions took off from the company's U.S. location in California's Mojave Desert, including a launch demonstration in 2021 that sent 10 payloads to orbit for NASA's Launch Services Program. The January 10 mishap marks its second launch failure.
How can I watch the Virgin Orbit launch?
You can watch the January 10 launch attempt here on YouTube. It isn't clear when Virgin Orbit will reattempt the mission.
When is the next Virgin Orbit launch?
While the next launch date remains unknown, Virgin Orbit needs to source another LauncherOne from the U.S. and find more satellites to carry. "Hopefully the latter won't be a problem, as there is always high demand for launch slots," said Lucinda King, space project manager at the University of Portsmouth in England, in a press statement sent to reporters.
Virgin Orbit is now working with "key government and commercial stakeholders in the U.K. to start planning mission opportunities for as soon as later this year," according to a company statement.
More broadly, we can expect more U.K. launches in the future — companies are now planning sites around the country. In Scotland, the SaxaVord and Sutherland spaceports will compete to host the first vertical rocket launch "sometime this year," King said.
Which country will launch a satellite from Europe first?
Virgin Orbit isn't the only European enterprise trying to launch a satellite this year. The Norweigan aerospace company Andøya Space soon plans to begin using its spaceport on an island off the country's coast. And on January 13, the Swedish Space Corporation will kick off operations at the frosty Spaceport Esrange (which sits north of the Arctic Circle).
Now, only time will tell which European country will make space history.
Today, U.S. companies largely call the shots in the private space industry — but that could soon change. Entrepreneurs from around the world hope to catch up, including British billionaire Richard Branson. He founded the massive Virgin Group, which began as a mail-order record retailer in 1970 and has more recently set its sights on…
Today, U.S. companies largely call the shots in the private space industry — but that could soon change. Entrepreneurs from around the world hope to catch up, including British billionaire Richard Branson. He founded the massive Virgin Group, which began as a mail-order record retailer in 1970 and has more recently set its sights on…