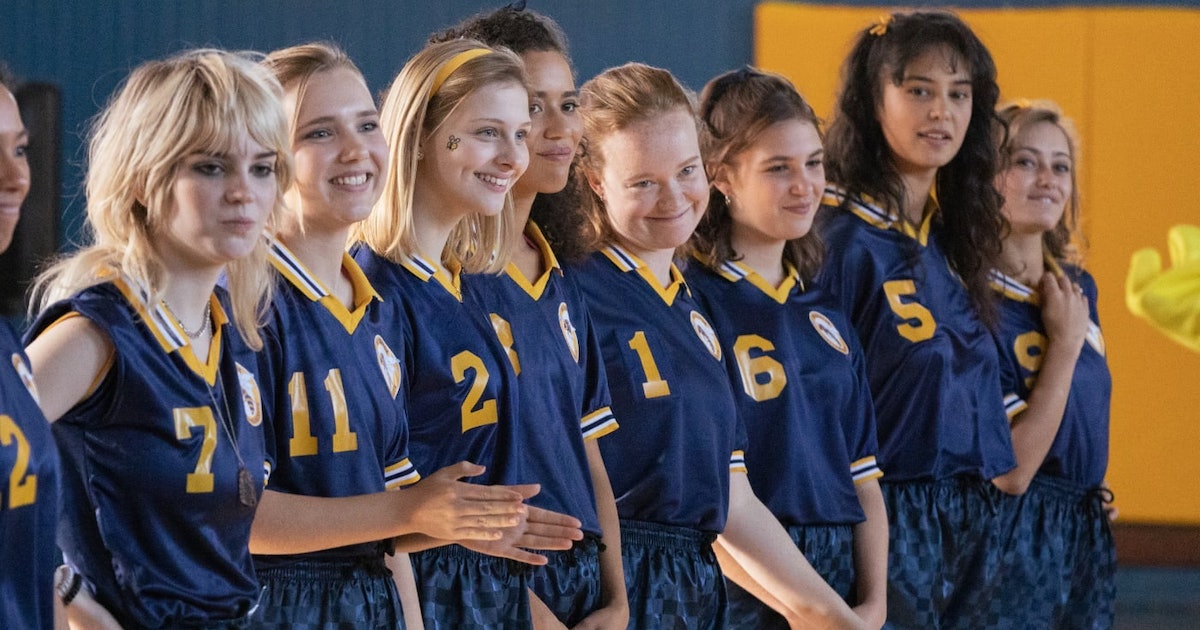 'Yellowjackets' Season 2 release date, cast, trailer, and plot for the teen thriller show
The buzziest show of 2022, Yellowjackets, is a cross between Lost, Lord of the Flies, Dark, The Wilds, and Pretty Little Liars. The psychological thriller and teen horror, which jumps back and forth between a present-day timeline and one in the '90s, tells the story of a team of New Jersey high school soccer players going to disturbing lengths to survive after their plane crashes deep in the Canadian forestland.
Not much can be said about the Showtime TV series, co-created by Ashley Lyle and Bart Nickerson, without spoiling all of its screwed-up secrets. But Yellowjackets' dose of survivalist macabre, nasty mean girls, and wolf attacks captivated critics and audiences alike, and scored the show seven Primetime Emmy Award noms.
The series was renewed for a second season in December 2021, and just ahead of the second season, Yellowjackets fans were gifted a third season renewal last month. Here's everything we know so far about Yellowjackets Season 2…
Spoilers ahead for Yellowjackets Season 1.
What is the Yellowjackets Season 2 release date?
Showtime announced that the Yellowjackets Season 2 premiere will be March 24, 2023 for Showtime subscribers, two days before airing for the rest of the world on the network's channel (March 26). It isn't clear yet what the episode count will be for Season 2, but we can assume it'll be 10 episodes like the show's first installment.
Who is in the Yellowjackets Season 2 cast?
There were a couple of distressing deaths in Season 1— Jackie (Ella Purnell) froze, Adam (Peter Gadiot) was stabbed, Travis (Andres Soto) may have been murdered as part of a cult ritual, Laura Lee (Jane Widdop) flew too close to the sun, and Biscuit (the dog) didn't deserve to become a victim of the occult.
But that leaves us with most of the ensemble cast — the promising teen soccer stars and their broken adult versions — as well as some exciting new additions.
Melanie Lynskey and Sophie Nélisse as Shauna
Tawny Cypress and Jasmin Savoy Brown as Taissa
Juliette Lewis and Sophie Thatcher as Natalie
Christina Ricci and Samantha Hanratty as Misty
Lauren Ambrose (joining) and Liv Hewson as Van
Simone Kessell (joining) and Courtney Eaton as Lottie
Warren Kole and Jack DePew as Jeff
Alex Wyndham and Charlie Wright as Kevyn
Tonya Cornelisse and Pearl Amanda Dickinson as Allie
Rekha Sharma as Jessica Roberts
Steven Krueger as Ben Scott
Kevin Alves as (young) Travis
Luciano Leroux as (young) Javi
Mari as Alexa Barajas
Rukiya Bernard as Simone Abara
Sarah Desjardins as Callie Sadecki
Nuha Jes Izman joining as Crystal
Nia Sondaya joining as Akilah
François Arnaud joining as Paul
Nicole Maines joining as Lisa
Elijah Wood joining as Walter
Jason Ritter joining in an undisclosed role
Is there a Yellowjackets Season 2 trailer?
Not yet! But there is, however, a Yellowjackets Season 2 teaser that has a couple of creepy visuals, including the sight of the cabin covered in snow (where we last saw the girls find Jackie blanketed by ice), a girl slicing open her palm (as if about to perform a "blood brothers" pact), and that mysterious stick figure symbol that popped up everywhere in Season 1.
What is the plot of Yellowjackets Season 2?
The last three episodes of Yellowjackets Season 1 had a slew of shocking reveals.
In the 1996 timeline:
Coach Ben reveals that he is gay.
Laura dies in the plane she managed to get momentarily airborne— before it explodes.
The group is "accidentally" intoxicated by hallucinogenic mushrooms (dropped in a recipe cooked up by Misty) during their "Doomcoming" party.
The girls try to rape Travis; Lottie tries to slash Travis' throat with the aid of Shauna before Natalie can stop her.
Van becomes increasingly obsessed with the idea that Lottie has supernatural abilities, because Lottie was able to calm down and kill a bear, successfully ripping out its heart and offering it up as a dark tribute to the wilderness.
Javi goes missing.
Jackie freezes to death.
In the 2021 timeline:
Taissa has been eating dirt and becoming an almost feral person at night. She is scared of hurting her son.
Jeff reveals he and his friend Randy were blackmailing the group because his furniture store was going out of business. He was not having an affair. Shauna admits that she was having an affair, and that she killed Adam. They devise a plan. Shauna convinces Taissa, Misty, and Natalie that Adam was the blackmailer, not Jeff.
Misty poisons Jessica.
Lottie withdrew all of the money from Travis' bank account after his (staged) suicide.
A mysterious group — which included a ginger that looked like an adult Van — kidnaps Natalie.
Taissa wins the Senate race, maybe with the help of a sacrificial offering. Her wife, Simone, finds the decapitated head of Biscuit, Sammy's doll, and a heart in a hidden cell of their basement.
It's unclear what zaniness the creators and writers of Yellowjackets have concocted for Season 2, but there are plenty of mysteries to unravel and loose ends to tie up from Season 1. What happens to Shauna and Jeff's baby? Along with the cannibalism that was hinted at throughout Season 1, was there witchcraft that happened in the woods? Does Lottie run a cult in her adult life, and is Van a part of it? Was Adam Javi, or is Javi still out there? Is Coach Ben still alive? And so on…
Yellowjackets fans have much to look forward to upon the return of the twisted and terrifying world of teenage people eaters and traumatized suburban moms.
The buzziest show of 2022, Yellowjackets, is a cross between Lost, Lord of the Flies, Dark, The Wilds, and Pretty Little Liars. The psychological thriller and teen horror, which jumps back and forth between a present-day timeline and one in the '90s, tells the story of a team of New Jersey high school soccer players…
The buzziest show of 2022, Yellowjackets, is a cross between Lost, Lord of the Flies, Dark, The Wilds, and Pretty Little Liars. The psychological thriller and teen horror, which jumps back and forth between a present-day timeline and one in the '90s, tells the story of a team of New Jersey high school soccer players…