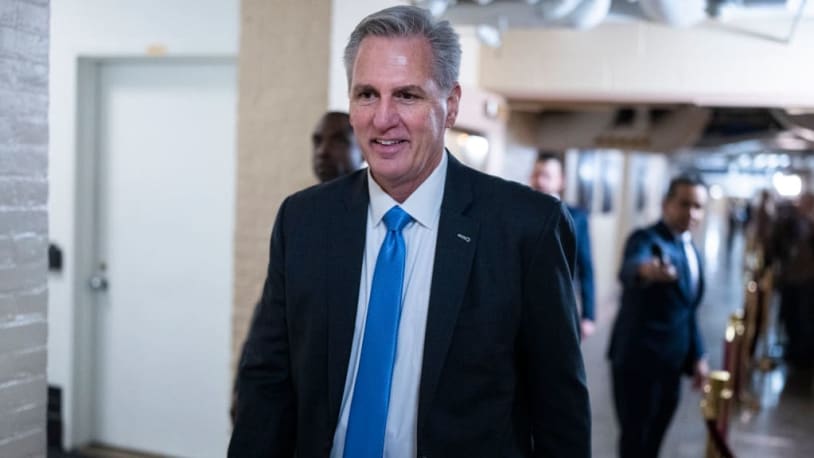 House approves rules package | The Week
The House of Representatives narrowly passed a rules package that was put together after House Speaker Kevin McCarthy (R-Calif.) made concessions to ultra-conservative members of the House Freedom Caucus in order to gain enough votes to be elected speaker.
The 220-213 vote was almost entirely along party lines, with one Republican, Rep. Tony Gonzales of Texas, joining Democrats to oppose the package. Gonzales said he is worried that because McCarthy agreed to spending changes, this could lead to major cuts to the defense budget, which is "a horrible idea."
These are the rules that the 118th Congress will operate under, and include the Holman rule, which makes it harder for lawmakers to raise the debt limit and allows them to use spending bills to fire federal officials and defund programs.
It's still not clear everything that McCarthy promised in exchange for votes; The New York Times notes that some of the concessions made, like letting right-wing conservatives have seats on the panel that chooses which bills can be considered on the House floor, were not in the package, having been negotiated during private meetings.
In a letter to constituents, Rep. Nancy Mace (R-S.C.) wrote that she can't "think of anything more 'swampy' than a member of Congress who tells the American people they're holding up the speaker vote because they're 'fighting' the 'swamp' only to broker some back-room deal, hidden away from the American people." Rep. Jim McGovern (D-Mass.) shared her sentiment, saying he was "concerned about the back-room deals that Speaker McCarthy made with the Freedom Caucus in exchange for their votes."
The House of Representatives narrowly passed a rules package that was put together after House Speaker Kevin McCarthy (R-Calif.) made concessions to ultra-conservative members of the House Freedom Caucus in order to gain enough votes to be elected speaker. The 220-213 vote was almost entirely along party lines, with one Republican, Rep. Tony Gonzales of…
The House of Representatives narrowly passed a rules package that was put together after House Speaker Kevin McCarthy (R-Calif.) made concessions to ultra-conservative members of the House Freedom Caucus in order to gain enough votes to be elected speaker. The 220-213 vote was almost entirely along party lines, with one Republican, Rep. Tony Gonzales of…