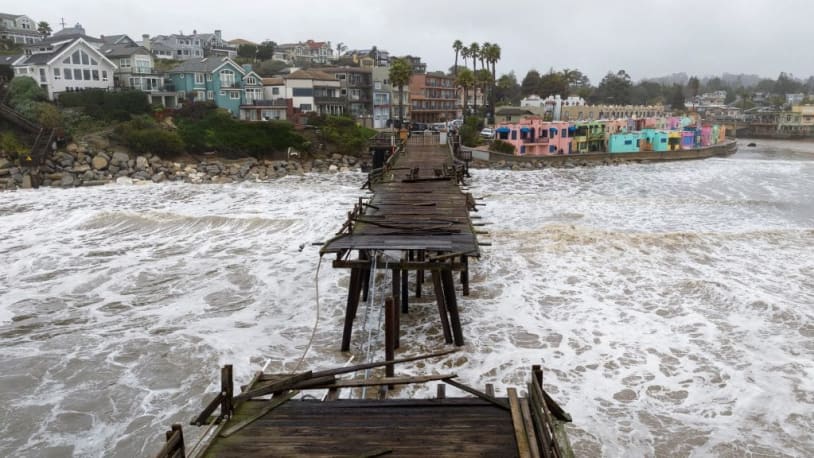 Another severe winter storm hits California, forcing evacuations
A powerful winter storm is bringing heavy rains to California, forcing the evacuation of Montecito five years to the day after mudslides swept through the town, killing 23 people and destroying 130 houses.
The atmospheric river is "draped along the central coast," UCLA climate scientist Daniel Swain told the Los Angeles Times, with downpours happening from Monterey County to Santa Barbara County. In less than 12 hours, Montecito has received "more than 8 inches of rain, with 7 to 8 inches still forecast to fall," Montecito Fire Chief Kevin Taylor told reporters on Monday afternoon. The decision to order evacuations came as creeks in Montecito started to overflow and several roads flooded.
This is the latest storm to hit California, where about 90 percent of the state is under a flood watch. In the last week, some parts of California have seen up to 8 inches of rain, and Swain said this is "just the middle of what has already been a very wet and active pattern — and what is expected to be one, really, for at least another week or so." Since the end of December, at least 12 Californians have died in storm-related incidents, with California Emergency Services Director Nancy Ward saying that floods "kill more individuals than any other natural disaster."
Gov. Gavin Newsom (D) is asking Californians to be cautious while on the road and avoid standing water. "Just a foot of water and your car's floating," he said. "Half a foot of water, you're off your feet. Half foot of water, you're losing control of your vehicle. We're seeing people go around these detours because they don't see any obstacles — they think everything is fine, and putting their lives at risk or putting first responders lives at risk."
A powerful winter storm is bringing heavy rains to California, forcing the evacuation of Montecito five years to the day after mudslides swept through the town, killing 23 people and destroying 130 houses. The atmospheric river is "draped along the central coast," UCLA climate scientist Daniel Swain told the Los Angeles Times, with downpours happening…
A powerful winter storm is bringing heavy rains to California, forcing the evacuation of Montecito five years to the day after mudslides swept through the town, killing 23 people and destroying 130 houses. The atmospheric river is "draped along the central coast," UCLA climate scientist Daniel Swain told the Los Angeles Times, with downpours happening…