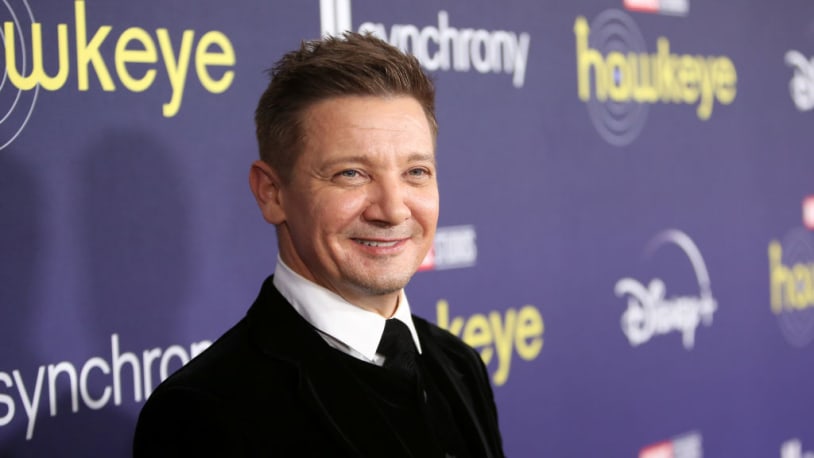 Jeremy Renner has '30 plus broken bones' after snow plow accident
Marvel star Jeremy Renner has provided an update on his recovery following a horrific snow plow accident, which left him with dozens of broken bones. 
The Hawkeye actor shared a new photo of himself on Instagram undergoing physical therapy about three weeks after he was left in critical condition following an accident while plowing snow.
"These 30 plus broken bones will mend, grow stronger, just like the love and bond with family and friends deepens," Renner wrote, revealing the extent of his injuries for the first time. He also thanked fans for "their messages and thoughtfulness." 
Renner was seriously injured over New Year's weekend after he was run over by his own snowplow, which weighed over 14,000 pounds. The actor suffered "blunt chest trauma and orthopedic injuries" and had to undergo multiple surgeries; during a 911 call, the caller says the actor was "crushed" and that there was "a lot of blood," per NBC News. 
He previously thanked his medical team for "beginning this journey" with him. In a tweet on Jan. 16, Renner also revealed he was able to return home, where he was watching the premiere of his show Mayor of Kingstown with his family.  
Renner's Marvel co-stars continued sending him well-wishes after his latest update, with Thor star Chris Hemsworth writing, "[You're] a champion mate! We love you." Captain America star Chris Evans also remarked that Renner is "one tough mf'er" and jokingly asked, "Has anyone even checked on the snowcat???" 
"Love you brother," Renner wrote back. "I did check on the snow cat, she needs fuel." 
Marvel star Jeremy Renner has provided an update on his recovery following a horrific snow plow accident, which left him with dozens of broken bones.  The Hawkeye actor shared a new photo of himself on Instagram undergoing physical therapy about three weeks after he was left in critical condition following an accident while plowing snow. "These…
Marvel star Jeremy Renner has provided an update on his recovery following a horrific snow plow accident, which left him with dozens of broken bones.  The Hawkeye actor shared a new photo of himself on Instagram undergoing physical therapy about three weeks after he was left in critical condition following an accident while plowing snow. "These…