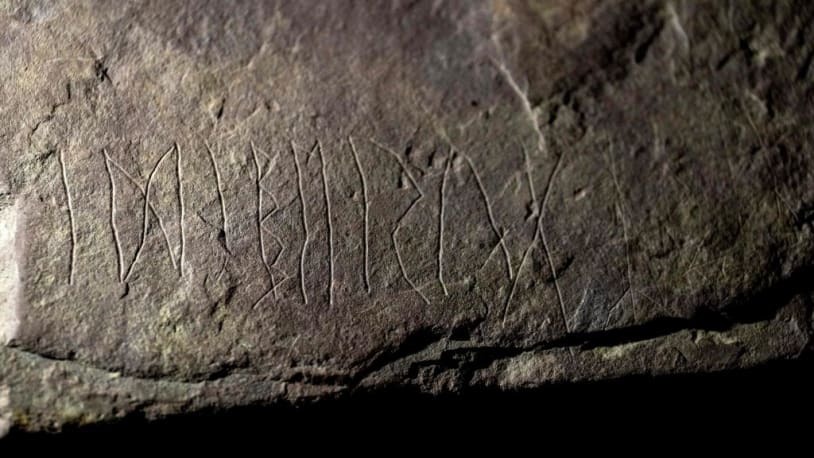 See the 2000-year-old rune archeologists just discovered in Norway
Archeologists in Norway have found what is believed to be the world's oldest rune, with inscriptions dating back approximately 2,000 years. The etchings on the brown, sandstone rock are "among the oldest runic inscriptions ever found" according to the Museum of Cultural History in Oslo. They are the earliest recording of written words in Scandinavia. 
While runes have been found on other items like bones, "This may be one of the first attempts to use runes in Norway and Scandinavia on stone," explains Kristel Zilmer, a professor at the University of Oslo. "The text possibly refers to a woman called Idibera and the inscription could mean 'For Idibera'," Zilmer also said. However, as rune language changed substantially over time, "not all inscriptions have a linguistic meaning." 
The rune was found in fall 2021 in a grave excavation west of Oslo, reports The Associated Press. There is speculation that the rune could be for a person buried in the grave, according to Science Norway, especially since the excavation also revealed bones and charcoal. It comes from the Iron Age and was likely inscribed between A.D. 1 and 250. 
The stone is still being studied and analyzed by experts but will be exhibited for one month at the Museum of Cultural History starting Jan. 21.
"Having such a runic find fall into our lap is a unique experience and the dream of all runologists," Zilmer remarked. "Without doubt, we will obtain valuable knowledge about the early history of runic writing." 
Archeologists in Norway have found what is believed to be the world's oldest rune, with inscriptions dating back approximately 2,000 years. The etchings on the brown, sandstone rock are "among the oldest runic inscriptions ever found" according to the Museum of Cultural History in Oslo. They are the earliest recording of written words in Scandinavia.  While runes…
Archeologists in Norway have found what is believed to be the world's oldest rune, with inscriptions dating back approximately 2,000 years. The etchings on the brown, sandstone rock are "among the oldest runic inscriptions ever found" according to the Museum of Cultural History in Oslo. They are the earliest recording of written words in Scandinavia.  While runes…