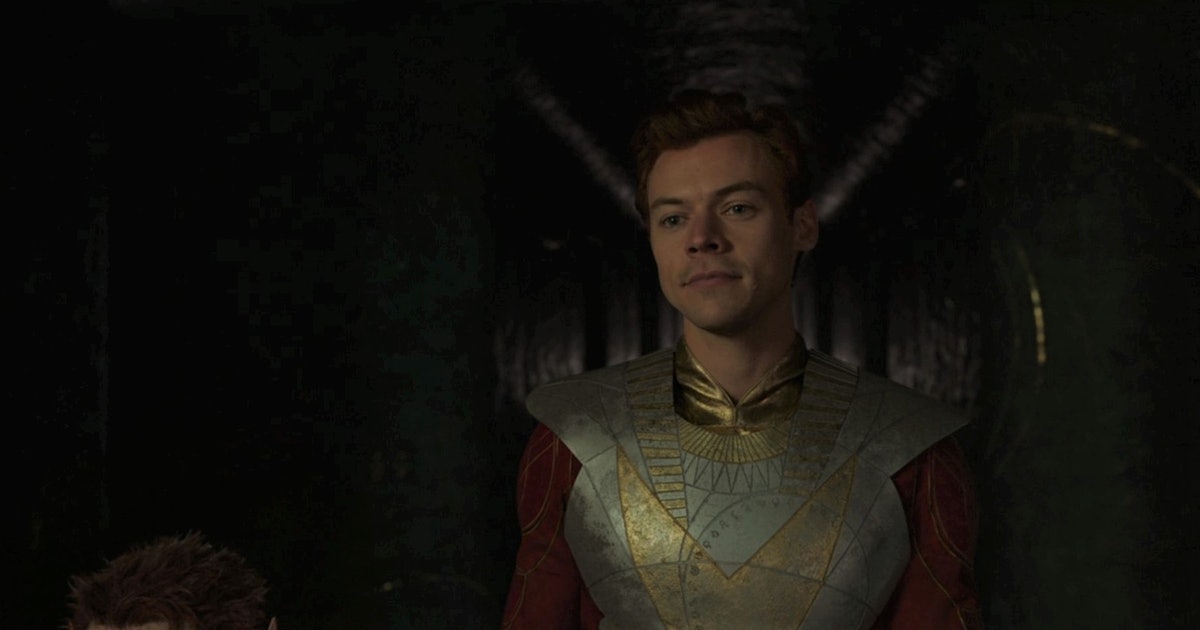 Harry Style's Eros is returning to the MCU — but why?
Over a year ago, pop megastar Harry Styles strutted into the post-credits tag of the Marvel movie Eternals. But the combination of two mighty cultural forces didn't lead to anything else, and fans are unsure when Eros, aka Starfox, will appear next.
In a new interview with Marvel Studios producer Nate Moore for the Deadline podcast series Crew Call, Moore plainly stated that the actor and singer will return as his hunky alien superhero — but he stopped short of revealing when, where, and even why.
"We didn't cast Harry for a tag," Moore said, adding there are "more stories to be told with that character."
Moore also mentioned Eros' background in Marvel comics, acknowledging that the MCU may one day unpack the fact that Eros is related to Thanos.
"He has an interesting connection with Thanos, they're half-brothers and share the same father," Moore said. "He's a complicated character, but a really fun character."
Complicated? Yes. Fun? Depends who you ask. For those not privy to the comic book side of Marvel, Eros is indeed the brother of Thanos. But while Thanos was a nihilistic conqueror, Eros had a reputation as an intergalactic womanizer.
Eros' powers include the ability to control emotions, which got him in legal hot water he seduced a married woman on Earth. During the trial, Eros hired Jennifer Walters, aka She-Hulk, to represent him. It just so happens they hooked up when they were both Avengers, which led She-Hulk to realize that Eros used his powers to manipulate both her and the woman battling him in court.
Basically, Eros is a sexual predator. Creator Jim Starlin said as much to Inverse in an interview last summer, describing him in unfavorable terms. "I have no idea what they're going to do with him," Starlin said. "I sort of left him as a sociopath, and he is sort of a sexual predator."
Eros' obscurity, even to most comic book fans, makes it easy for Marvel Studios to throw out the character's unsavory history and start fresh. But even if Eros isn't who he is in the comics, that still leaves the question of when he'll return, and for what.
When audiences first and last saw Eros, he let himself onto the Eternals' ship and offered to help the stranded heroes rescue Sersi (Gemma Chan), Kingo (Kumail Nanjiani), and Phastos (Brian Tyree Henry), who were whisked away by Arishem. Given Eternals' lukewarm reception and box office, it's unlikely there will be a direct sequel to address that plot point, though that story could still unfold in a yet-undetermined Phase Six Marvel project.
But then what does Marvel do with Eros? A superpowered space lothario can't just be shoehorned into the Avengers without ruining the dynamics that Marvel has been carefully building up, and he'd be even more out of place on the Young Avengers team that's slowly assembling. Some sort of minor role fighting against Kang's multiversal conquests seems more plausible, but the MCU's upcoming slate already feels overstuffed with potential characters and plot points.
For now, it's unclear how Marvel wants to use Eros, let alone when he'll return. It's hard to imagine a standalone movie centered on him no matter the star power of Harry Styles, but Marvel paid a pretty penny for Harry Styles, and they didn't hire him to sing "Watermelon Sugar" to beleaguered special effects artists. Hey, maybe he'll be in She-Hulk Season 2?
Over a year ago, pop megastar Harry Styles strutted into the post-credits tag of the Marvel movie Eternals. But the combination of two mighty cultural forces didn't lead to anything else, and fans are unsure when Eros, aka Starfox, will appear next. In a new interview with Marvel Studios producer Nate Moore for the Deadline…
Over a year ago, pop megastar Harry Styles strutted into the post-credits tag of the Marvel movie Eternals. But the combination of two mighty cultural forces didn't lead to anything else, and fans are unsure when Eros, aka Starfox, will appear next. In a new interview with Marvel Studios producer Nate Moore for the Deadline…