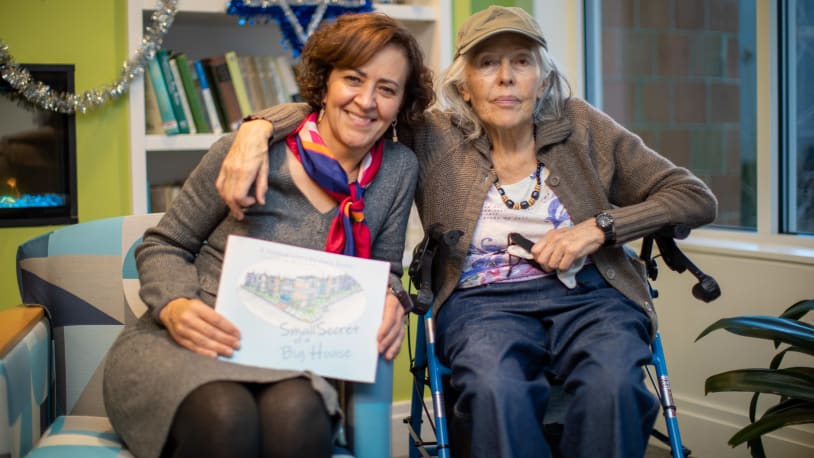 Author looking for an illustrator finds her thanks to a kitchen renovation
Ana Impellizeri and Nora Raikh have construction work to thank for their new creative partnership.
Impellizeri is the capital projects manager for 2Life Communities, an organization that provides affordable housing for seniors in the Boston area. Raikh lives at 2Life's Ulin House in Brighton, and when she was hesitant to let construction workers into her unit to renovate her kitchen, Impellizeri came to try to ease her concerns.
They started chatting, and Raikh shared that during the pandemic, she began writing children's stories about characters from Russian literature called Brownies. It was hard for Raikh to be isolated, and she "did this creative thing that kept her alive, that kept her afloat," Impellizeri said. Raikh had a manuscript for a book called Small Secrets of a Big House, and just needed an illustrator. It turns out that Impellizeri also enjoys writing children's stories and is an artist, and volunteered to draw the pictures.
Imepllizeri worked on the illustrations during her lunch breaks, and by December, they had a finished book. That month, they held a reading and book signing at Ulin House, and "Nora was so proud and happy, just radiant," Impellizeri said. Working with Raikh "opened up for me a new way of seeing our residents and the value of living in community," Impellizeri added. "I realized that reaching out to someone else can have a big impact."
Ana Impellizeri and Nora Raikh have construction work to thank for their new creative partnership. Impellizeri is the capital projects manager for 2Life Communities, an organization that provides affordable housing for seniors in the Boston area. Raikh lives at 2Life's Ulin House in Brighton, and when she was hesitant to let construction workers into her…
Ana Impellizeri and Nora Raikh have construction work to thank for their new creative partnership. Impellizeri is the capital projects manager for 2Life Communities, an organization that provides affordable housing for seniors in the Boston area. Raikh lives at 2Life's Ulin House in Brighton, and when she was hesitant to let construction workers into her…