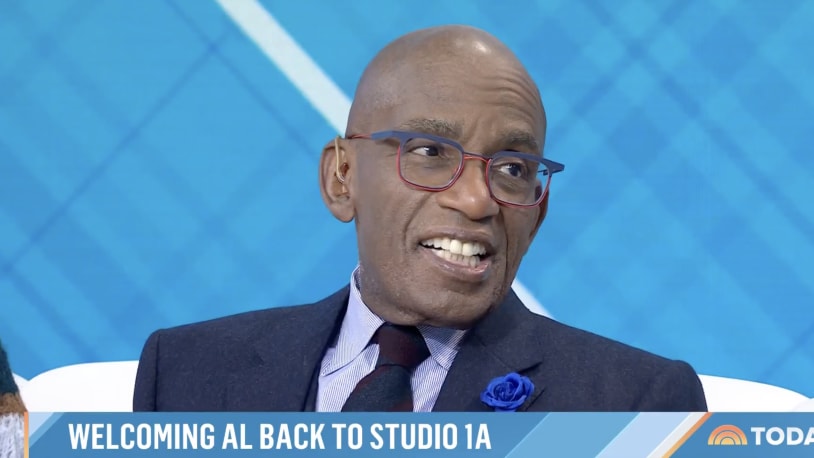 Al Roker returns to Today after losing 'half my blood' during 'life-threatening' hospitalizations
Al Roker has finally returned to the Today show after a "life-threatening" health scare. 
The weatherman was back in the morning show's studio on Friday for the first time in two months after being hospitalized twice since November. 
"My heart is just bursting," he said. "I'm just so thrilled to see all of you."
Roker revealed in November he had been absent from the show for the previous two weeks because he was hospitalized "with a blood clot in my leg which sent some clots into my lungs." He was released from the hospital in time for Thanksgiving but returned just one day later. 
Roker was joined Friday by his wife, Deborah Roberts, who said he is a "living, breathing miracle" because he was a "very, very, very sick man" and was a "medical mystery" to his doctors for several weeks. "It was the most tumultuous, frightening journey we have ever been on," she said, revealing she was concerned he might not "make it to Christmas."
Roker noted doctors believe his blood clots "came up after I had COVID" in September. He also said he had "internal bleeding," "lost half my blood," and had to undergo multiple operations, which included having his gallbladder taken out. "Each of my doctors said if I wasn't in the shape that I was in, this might have been a different outcome," Roker said, and Dr. Felice H. Schnoll-Sussman told Today he "had a life-threatening experience." 
But "I had no idea how bad off I was," Roker said. "I thought I was doing pretty good!" 
Roker's co-hosts were elated about his return to Today, with Savannah Guthrie saying they've never "been more grateful to have you by our side." 
Al Roker has finally returned to the Today show after a "life-threatening" health scare.  The weatherman was back in the morning show's studio on Friday for the first time in two months after being hospitalized twice since November.  "My heart is just bursting," he said. "I'm just so thrilled to see all of you." Roker revealed in November…
Al Roker has finally returned to the Today show after a "life-threatening" health scare.  The weatherman was back in the morning show's studio on Friday for the first time in two months after being hospitalized twice since November.  "My heart is just bursting," he said. "I'm just so thrilled to see all of you." Roker revealed in November…