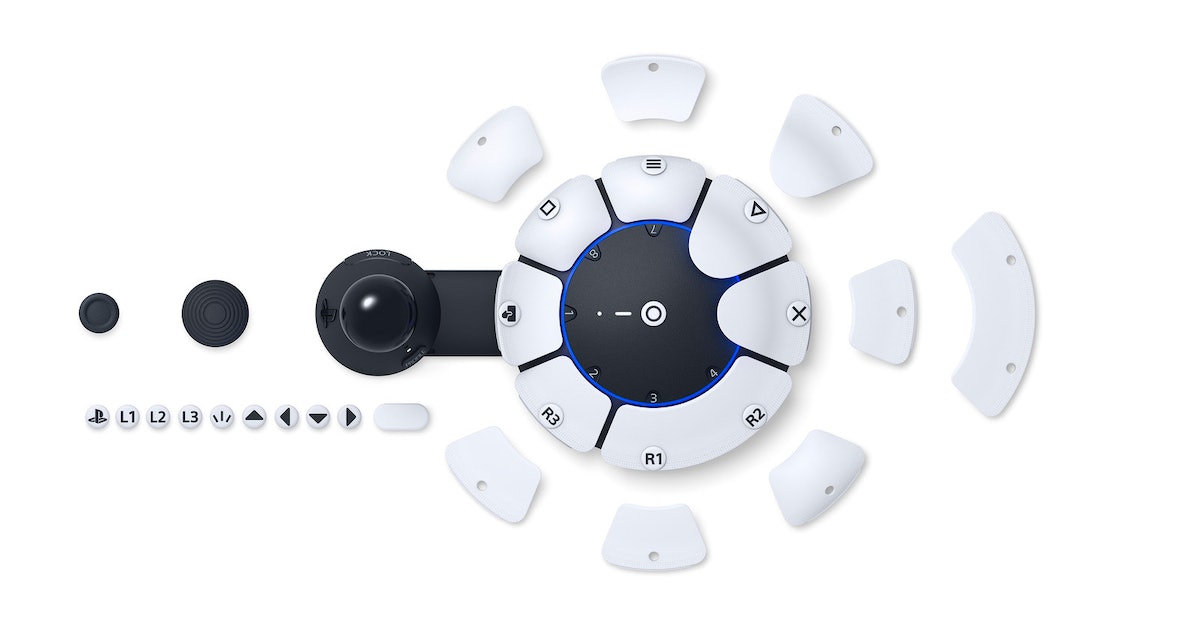 Sony finally makes a PS5 controller for gamers with disabilities
In addition to announcing that the PlayStation 5 has sold over 30 million units worldwide since the game console launched in 2020, Sony also revealed Project Leonardo, an accessible game controller for players with disabilities.
The PS5 controller is not at Sony's CES 2023 booth, but the company does have plenty of high-res images of the circular controller, showing off its modular design which can be configured to suit different players.
Gaming for more people — Just like Microsoft's Xbox Adaptive Controller, released in 2018, Project Leonardo is a controller designed to make gaming more accessible for people who can't use or have trouble using a traditional gamepad like the DualSense or DualSense Edge.
From the PlayStation blog:
Developed with key contributions from accessibility experts, community members, and game developers, Project Leonardo is our codename for a new highly customizable controller kit that works "out of the box" to help many players with disabilities play games more easily, more comfortably, and for longer periods.
Modular design — In order to make the Project Leonardo controller more usable for a wide range of challenges such as "players with limited motor control, including difficulty holding a controller for long periods, accurately pressing small clusters of buttons or triggers, or positioning thumbs and fingers optimally on a standard controller" Sony made the entire thing modular. Pretty much every button and joystick comes apart so that a player can customize it to suit their need(s).
The buttons can also be remapped. Controller profiles (up to three stored in a PS5) will be available so users can easily change for different users or games. Per Sony again:
The controller's buttons can be programmed to any supported function and multiple buttons can be mapped to the same function. Conversely, players can map two functions (like "R2" + "L2") onto the same button.
There's basically no "correct" orientation for the controller and it can be mounted on a tripod. Additionally, there are four aux ports for expansion "to support a variety of external switches and third-party accessibility accessories" and allow users to "integrate specialty switches, buttons or analog sticks."
What's even more impressive is the configurations for the controllers. Sony says Project Leonardo can be used standalone, paired with a DualSense, paired with another Project Leonardo, or two Leonardos paired with a DualSense as shown in the below image.
‌No price or release date yet — That's the only bit we don't know. "Project Leonardo is currently in development and we continue to gather valuable feedback from the community," says Sony. Microsoft's Xbox Adaptive Controller costs $99.99. The modular design, however, could make it more costly whenever it launches. Configuration and utility are one thing but if the price isn't accessible, too, it's also a disservice to the community.
‌INVERSE brings you everything from the weird, futuristic, and beautiful world of consumer technology at CES 2023. For all the latest technology coverage from the show, go to the INVERSE CES 2023 hub.
In addition to announcing that the PlayStation 5 has sold over 30 million units worldwide since the game console launched in 2020, Sony also revealed Project Leonardo, an accessible game controller for players with disabilities. The PS5 controller is not at Sony's CES 2023 booth, but the company does have plenty of high-res images of…
In addition to announcing that the PlayStation 5 has sold over 30 million units worldwide since the game console launched in 2020, Sony also revealed Project Leonardo, an accessible game controller for players with disabilities. The PS5 controller is not at Sony's CES 2023 booth, but the company does have plenty of high-res images of…