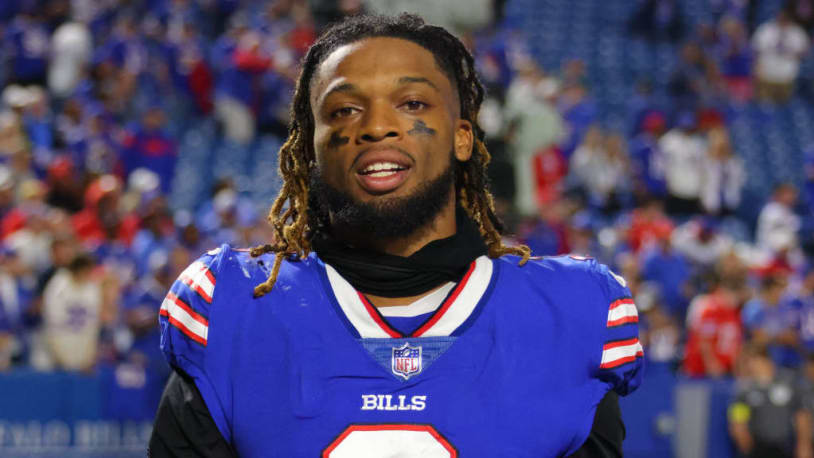 More than $5 million donated to Damar Hamlin's community fundraiser in 24 hours
A GoFundMe started by Buffalo Bills safety Damar Hamlin to raise money for a toy drive has seen a massive influx in donations following Hamlin's collapse on the field Monday night.
Hamlin's Chasing M Foundation sponsors events in his hometown of McKees Rocks, Pennsylvania, including toy and back-to-school drives and camps for kids. Hamlin, 24, launched the GoFundMe in 2020, with the goal of raising $2,500 for a toy drive. After Hamlin went into cardiac arrest during Monday's game between the Bills and Cincinnati Bengals, donations started flooding in to the GoFundMe. As of late Tuesday night, 197,900 people have donated $5,910,660.
The GoFundMe page has been updated with a message on behalf of the Hamlin family, thanking donors for their "generosity and compassion," saying it means "the world to us."
Hamlin's uncle, Dorrian Glenn, told CNN on Tuesday night his nephew was resuscitated twice — first on the field, and then later at the hospital. Glenn said it's "just heartbreaking" seeing him in the hospital, and thanked the medical staff for their care. "If not for them, my nephew probably wouldn't be here," Glenn added. "I'm just glad he's still alive and able to fight and trying to get better and recover. They sedated him just to give a better chance for him to just continue to heal better. We are just taking it day by day. It seems like he's trending upwards in a positive way."
A GoFundMe started by Buffalo Bills safety Damar Hamlin to raise money for a toy drive has seen a massive influx in donations following Hamlin's collapse on the field Monday night. Hamlin's Chasing M Foundation sponsors events in his hometown of McKees Rocks, Pennsylvania, including toy and back-to-school drives and camps for kids. Hamlin, 24,…
A GoFundMe started by Buffalo Bills safety Damar Hamlin to raise money for a toy drive has seen a massive influx in donations following Hamlin's collapse on the field Monday night. Hamlin's Chasing M Foundation sponsors events in his hometown of McKees Rocks, Pennsylvania, including toy and back-to-school drives and camps for kids. Hamlin, 24,…