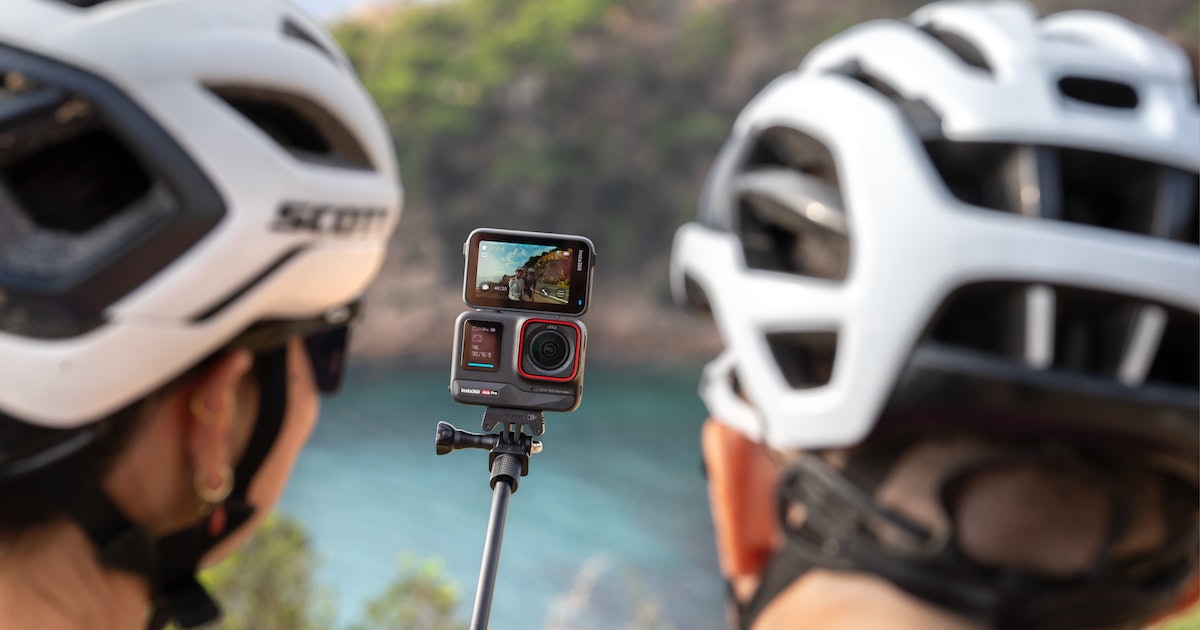 Insta360's Ace and Ace Pro Action Cameras Have One Killer Feature GoPros Don't
Action and 360-degree camera maker Insta360 — the people behind the detachable Go 3 — is doing what GoPro refuses to do: put a touchscreen that flips up on its latest Ace and Ace Pro cameras.
The 2.4-inch articulating display, like the ones we see with other cameras, makes Insta360's cameras a little more friendly for group selfies, filming vlogs, or getting funky angles.
It's pretty obvious that Insta360 is going after GoPro's Hero 12 Black and DJI's Osmo Action 4 with the Ace and Ace Pro. Beyond the flipping screen, Insta360 shoved in a camera that was designed in partnership with Leica and a ton of AI features to get people to consider a different brand.
TO GO PRO OR NOT
To earn its flagship designation, the Ace Pro features a 1/1.3-inch sensor that means 8K video at 24 fps or 4K video at 120 fps for those slow-mo action shots. The Leica co-branded camera also means 48-megapixel stills. If you're not after top-of-the-line specs, the base model Ace still packs quite a punch with a smaller 1/2-inch sensor that also delivers 48-megapixel photos and 4K slow-mo video at 120 fps, but only tops out at 6K video at 30 fps.
We all know GoPro for its class-leading HyperSmooth video stabilization, but Insta360 has its own FlowState Stabilization for non-shaky footage. There's even a 360-degree Horizon Lock feature, similar to GoPro's Horizon Leveling.
The Ace Pro fast-charges up to 80 percent in around 22 minutes, while the Ace only has standard charging. Whichever model you go with, Insta360 promises a 100-minute runtime, operating temps as low as -4 degrees Fahrenheit, and the ability to go up to 33 feet underwater (or nearly 200 feet if you install the Dive Case).
MORE AI Editing Tricks
Those specs are pretty close to GoPro's latest model, the Hero 12 Black, but Insta360 is also going with its magnetic mount design to try and appeal to those who want to deal with thumb screws as little as possible. As secure as GoPro's thumb screw mounts may be, the magnetic mounts might feel a lot easier to deal with when you have gloves on.
Insta360 is already well-known for its AI Selfie Stick Eraser that automatically edits out any attached poles, but it's doubling down on AI features. Both the Ace and Ace Pro have new AI editing tools, including the AI Highlights Assistant that detects where the interesting moments of your recording are and packages it into an edited video that's directly sent to your phone. Using the Insta360 app, you can even give the action cams prompts and the AI Warp tool will add generated dynamic effects.
Price and Availability
Both the Ace and Ace Pro are available to order today on the Insta360 website. The Ace starts at $379.99, while the flagship Ace Pro commands $449.99. That makes the Ace cheaper than the Hero 12 Black, but with so many features that GoPros don't have, it might finally be time to choose an Insta360's action camera over a GoPro one.
Action and 360-degree camera maker Insta360 — the people behind the detachable Go 3 — is doing what GoPro refuses to do: put a touchscreen that flips up on its latest Ace and Ace Pro cameras. The 2.4-inch articulating display, like the ones we see with other cameras, makes Insta360's cameras a little more friendly…
Action and 360-degree camera maker Insta360 — the people behind the detachable Go 3 — is doing what GoPro refuses to do: put a touchscreen that flips up on its latest Ace and Ace Pro cameras. The 2.4-inch articulating display, like the ones we see with other cameras, makes Insta360's cameras a little more friendly…