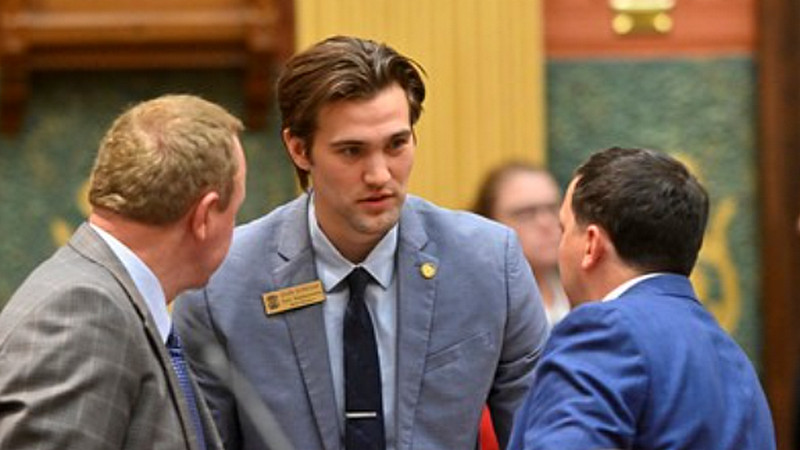 Fuentes Fan Wendy Rogers Calls Rep. Josh Schriver 'Michigan's voice for MAGA'
Arizona state Sen. Wendy Rogers encouraged her Twitter followers Friday to follow Michigan state Rep. Josh Schriver, calling him "Michigan's voice for MAGA." The far-right Rogers is one of the public officials most closely associated with antisemitic white Christian nationalist Nick Fuentes.
Right Wing Watch asked on Friday whether Schriver, a member of the state Freedom Caucus, had used a local news appearance to signal support for white nationalist Nick Fuentes. RWW noted that Schriver flashed a raised index finger, a gesture that has been adopted by groypers, as followers of Fuentes and his America First movement are known. Schriver then shared a photo of his raised finger on social media, along with two hashtags often used by Fuentes backers, #ChristisKing and #AmericaFirst.
As Right Wing Watch noted, the seemingly random expression included in the text of the tweet, "Autumn is my favorite," appeared to be a reference to Fuentes, who following multiple bans from the platform is currently using an account under the pseudonym "Autumn Groyper."
On Sunday, Schriver quote-tweeted Sneako, another Fuentes ally.
On Saturday, right-wing activist Preston Parra, who was formerly associated with TPUSA and was fired by Right Side Broadcasting earlier this year, tweeted his support for Schriver and denounced "attacks" from Right Wing Watch. Yesterday Parra tweeted his apparent enthusiasm for Trump's increasingly authoritarian threats:
Those who were disloyal, treasonous, and corrupt… this about to be you!!

Your time is coming!!!

Trump is making is ascension to power, once again, this time it's over for you…! pic.twitter.com/ZKqkJK8T11

— Preston Parra (@ThePrestonParra) November 20, 2023
Rogers, the Arizona state senator who is now promoting Schriver, has been an enthusiastic promoter of Fuentes. In a video message to his America First Political Action Conference in 2022, Rogers said:
Nick and the other patriots in attendance at AFPAC, please keep doing what you're doing. I admire you, and I so appreciate how you never give up. We need more strong Americans like you who never back down. We must always put our shoulder to the wheel to move the Overton Window toward Christ, America first, freedom, and our founding documents. Pursue. Stay strong. You and your fellow patriots are the future. We have a nation to save and a gospel to preach. I love you all. America first. Jesus is King. Wendy Rogers, out.
Rogers appeared this month on the "CrossTalk" program, which regularly promotes bigotry, conspiracy theories, and Christian nationalism. Earlier this year, she appeared on the show hosted by far-right figure Stew Peters, where she joined him in hoping for failed gubernatorial candidate Kari Lake to overturn Gov. Katie Hobbs' 2022 victory and have Hobbs arrested. Last year, Rogers backed MAGA activist Laura Loomer in her 2022 bid for Congress.
Arizona state Sen. Wendy Rogers encouraged her Twitter followers Friday to follow Michigan state Rep. Josh Schriver, calling him "Michigan's voice for MAGA." The far-right Rogers is one of the public officials most closely associated with antisemitic white Christian nationalist Nick Fuentes. Right Wing Watch asked on Friday whether Schriver, a member of the state…
Arizona state Sen. Wendy Rogers encouraged her Twitter followers Friday to follow Michigan state Rep. Josh Schriver, calling him "Michigan's voice for MAGA." The far-right Rogers is one of the public officials most closely associated with antisemitic white Christian nationalist Nick Fuentes. Right Wing Watch asked on Friday whether Schriver, a member of the state…