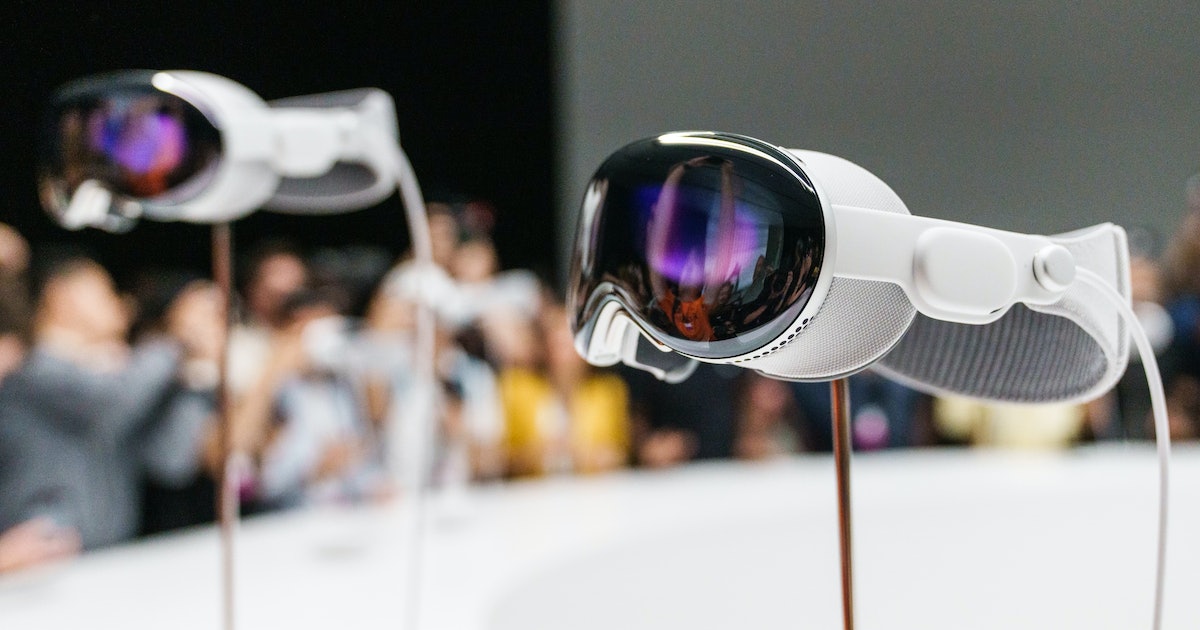 Apple Vision Pro Might Launch in March 2024, According to Reliable Leaker
If you haven't already installed the public beta for iOS 17.2 and started capturing spatial video with an iPhone 15 Pro for viewing on Apple Vision Pro when it's released in 2024, you should get on it.
Word on the street — in Mark Gurman's PowerOn newsletter on Bloomberg — is that Apple might be readying its Vision Pro "spatial computer" for a release "around March." That would put the Vision Pro on schedule to launch in the "early next year" window that Apple has repeated several times since the device's announcement at WWDC in June.
Assuming Gurman is correct and the launch window doesn't slip to later, we could be wearing the Vision Pro and air-gesturing our way around visionOS using its high-res color passthrough in a matter of months. We, as in customers in the U.S. where the Vision Pro will be launching first. The reset of the world will have to wait.
All signs point to Apple nearing the last stretch before the Vision Pro is ready to go. In addition to letting anyone with the iOS 17.2 beta start recording spatial video with an iPhone 15 Pro, we've seen the latest visionOS beta reveal how to create a virtual "Persona" by holding the Vision Pro at arm's length for creating a head scan.
As I said in my hands-on back in June and in my second experience where I saw a spatial video I shot myself, the Vision Pro is a device that you will have to try for yourself before it clicks into place. The crisp color passthrough resolution, the intuitive hand and eye tracking, and top-notch spatial sound are so ahead of the competition that it makes even Meta's impressive Quest 3 look like a toy.
And try in person you will have to, according to Apple CEO Tim Cook. During its recent Q4 earnings call, Cook said Apple Stores will be the gateway to users experiencing the Vision Pro.
"There's never been a product like the Vision Pro," Cook told investors. "We're purposely bringing it out in our stores only, so we can really put a great deal of attention on the last mile of it. We'll be offering demos in the stores and it will be a very different process than the normal grab-and-go kind of process."
Of course, even if a demo of the Vision Pro's magic-like eye and hand tracking sells you on the device, $3,500 is still a lot of money for people, even if there might be buy now, pay later (BNPL) options that could help split the cost into payment installments.
I think a lot of potential buyers will have to try the Vision Pro out, and then ask themselves whether the experience will actually make their lives better. I know way too many people who bought an iPad in the early years expecting it to fully replace their laptops, only to be disappointed when it didn't. It's hard to say whether or not the Vision Pro will be able to replace MacBook Pros until we've used one for an extended period of time, but my hunch is that it won't. The Vision Pro is a different kind of computing experience, one that's more immersive, but also might be limited in its productivity scope at launch.
If you haven't already installed the public beta for iOS 17.2 and started capturing spatial video with an iPhone 15 Pro for viewing on Apple Vision Pro when it's released in 2024, you should get on it. Word on the street — in Mark Gurman's PowerOn newsletter on Bloomberg — is that Apple might be…
If you haven't already installed the public beta for iOS 17.2 and started capturing spatial video with an iPhone 15 Pro for viewing on Apple Vision Pro when it's released in 2024, you should get on it. Word on the street — in Mark Gurman's PowerOn newsletter on Bloomberg — is that Apple might be…