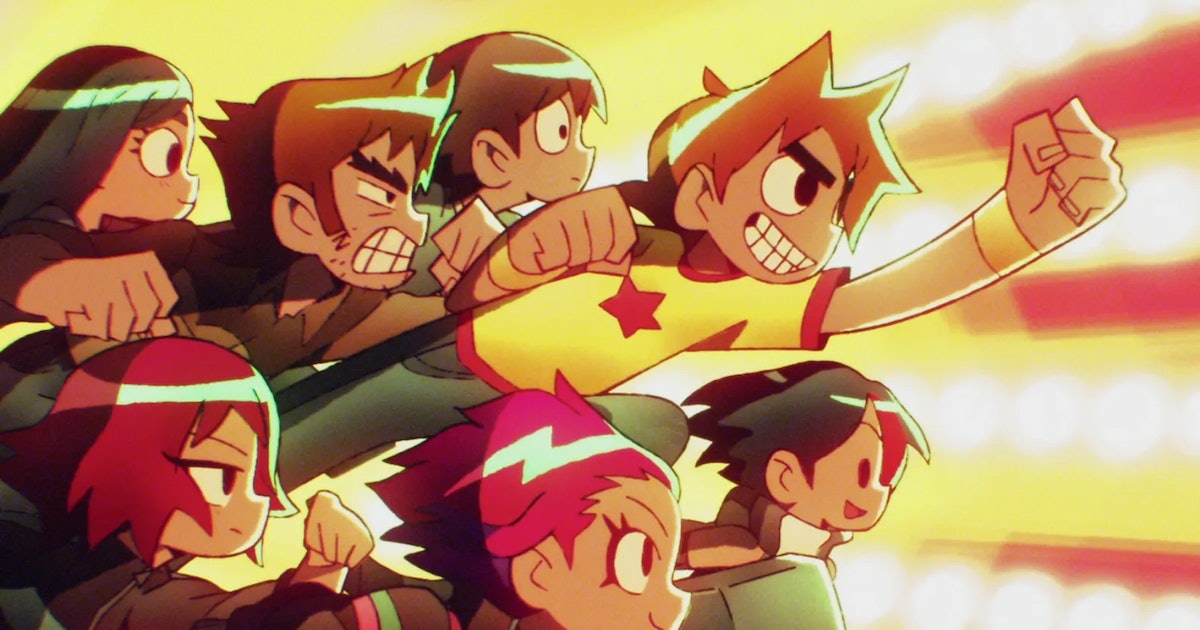 Did Scott Really Die? 'Scott Pilgrim Takes Off' Showrunners Explain the Shocking Change From the Movie
Warning! This article contains spoilers for Scott Pilgrim Takes Off.
Throughout the first episode of Scott Pilgrim Takes Off, Netflix's new animated television series, there are small, barely noticeable differences between the show and Edgar Wright's 2010 live-action movie, Scott Pilgrim vs. the World. This time, Ramona's job is delivering DVDs for Netflix, not packages for Amazon. This time, viewers get to see glimpses of the League of Evil Exes being formed. And this time, when Scott squares up against Matthew Patel, the first of Ramona's seven exes — he loses.
"It opens up the world for us in a funny way," Scott Pilgrim creator Bryan Lee O'Malley tells Inverse during a joint video interview with series co-showrunner BenDavid Grabinski. "It's funny to take out the main character and say that that opens up the storytelling, but in this case, we've told his story several times."
Both the film and graphic novel versions of Scott Pilgrim vs. the World follow Canadian slacker bassist Scott Pilgrim (Michael Cera) as he fights the seven evil exes of his new girlfriend, American enigma Ramona Flowers (Mary Elizabeth Winstead). But Scott Pilgrim Takes Off comes 13 years after Scott Pilgrim vs. the World hit theaters and almost 20 years after O'Malley published the first of six main Scott Pilgrim graphic novels. The surprise is gone, and even those who have seen or read neither can "just go on Wikipedia and read the synopsis," O'Malley says.
"Should it be a reboot? Should it be the same? Should it be new? I just didn't know what to do."
"I wanted to find a way that we could still surprise people and still kind of engage their brains and give them a little tiny bit of danger," he adds.
Although Wright's film received a meager box office response, it developed a devoted audience and reached cult classic status over time. O'Malley notes how joyful it has been to witness a new generation of Scott Pilgrim fans, whether they were shown the movie by parents and older siblings or stumbled across it on their own. "The culture keeps just kind of passing it down," he says.
Netflix and Wright (who serves as an executive producer on the series) had been discussing a TV version with Japanese animation studio Science SARU and brought the idea to O'Malley. The studio is behind films like The Night Is Short, Walk On Girl, and Inu-Oh, alongside episodes of Adventure Time and Star Wars: Visions, making it a stellar match-up for the anime stylistics of Scott Pilgrim. A fan of the studio, O'Malley was interested in collaborating, but he didn't know where to go from there.
"Should it be a reboot? Should it be the same? Should it be new? I just didn't know what to do," O'Malley recalled. "And then one day, almost a year later, I had dinner with BenDavid and we were just chatting casually as friends, not a work dinner at all. And he just started spitting out these ideas."
"Before we came up with the premise, we both agreed it would be really great if it could be Ramona's story."
It was there that the main twist — getting Scott out of the way for at least five of the eight episodes — was born. It was a way of creating something that both worked for the fans and for people who had never seen the movie before, according to Grabinski. "It's not about redoing it," Grabinski tells Inverse. He wanted the series to be "additive" to previous existing versions and help expand the audience's understanding of characters other than Scott.
"We felt like there's some characters who we wanted to forefront and explore more that, in other versions of the story, kind of ended up in the background," Grabinski shares. "That was kind of our driving factor, was to really just try to tell a story where the people who were kind of taking up most of the real estate of this adventure were people who were kind of the fourth most important person in a scene in a previous version."
The storytelling was made possible by the fact that the main cast agreed to return to voice their characters, including individuals whose fame has skyrocketed over the past decade, like Chris Evans, Brie Larson, and Aubrey Plaza. Knives Chau, Wallace, and Todd are among the characters who receive more depth, but no one gets quite as much time for introspection as Ramona, who clearly becomes the heart of the narrative by the second episode.
"Before we came up with the premise, we both agreed it would be really great if it could be Ramona's story," Grabinski says. "But it only would work if we had a plot that made sense for that, because you couldn't just do the same story but then have her drive everything. It would feel forced. And that's when I came up with a concept for the twist at the end of the pilot."
Scott is seemingly killed by Matthew Patel — or is at least wiped from this plane of existence — leading the story to completely diverge from both the film and the graphic novels. Ramona becomes a detective of sorts, investigating Scott's disappearance and going on a transformative journey of her own that spans timelines and planes of existence, culminating in an Eternal Sunshine of the Spotless Mind-like reveal. For a story that initially concerned itself so much with Ramona's romantic entanglements, the series eventually allows her to define herself on her own terms, not in relation to any man or woman she has dated. By focusing on Ramona and telling a trippy, time-bending story, the series puts itself in conversation with the film, as opposed to retconning past versions or serving as an alternative universe. Instead, it folds the movie into the greater lore of the Scott Pilgrim macrocosm.
"I think all culture is kind of an ongoing conversation," O'Malley says. "So to me, to do a perfect note-for-note reboot or retelling of Scott Pilgrim, we would be trying to replicate an old moment in the culture and it would not really be part of the conversation. So just finding that new way in and finding ways to turn everything on its head and to be excited again, I think that leads to something that can be exciting for the audience hopefully."
Scott Pilgrim Takes Off is streaming on Netflix now.
Warning! This article contains spoilers for Scott Pilgrim Takes Off. Throughout the first episode of Scott Pilgrim Takes Off, Netflix's new animated television series, there are small, barely noticeable differences between the show and Edgar Wright's 2010 live-action movie, Scott Pilgrim vs. the World. This time, Ramona's job is delivering DVDs for Netflix, not packages…
Warning! This article contains spoilers for Scott Pilgrim Takes Off. Throughout the first episode of Scott Pilgrim Takes Off, Netflix's new animated television series, there are small, barely noticeable differences between the show and Edgar Wright's 2010 live-action movie, Scott Pilgrim vs. the World. This time, Ramona's job is delivering DVDs for Netflix, not packages…