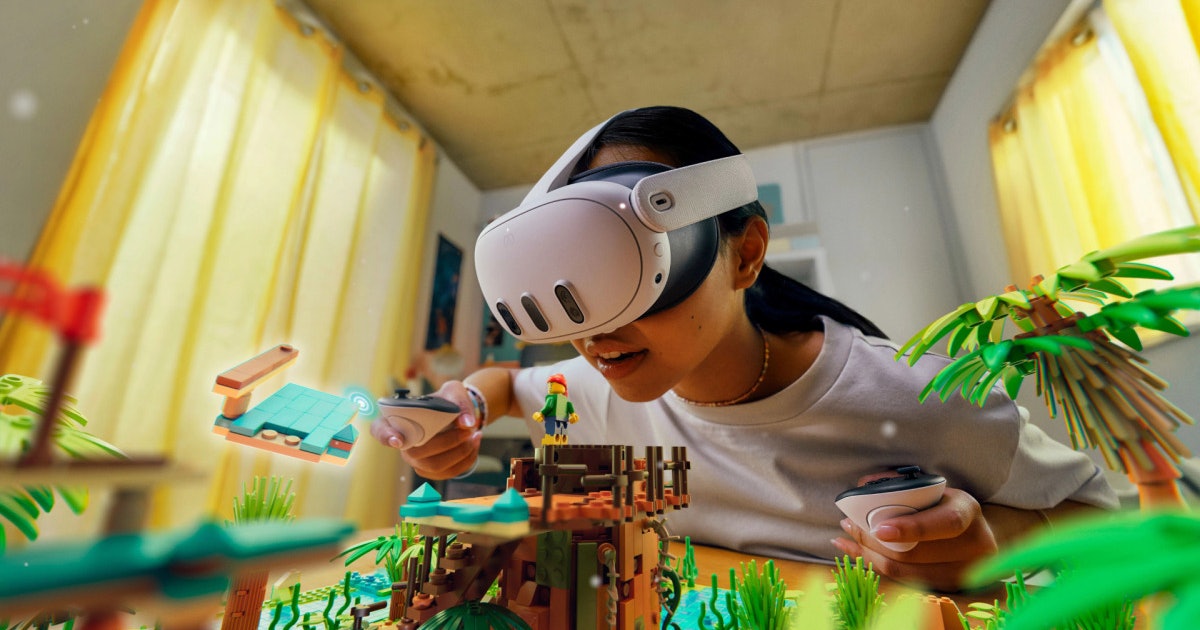 8 Wild Quest 3 Demos That Will Convince You Mixed Reality Is the Future
It's crazy to think that Quest 3 has only been out for about a month and we're already seeing tons of mind-blowing mixed reality (XR) experiences that pair perfectly with the headset.
Specifically, developers have been getting creative with the Quest 3's improved color passthrough capabilities, which has unlocked an endless river of possibilities.
Spend even a few seconds scrolling on r/OculusQuest or X (formerly called Twitter) and you'll come across a mixed reality experience that will leave you in awe. There's no way to possibly curate every one of them, but we've picked out eight that we think really showcase the potential of mixed reality.
From a Super Mario platformer, to fingerboards, to Hot Wheels-like virtual slot cars and tracks, all of these experiences blur the line between real and virtual and have us feeling like kids again.
8. SUPER MARIO 64 DEMO
This may just be a demo from a Redditor, but it really opened our eyes to what a potential mixed-reality platformer could look like, Super Mario-themed or otherwise. Just picture Mario jumping around on a level that you designed around your room. We've already seen how creative people get with Super Mario Maker, now we just need to add XR to the mix.
7. SLOT CAR VR
If you spent hours sending your Hot Wheels around bright orange loop-the-loops, this will feel like a familiar sight. The developer released Slot Car VR into open beta so you can build out wild tracks and race them with friends after. The best part is you don't have to worry about putting anything away afterward or accidentally breaking stuff around the house if things get out of control.
6. DROP DEAD: THE CABIN HOME INVASION
Unlike Slot Car VR, Drop Dead: The Cabin Home Invasion is a new game mode on a fully-released VR game. After the Quest 3 dropped, the developer Soul Assembly added this mixed reality mode where it looks like zombies are busting into your house through the windows and walls. This is where all those hours spent playing Call of Duty Zombies will come in handy.
5. FINGERBOARD XR
Instead of spending hours trying to learn how to ollie on a Tech Deck, this Fingerboard XR demo gives us the Tony Hawk's Pro Skater version in mixed reality. I can't help pretending to grind things around my house, like the edge of my laptop or the top of my sink, but if this demo adds a combo meter to that, my childhood dreams will be fulfilled.
4. PIANOVISION
With how smooth the passthrough on Quest 3 is, you can really gamify playing piano with Pianovision. Sure, you could argue this is as much learning an instrument as playing Guitar Hero is, but don't let that dissuade you from this musical mixed reality experience.
3. IMMERSIVE MOVIE THEATER
IMAX and 4DX theaters may be the ultimate movie-going experiences, but you could always change your entire living room into a setting that better matches whatever flick you're watching. Thanks to FigminXR's mesh room mapping feature, you can even transform your living room into a spaceship to watch Interstellar for that extra touch of realism.
2. FLYING APARTMENT
If you're looking for more of a sweaty palms experience similar to all those VR videos of people walking the plank, there's a mixed reality demo for that, too. A developer designed a way to transform your apartment into a flying machine that can navigate through virtual cities. For maximum adrenaline, you can send your apartment careening into the ground, too!
1. SMART LIGHT GESTURE CONTROL
While a lot tamer than the others, this mixed reality demo could be the next step that smart home devices are looking for. This developer showed off a proof-of-concept where you can control smart lights with just gesture controls while you're strapped into the Quest 3. Not only is it smooth, but it'll have you feeling like a wizard controlling lights around your house with just your hands.
It's crazy to think that Quest 3 has only been out for about a month and we're already seeing tons of mind-blowing mixed reality (XR) experiences that pair perfectly with the headset. Specifically, developers have been getting creative with the Quest 3's improved color passthrough capabilities, which has unlocked an endless river of possibilities. Spend…
It's crazy to think that Quest 3 has only been out for about a month and we're already seeing tons of mind-blowing mixed reality (XR) experiences that pair perfectly with the headset. Specifically, developers have been getting creative with the Quest 3's improved color passthrough capabilities, which has unlocked an endless river of possibilities. Spend…