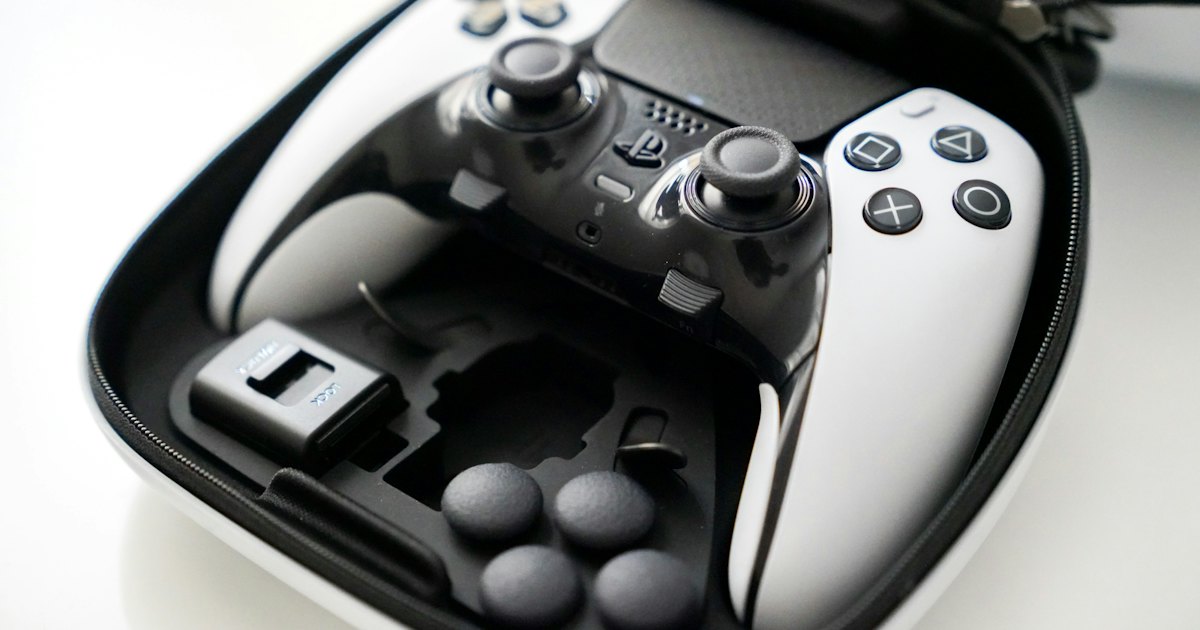 The 20 Best Tech Gifts Under $200 That Are Worth Buying This Holiday Season
'Tis the season… to shop until you drop because of holidays, Black Friday, Cyber Monday… you don't need us to tell you why it's shopping season.
Whether you're treating yourself to a nice gift or getting something special for someone else, we've got you covered with a bunch of tech ideas that (hopefully) won't break your piggy bank.
20. Dbrand "Something" Phone Skins
The transparent designs that Nothing uses in its phones are undeniably eye-catching. The easiest way to get the exposed electronics aesthetic without buying a whole new phone? Dbrand's "Something" skins are a quick and affordable way to make an iPhone or Google or Samsung phone flashier, while also adding a little protection.
19. RGB Transparent Back Plate for ROG Ally
The Asus ROG Ally is arguably the best Steam Deck alternative. It's more powerful, the display is larger and higher resolution, and it runs Windows. The only thing that could make it better is this RGB transparent case mod.
18. Amazon Fire Stick 4K Max
Amazon's most powerful streaming stick supports 4K picture quality in Dolby Vision and HDR10+, and audio in Dolby Atmos. The included remote works with Alexa voice commands so finding content and controlling it is effortless. Plus, the Fire TV Ambient Experience can display over 2,000 pieces of art and photos or widgets right on your TV when it's not streaming content.
17. Space Black MagSafe Cable
Want to pretend like you have a Space Black MacBook Pro without shelling out at least $2,000? This all-black braided MagSafe cable will let everyone in your local coffee shop know you're not basic.
16. Sony XB100
Don't let its small size fool you, the Sony XB100 Bluetooth speaker packs a surprising amount of bass inside of its IP67 water-resistant design. This little guy lasts up to 16 hours on a single charge and has a built-in loop for strapping to a backpack or hanging on a hook in the bathroom.
15. Nitro Deck
If you're tired of using flimsy Joy-Cons with joystick drifts, you might want a Nitro Deck for your Switch. The Nitro Deck is a controller that docks into a Switch and improves comfort, has no stick drift thanks to its Hall Effect thumbsticks, and has remappable back buttons. It also comes in sick colorways like one themed after the GameCube controller and transparent cases modeled off the "Atomic" N64 colors.
14. Anker Prime 67W GaN Wall Charger
Stop carrying multiple single-port chargers for your devices or one big power brick. Anker's Prime 67W charger is tiny for a three-port charger (two USB-C ports and one USB-A port). As its name suggests, it can charge a single device at up to 67W, which is enough to juice up most laptops.
13. Anbernic RG ARC
With a six-button layout, a 4-inch IPS display, and support for old-school games up to the Sega Dreamcast, Anbernic's Linux-based RG ARC-S stands out in a sea of handheld emulators. For $20 more, you can step up to the ARC-D, which adds a touchscreen and Android.
12. Apple Pencil with USB-C
You lose out on some features like pressure sensitivity, double-tap to change tools, and wireless pairing and charging, but Apple's most affordable Apple Pencil yet does have a USB-C port and costs less than $100.
11. Fujifilm Instax Mini 12
Available in five different colors, Fujifilm's Instax Mini 12 is as simple and affordable as an instant camera gets. The marquee feature is the "close-up" mode which centers subjects in the frame. Helpful because the viewfinder is just slightly off-center compared to the prints.
10. WD_Black C50 Expansion Card for Xbox
Xbox Series S and X SSD expansion cards used to cost a fortune because Seagate was the only company selling them. Not anymore. Now that Western Digital is in the game, the prices have come down quite a bit. Take this 512GB card for $80 or a 1TB version for $150.
9. Raspberry Pi 5
The Raspberry Pi has long been a favorite for tinkerers and the Pi 5 is the best DIY computer board yet. It's got a 2.4GHz quad-core CPU, 8GB of RAM, dual 4K60 output over HDMI, and faster Wi-Fi and Bluetooth. If you've got a DIY project you've been meaning to work on, the Raspberry Pi 5 is the computer for the job.
8. Casetify Impact Ring Case
We love it when an unassuming accessory has a secret feature. In this case, Casetify's Impact Ring Case has a handy kickstand (adjustable from 0-150 degrees) that pops out of the camera ring. Even better: you can design your own custom case.
7. Belkin BoostCharge Pro 2-in-1 Dock
There's no doubt that StandBy mode is one of the best features in iOS 17. The BoostCharge Pro can prop up any MagSafe-compatible iPhone while charging an Apple Watch in the back. Push down the charging top and you charge up a pair of AirPods.
6. Meta Quest 3 Elite Strap
Meta's Quest 3 is opening up a new world of mixed reality experiences. The elastic headstrap, though, sucks. Good thing the Elite Strap exists; it redistributes the weight of the headset toward the back and includes a built-in battery for extended use.
5. Amazon Echo Show 8
Whether you're adding to a smart home or you're starting to build one out, if you're going down the Alexa route, the Echo Show 8 is a great control center. The 8-inch display is crisp, the speakers support spatial audio, and the 13-megapixel camera is great for video calls.
4. Opal Tadpole
From the creators of the C1 webcam, Opal, the Tadpole is billed as the world's best webcam for laptops, and we agree. Picture quality is terrific, and it has two privacy-focused features that really set it apart from competing webcams: the microphone only hears what it sees (in frame, in front of its lens) and there's a touchpad on the USB-C port that you can tap to mute the mic.
3. AirPods Pro (2nd-gen) with USB-C
Normally $249, Apple's AirPods Pro are a steal for $199. The latest version swaps out the Lightning port for USB-C and comes with new features like Conversation Awareness, Personalized Volume, and Adaptive Audio. If you use multiple Apple devices, it's hard to beat AirPods Pro.
2. Sony DualSense Edge
Customizable controllers are all the rage now, and for PS5 owners, there's none better than Sony's official DualSense Edge. For half the cost of the console, you get programmable buttons that can be saved to specific profiles, adjustable Adaptive Triggers, a pair of back buttons, and replaceable joysticks with interchangeable caps. The DualSense Edge is pricey, but it's a damn luxurious gamepad.
1. Ember Tumbler
The Ember Mug was a game-changer for hot beverage drinkers. The new Tumbler takes the same concept of keeping your drink at a set temperature (120-145 degrees F) in a larger and portable form factor with a lid. The Tumbler holds 16 ounces of beverage and has a battery that lasts up to 3 hours.
'Tis the season… to shop until you drop because of holidays, Black Friday, Cyber Monday… you don't need us to tell you why it's shopping season. Whether you're treating yourself to a nice gift or getting something special for someone else, we've got you covered with a bunch of tech ideas that (hopefully) won't break…
'Tis the season… to shop until you drop because of holidays, Black Friday, Cyber Monday… you don't need us to tell you why it's shopping season. Whether you're treating yourself to a nice gift or getting something special for someone else, we've got you covered with a bunch of tech ideas that (hopefully) won't break…