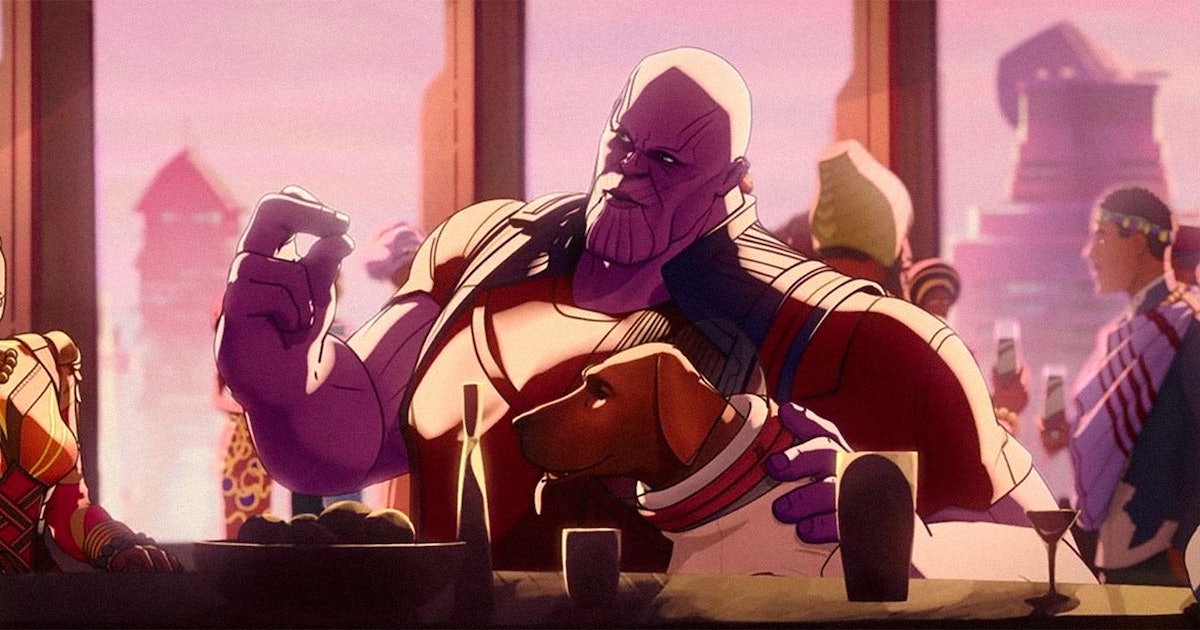 Thanos Is Coming Back to the MCU — But Not In the Way You Think
Christmas is coming early for Marvel fans.
It's been four years since Marvel's Cinematic Universe had a truly formidable villain to rally against. The absence of an antagonist like Thanos isn't 100% responsible for the franchise's lack of focus, but there's a reason why fans can't stop talking about the Mad Titan… or speculating about his return.
Marvel itself has teased Thanos' comeback here and there, but nothing has been confirmed for live-action. But Thanos has actually been active elsewhere in the MCU; he's had a few cameos in the animated (and technically canon) series, What If…?, which is set to return for a second season in late December. Its latest trailer teases some all-new adventures, but it might also revisit a few classic Avengers moments. A trip down memory lane inevitably calls for another appearance from Thanos, and What If…? Season 2 doesn't look like it will disappoint.
The multiverse is breaking in What If…? Season 2. While the Watcher continues to monitor fracturing timelines, familiar heroes and villains duke it out in myriad scenarios. One scene includes the Battle of Wakanda, where the Avengers fought Thanos. Steve Rogers' Captain America goes head-to-head with Thanos once more, in a sequence that mirrors their live-action fight.
Of course, this is an anthology about the different paths a story can take, so this scene will likely be remixed somehow. Meanwhile, another version of Thanos will also face off with a Cap variant, Peggy Carter's Captain Britain. Their battle will follow the introduction of an original hero, Kahhori, so it'll be exciting to see what she brings to the series and the multiverse.
Thanos might not officially be back, but it's great to see What If…? finding new ways to revisit his threat to the multiverse. That's what's fun about the series: it's free to subvert and revisit Thanos' impact on the multiverse, all while featuring other villains in different timelines. A variant of Peter Quill is causing problems for King T'Chaka and his squad, and Thor's half-sister Hela is also back to dole out some damage. With infinite worlds and possibilities, Marvel has the opportunity to explore in ways it simply can't in live-action.
What If…? is also remixing Marvel's traditional release model. While most Disney+ shows air episodes weekly, the series will be dropping one episode a day from December 22 through the 31st. That means we won't have to wait long to see what Thanos has up his sleeve, though with no What If…? Season 3 on the horizon just yet, this could finally be the last time we see the Mad Titan… at least for a while.
What If…? Season 2 premieres on Disney+ on December 22.
Christmas is coming early for Marvel fans. It's been four years since Marvel's Cinematic Universe had a truly formidable villain to rally against. The absence of an antagonist like Thanos isn't 100% responsible for the franchise's lack of focus, but there's a reason why fans can't stop talking about the Mad Titan… or speculating about…
Christmas is coming early for Marvel fans. It's been four years since Marvel's Cinematic Universe had a truly formidable villain to rally against. The absence of an antagonist like Thanos isn't 100% responsible for the franchise's lack of focus, but there's a reason why fans can't stop talking about the Mad Titan… or speculating about…