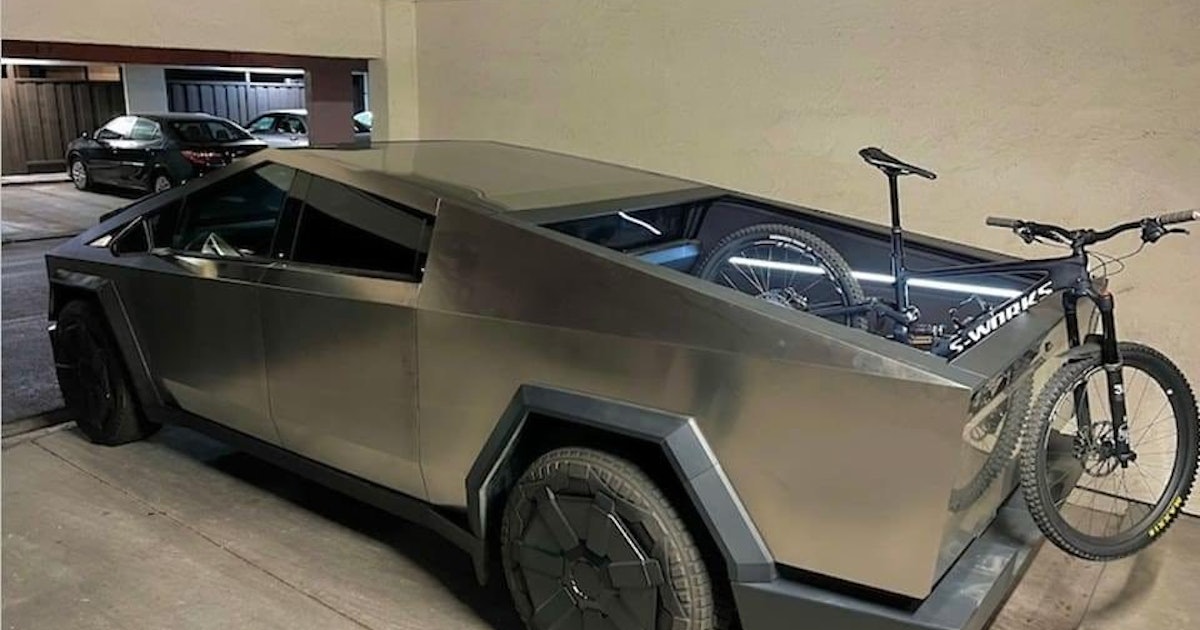 How Big is Tesla's Cybertruck Bed Actually?
We're only two weeks out from the first Cybertrucks being officially delivered (supposedly), and somehow we've still got a lot of questions. In this week's installment of "what the hell is going on?" we've got bed size.
Thanks to an anonymous post on Facebook that made its way to X, we're seeing a Cybertruck driver having to drape a mountain bike over the EV's tailgate to fit.
BIG BIKE OR SMALL BED?
Look, the Cybertruck has had a rough go, but before you go declaring that the bed is tiny, there are some things to consider.
There's the possibility that this particular mountain bike model is incredibly long and that this storage option is the best way to transport these types of bikes. To support that side, there are some other spy shots of a Cybertruck fitting an entire bike.
On the other hand, if the Cybertruck's bed had to be shrunk down for its production model, it wouldn't be the first time we've been disappointed. Two months ago, we got a clear look at the truck bed that was meant to show off the ambient light strips around the lip of the bed. Lights aside, the main takeaway was that the edges slope inwards, needlessly cutting down on usable volume. That design was a major shift from early prototypes that showed straight sides that would probably equate to more storage space.
A side-by-side comparison to the Rivian R1T's 4.5-foot truck bed from InsideEVs would suggest (at least to the naked eye) that the Cybertruck is struggling on truck bed size, but it's hard to tell for sure. All of this, of course, could be easily addressed if Tesla would just release an official spec sheet.
The fact that we need to cast aspersions in the first place is a symptom of the Cybertruck's rough road to production — one that's filled with a lot of promises and eventually just as many compromises.
SHOW US THE DAMN SPECS
Since we have to take Tesla's word for it, the Cybertruck should come with a six-foot-long truck, as noted during a second-quarter earnings report that came out in July. That would beat out current all-electric pickup trucks on the market, including the Ford F-150 Lightning's 5.5-foot truck bed and Rivian R1T's smaller bed.
We shouldn't have to wait very long until we discover the exact dimensions of the Cybertruck and which mountain bikes it can actually fit. Maybe that will be through a better-late-than-never spec sheet from Tesla in the coming weeks or through actually having to measure the first few delivered models. But you'd think that this information would be helpful to know before purchasing the Cybertruck. Alas, the speculation continues.
We're only two weeks out from the first Cybertrucks being officially delivered (supposedly), and somehow we've still got a lot of questions. In this week's installment of "what the hell is going on?" we've got bed size. Thanks to an anonymous post on Facebook that made its way to X, we're seeing a Cybertruck driver…
We're only two weeks out from the first Cybertrucks being officially delivered (supposedly), and somehow we've still got a lot of questions. In this week's installment of "what the hell is going on?" we've got bed size. Thanks to an anonymous post on Facebook that made its way to X, we're seeing a Cybertruck driver…