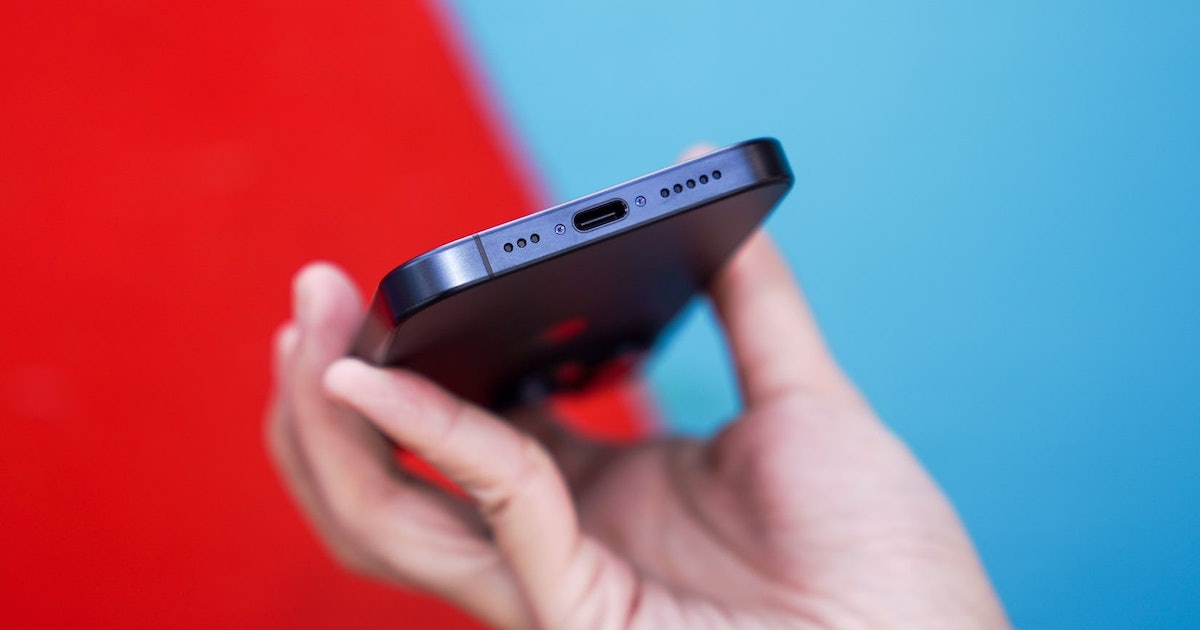 These Secret USB-C Features Make the iPhone 15's Switch from Lightning Even Sweeter
It almost seems silly to fixate on the iPhone's switch to USB-C. For one, the port — unlike Lightning (RIP) — has already long been a standard among other gadgets, even some in Apple's own ecosystem. This isn't new, sexy, tech. USB-C on an iPhone is just one long, slow concession from Apple.
That being said, it's a concession that (sexy or not) is bringing real, material change to the iPhone 15 series. And, as noted by Inverse's Ray Wong, who recently reviewed the iPhone 15 Pro and Pro Max, those perks aren't just confined to things like data transfer speeds.
So in the spirit of celebrating USB-C, here are the hidden perks to the iPhone 15's lack of Lightning.
Reverse charging with USB-C
Though data transfer speeds tend to steal the show when it comes to USB-C — the iPhone 15 Pro and Pro Max can clock 10 Gbps with a USB 3.2 cable while Lightning tops out at 480 Mbps — that's not where the USB-C fun stops.
With the switch to USB-C, you can now reverse charge other devices with a USB-C cable. As noted in our iPhone 15 Pro review, a USB-C to USB-C cable can now reverse charge other Apple devices like an AirPods case or an Apple Watch.
You can even charge another iPhone, which as we note, will juice up whichever phone has less battery. It's worth noting, out of fairness to all the Samsung or Google fans out there, that this is a feature that Android phones have had for a while now.
Connecting your iPhone 15 to a display with USB-C
While you've been able to link your iPhone to an external monitor for a long time now, the switch to USB-C (not shockingly) makes the process easier and higher quality.
With the proper cable — a USB-C to DisplayPort — you can link your iPhone Pro or Pro Max to a compatible display for larger-screen viewing. As we noted, the max output is 4K resolution in HDR at 60 fps, which should make watching your chosen content on a bigger screen pretty luxurious.
The use of USB-C in this case definitely adds to the ease of connecting your iPhone to a display considering you don't need a Lightning dongle. I know, I know — I'm going to miss keeping track of 12 dongles, too.
USB-C FTW
The benefits of USB-C are pretty clear all around. Is it a bummer that not all of the iPhone 15s can take advantage of higher data transfer speeds? Yes. Yes, it is. But I think I speak for pretty much everyone when I say that Lightning won't necessarily be missed.
Now all that's left to do is give us an iPhone with fast charging.
It almost seems silly to fixate on the iPhone's switch to USB-C. For one, the port — unlike Lightning (RIP) — has already long been a standard among other gadgets, even some in Apple's own ecosystem. This isn't new, sexy, tech. USB-C on an iPhone is just one long, slow concession from Apple. That being…
It almost seems silly to fixate on the iPhone's switch to USB-C. For one, the port — unlike Lightning (RIP) — has already long been a standard among other gadgets, even some in Apple's own ecosystem. This isn't new, sexy, tech. USB-C on an iPhone is just one long, slow concession from Apple. That being…