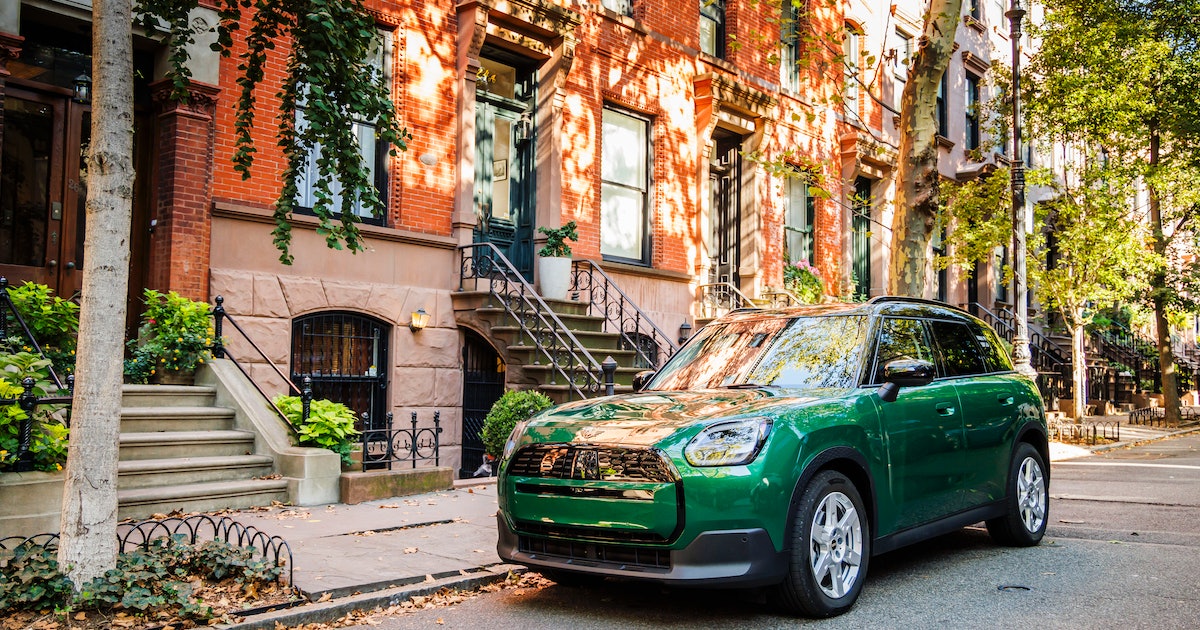 Mini's Countryman Electric SUV Isn't Really Mini at All
For everybody who thinks a Mini Cooper is just a little too mini, the automaker debuted its all-electric Countryman to the North American market. As a subcompact SUV, the Countryman Electric will be Mini's biggest EV yet, offering an alternative to its namesake model.
The Countryman Electric made its debut in Brooklyn for Climate Week NYC, but Mini already debuted the SUV at the IAA Mobility show in Munich. This time, the all-electric Countryman was shown off alongside Mini's Cooper SE Electric, along with BMW's CE-04 battery-powered electric scooter and a hydrogen-powered prototype of the BMW iX5.
BIGGER AND BETTER
As for the Countryman Electric, Mini made the SUV even bigger with its latest model that's taller, longer, and has an increased wheelbase. Mini will offer the SUV in two trims, including the Countryman E which has 204 horsepower, around 184 lb-ft of torque, and a top speed of 105 mph. The more powerful Countryman SE ALL4 will offer 313 horsepower, 364 lb-ft of torque, and a top speed of 111 mph.
The more performance-oriented Countryman will get an estimated 269 miles of range, while the Countryman E will get 287 miles on a full charge. The ranges are yet to be confirmed by the WLTP or EPA standards, but Mini did manage to get the coefficient drag value down to 0.26 for an improved aerodynamic design. Both models run off a 130 kW battery, which can be charged from 10 to 80 percent in less than 30 minutes.
On the inside, Mini is doing a full-fledged voice assistant for the first time, which can be activated by saying "Hey Mini" or hitting the push-to-talk button on the steering wheel. You can go with a basic Mini assistant or one that's designed as an adorable English bulldog named Spike. The Intelligent Personal Assistant will learn your driving habits and patterns, eventually being able to do basic tasks for repeated routes.
THREE ELECTRIC OPTIONS
Now that the electric Countryman has made its debut in the North American market, Mini says we can expect the SUV to arrive in the U.S. in 2024. The Countryman will be followed by the iconic Cooper which will be released later in 2024 and then the electric Aceman that's set to release in early 2025.
For everybody who thinks a Mini Cooper is just a little too mini, the automaker debuted its all-electric Countryman to the North American market. As a subcompact SUV, the Countryman Electric will be Mini's biggest EV yet, offering an alternative to its namesake model. The Countryman Electric made its debut in Brooklyn for Climate Week…
For everybody who thinks a Mini Cooper is just a little too mini, the automaker debuted its all-electric Countryman to the North American market. As a subcompact SUV, the Countryman Electric will be Mini's biggest EV yet, offering an alternative to its namesake model. The Countryman Electric made its debut in Brooklyn for Climate Week…