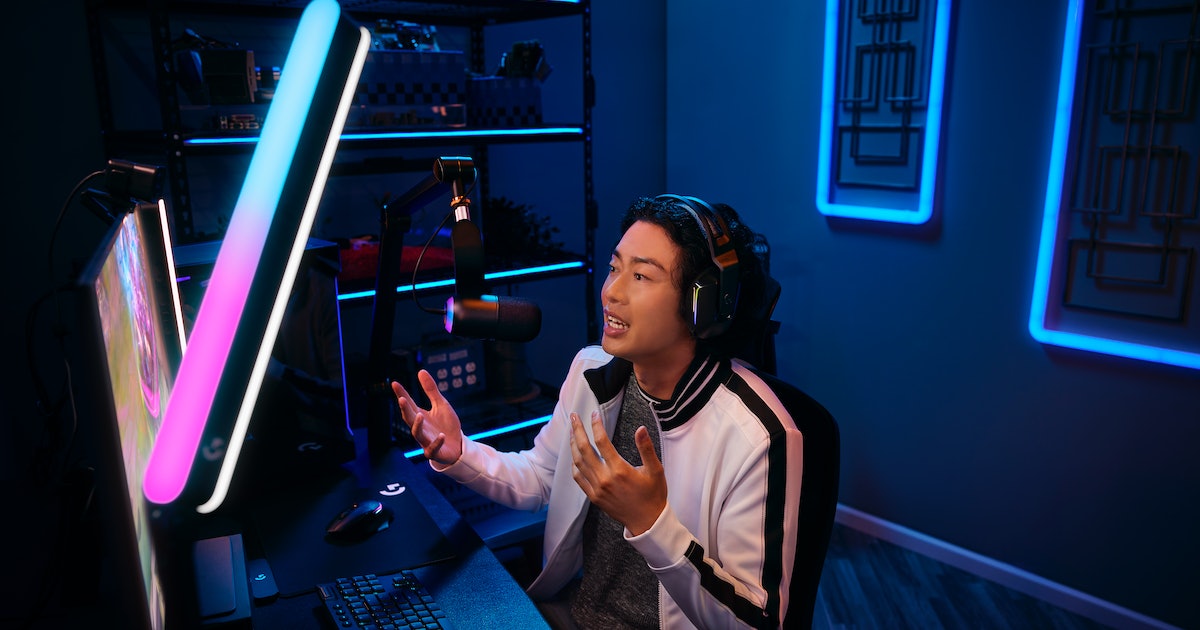 Logitech's Litra Beam LX Light Looks Like the Perfect Combo for Twitch Streamers
Like a mullet, Logitech's latest light built for streamers has two sides: business up front and party in the back. The Litra Beam LX is an upgraded version of Logitech G's steamer light that has the standard key light for your streaming needs and a light in the back to personalize your streaming space.
Lights are a crucial part of streaming setup, but it sometimes requires multiple lights to really get the vibe you're going for. With the Litra Beam LX, you can simplify your streaming setup with a light that accomplishes two things at once.
MAKING LIGHTING EASIER
The main key light side isn't very different from Logitech's other lights, with up to 400 lumens of brightness to evenly light up your face and get rid of any unwanted shadows. You can still adjust the brightness and color temperature. Since the Litra Beam LX is also certified safe for all-day streaming, you won't have to worry about straining your eyes during those long streaming sessions.
On the backside, you can program the RGB light for ambiance with 16 million color combinations. Once you figure out what color you want, you can mount the Litra Beam LX to suit your streaming setup since it can fit on the stand it comes with, on top of your monitor, or with other tripods thanks to two threaded fittings.
If you're just getting into streaming and looking for a single light that does it all, the Litra Beam LX looks like a cost-effective option.
TWO NEW MICS
The Litra Beam LX is already available to order on Logitech's website for $149.99 and will start shipping on September 24. To go along with its updated light, Logitech released two refreshed versions of its mics, including the Yeti Orb and the Yeti GX. The Yeti Orb is a refreshed version of Blue's Snowball mic, starting at a more affordable $59.99, while the Yeti GX is the more professional option at $149.99. Both mics have the same availability as the Litra Beam LX.
Like a mullet, Logitech's latest light built for streamers has two sides: business up front and party in the back. The Litra Beam LX is an upgraded version of Logitech G's steamer light that has the standard key light for your streaming needs and a light in the back to personalize your streaming space. Lights…
Like a mullet, Logitech's latest light built for streamers has two sides: business up front and party in the back. The Litra Beam LX is an upgraded version of Logitech G's steamer light that has the standard key light for your streaming needs and a light in the back to personalize your streaming space. Lights…