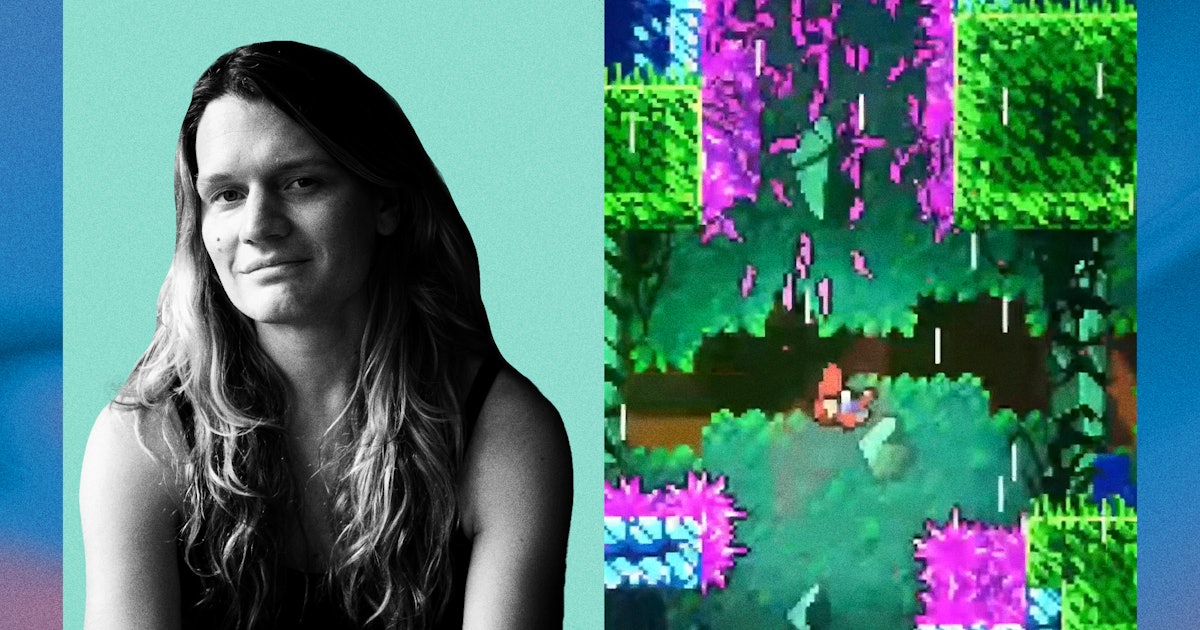 Maddy Thorson on 'Celeste' as a Trans Icon, the Evolution of Indies, and Her Next Game
Maddy Thorson didn't set out to make a foundational trans game. She didn't even set out to make a trans game at all.
"Celeste players famously knew that the game was a trans story before I did," Thorson tells Inverse.
Released in 2018, the ultra-difficult retro-styled game about a woman who sets out to climb a mountain while confronting her own literal inner demons became an instant hit on multiple platforms. Thanks to a mix of brilliant level design, a unique dash mechanic, iconic music, and a captivating plotline, Celeste is frequently cited as one of the best games ever made (among other accolades) by critics and fans alike.
As much as its story of climbing the titular Celeste Mountain can be read as a metaphor for overcoming depression, its themes of self-acceptance and a memorial near the game's beginning "dedicated to all those who perished on the climb" immediately resonated with trans players. While the main character Madeline isn't explicitly identified as trans in the base game, the 2019 Farewell update confirms this reading of the game with a brief shot of a trans pride flag. After releasing Celeste, Thorson herself came out as trans, too.
But creating a canonical trans game isn't without its drawbacks.
"It's flattering and it's scary," Thorson says. "It can be paralyzing — this feeling that I need to be a paragon of perfect representation, or that anything we make will be primarily seen through that lens. I'm forever conflicted because I love attention and I love being a part of the conversation around my work. But there needs to be boundaries because it's easy to lose myself. I'm not perfect and I can't handle maintaining that visibility for too long."
Whether it's about repeating the success of Celeste or being an icon of queer representation, Thorson resists the urge to either play into what's expected or push it away entirely. It's an approach that's guided her throughout her career, from Towerfall, the breakout hit for her original studio Maddy Makes Games, to the upcoming Earthblade, a major step forward — Thorson compares it to Studio Ghibli's monumental epic Princess Mononoke — under a reconfigured company renamed Extremely OK Games.
"To be part of something that has snowballed in this way is a dream for me."
When Thorson decided to take a step back from the public eye in January 2022, it came at the end of a decade of being an extremely visible figure in the indie scene, starting with 2013's Towerfall. A combat arena game with slick and satisfying archery mechanics, Towerfall is notable for its excellent local multiplayer mode — and for being the standout game on the doomed Ouya console.
"We had no idea what we were doing, but it felt exciting," Thorson says of developing for the Ouya. While the console failed, Towerfall lived on in its many ports. In a strange way, so did Ouya's vision of an ascendant independent scene.
"The idea of an independent console is a lot less necessary now because there are fewer gatekeepers, or maybe it's more accurate to say that the gates are less tightly guarded," Thorson says. "Itch.io exists and Steam has the Deck and is a lot more open than it once was. The Playdate is fun. Nintendo is a lot more welcoming to indies than they were back then."
Alongside games like Undertale, Stardew Valley, and Rocket League, Celeste is both an exemplar and a catalyst of the explosive growth of the indie scene in recent years. Even the definition of an indie game has changed a lot since 2018. Xbox, Nintendo, and PlayStation all push their "indie" selection on storefronts and in showcases. Larian Studios, a privately owned developer, found enormous success with Baldur's Gate 3 in 2023, catapulting the series from a niche fandom into mainstream pop culture.
Developments like these underline ongoing debates on what "indie" means today.
"One shift has been big companies with tens of employees being called indie," Thorson says. "I'm not saying that's wrong, but it's clear that indie is a very wiggly word now."
It's more than just an academic distinction. If we can vaguely define indie games as being made by small teams outside the realm of big mainstream publishers, it's clear they have a unique role in games that AAA developers — with their constant imperative to create value for shareholders — can't provide.
"These teams are taking the creative risks that open up new design space for all of us," Thorson says. "People will always come out of left field with strange and exciting new ideas. The question is whether we can maintain an ecosystem that nurtures those creators."
Players are a vital part of that ecosystem — and a vital element of an indie's ability to break through to a wider audience. Early Celeste fans created fan art and spread the word about the game as soon as it was available. A still-vibrant speedrunning scene quickly grew out of the community, and the Strawberry Jam mod — which features 100-plus maps created by the fans — helped enshrine Celeste as a landmark game.
"This collective project is the real 'canon' of Celeste for me," she says. "To be part of something that has snowballed in this way is a dream for me."
"Indie is a very wiggly word now."
Few people ever make a game as successful as Celeste, let alone one that's embraced by a marginalized community that's often starved of decent representation. When Thorson found herself in that position, no one could blame her for looking to repeat her past successes. But Thorson didn't want to do something so predictable. Maddy Makes Games was dissolved in 2019, and the team reformed under the name Extremely OK Games, based in Vancouver. Its first game, Earthblade, is set to be released in 2024.
"When we started working again, we had this urge to run as far away from Celeste as possible," Thorson says. "One iteration was a top-down, physics-based roguelike where everything was very sci-fi and irreverent. We were trying to reinvent ourselves, and relearn how to make games."
Ultimately, the team accepted that Earthblade would share some DNA with Celeste after all. According to Thorson, Earthblade is a personal story just like Celeste was — but not how you might expect.
"Earthblade isn't a zoomed-in character study the way Celeste is," Thorson says. "The star of Earthblade is the game's world and its history. It's more Princess Mononoke and less Whisper of the Heart."
That said, Thorson acknowledges the possibility that major changes in her life could shape her next game in ways that aren't yet clear to her. In 2022, Thorson and her partner welcomed a child into their family, which has already led to a shift in how she approaches games.
"I've seen my writing voice shift as I have gotten more comfortable with the identity of 'mom' and grappled with what that means for me," she says. "The ways that it has affected my design work are less obvious to me, but I'm sure that'll be easier for me to understand in retrospect once I release more work."
One thing that parenthood hasn't changed is Thorson's love of the art form that's nurtured her all these years. Thorson remembers being inspired by Yoshi's Island on the SNES for "its humanity and its playfulness" — and finding a lasting creative outlet that started with developing games in Game Maker. For all that's changed with the industry and Thorson herself since then, her passion for games has stayed constant.
"I love that no matter how I change, I can always find a new way to fall in love with games again."
Maddy Thorson didn't set out to make a foundational trans game. She didn't even set out to make a trans game at all. "Celeste players famously knew that the game was a trans story before I did," Thorson tells Inverse. Released in 2018, the ultra-difficult retro-styled game about a woman who sets out to climb…
Maddy Thorson didn't set out to make a foundational trans game. She didn't even set out to make a trans game at all. "Celeste players famously knew that the game was a trans story before I did," Thorson tells Inverse. Released in 2018, the ultra-difficult retro-styled game about a woman who sets out to climb…