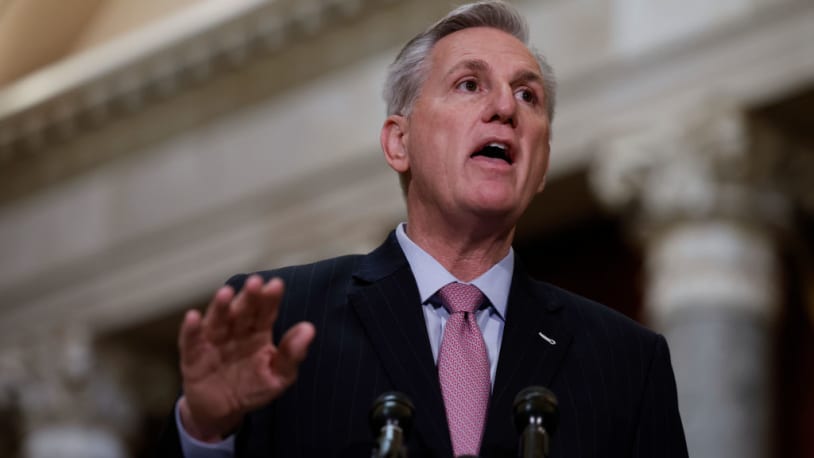 Kevin McCarthy disavows 30 percent national sales tax he promised a vote on to win House speaker race
Among the things House Speaker Kevin McCarthy (R-Calif.) promised a group of 20 hard-right holdouts in order to win the speaker's gavel was a vote on legislation that would scrap the Internal Revenue System and U.S. taxation system and replace it with a 30 percent national sales tax. Rep. Buddy Carter (R-Ga.) has already filed legislation for this "Fair Tax Act," but McCarthy told reporters on Tuesday he opposes the bill. 
McCarthy isn't alone. Three GOP congressmen from New York swing districts have already pledged to vote against it — effectively dooming the long-shot legislation. 
Anti-tax activist Grover Norquist called the steep national sales tax "a political gift to [President] Biden and the Democrats," telling Semafor that the Fair Tax Act is "the first significant problem created for the Republican Party by the 20 people who thought that there was no downside to the approach they took." The Wall Street Journal editorial board agreed and suggested that if "Carter and other supporters insist on a masochistic vote, the GOP could invoke the Freedom Caucus's demand for 'regular order' and kill the Fair Tax in the Ways and Means Committee."
And that's the approach McCarthy and his allies are taking, Axios reports. "Any legislative proposal by any member would have to go through committee in regular order, have hearings, be marked up, and be subject to amendment," said Rep. French Hill (R-Ark.), one of McCarthy's negotiators. The hardliners may believe they were promised a floor vote on the bill, Axios reports, but top Republicans say McCarthy only committed to giving the bill a hearing in committee. 
Replacing all current federal taxes with a national sales tax "is not a new idea," or a popular one, CNN notes. An independent analysis of a similar national sales tax in 2011 "found that, on average, most income groups would pay more tax than they did under the federal tax system at the time — except the top 5 percent of earners who would see a tax cut." Not surprisingly, "outside the deepest trenches of conservatism, a 30 percent sales tax is mostly seen as an obvious political loser," Semafor adds. "Democrats, for their part, can hardly seem to believe their luck that their opponents might attach themselves to it."
Among the things House Speaker Kevin McCarthy (R-Calif.) promised a group of 20 hard-right holdouts in order to win the speaker's gavel was a vote on legislation that would scrap the Internal Revenue System and U.S. taxation system and replace it with a 30 percent national sales tax. Rep. Buddy Carter (R-Ga.) has already filed…
Among the things House Speaker Kevin McCarthy (R-Calif.) promised a group of 20 hard-right holdouts in order to win the speaker's gavel was a vote on legislation that would scrap the Internal Revenue System and U.S. taxation system and replace it with a 30 percent national sales tax. Rep. Buddy Carter (R-Ga.) has already filed…