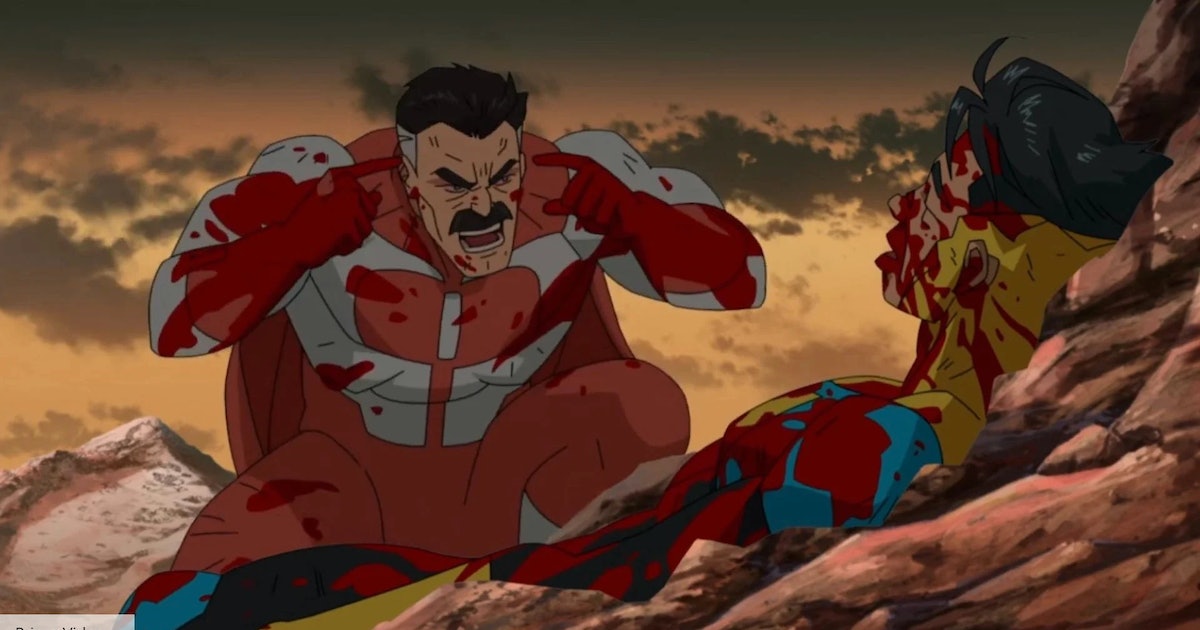 Here's why the 'Invincible' movie won't be 'The Boys' redux
It's been nearly two years since we last saw a super-powered father beat his super-powered son to a pulp in Invincible's climactic and gut-wrenching Season 1 finale. While Amazon recently clued fans in on the adult animated series' return with a cheeky teaser, fans of Robert Kirkman's Invincible comics have had fewer insights into a supposed live-action film adaptation… until now.
In an interview with ComicBook.com where Kirkman looked back on Invincible, The Walking Dead, Marvel Zombies, and Irredeemable Ant-Man, the comic creator noted that the movie is still in the pipeline.
"We're very much still working on that," Kirkman said. "Sometimes movies take a little bit longer. I think it's safe to say, if anything, the show has just helped that immensely. People are very excited about that movie potential at Universal. So we're riding that excitement and trying to push things forward as quickly as possible."
When exactly can we expect a live-action Invincible flick? With Kirkman working on Invincible Season 2, which is slated to air sometime in late 2023, it seems very unlikely that we'll see a theatrical release this year. Production and casting news, however, could begin to trickle out.
Point Grey Pictures, Seth Rogen and Evan Goldberg's banner, and Skybound Entertainment, Kirkman and David Alpert's multiplatform entertainment company, are set to produce, with Universal Pictures distributing. Development was first announced back in 2017: Rogen and Goldberg are attached as writers and directors, with Rogen also executive producing the Invincible TV show and voicing Allen the Alien.
The Inverse Analysis — Invincible follows Mark Grayson, a normal 17-year-old with a normal part-time job who happens to be the son of super-powered alien Nolan Grayson, aka Omni-Man. But while Mark's dad may share attributes with Superman and Captain America, his attitude is anything but enlightened. The comics and series get into some gruesome territory that doesn't shy away from physical violence and emotional abuse. As such, a live-action Invincible could run the risk of resembling The Boys, Amazon's outrageously gross superhero show that racks up ridiculous levels of raunch and pays little attention to the do-gooding we expect from the genre.
But while the superhero landscape is increasingly bloated and boring, some projects have been exceptions, pushing the envelope and offering fresh takes on what it means to have or live among extraordinary (and dangerous) abilities. Invincible and The Boys may feature gore-slicked daddy issues, but the similarities between their narratives end there. A live-action Invincible movie may have no choice but to aesthetically resemble The Boys — at least in its sanguineous grit — but Invincible's story relies less on incendiary sex, metatextual satire, or political parody than The Boys. Invincible may be a dark and sometimes even scary coming-of-age story, but it isn't as cynical or "edgy."
There's space for a live-action Invincible to offer something new and shocking. Hopefully it takes advantage of that rather than becoming a redundant copycat of The Boys or a superfluous franchise expansion that duplicates its animated counterpart. While we have no way of knowing what Kirkman's plans are, it would make sense to strip away some of Invincible's side adventures. Those can be left for the series, while a movie could stick to the story's central focus on the tension between what Mark wants and where Mark comes from.
It's been nearly two years since we last saw a super-powered father beat his super-powered son to a pulp in Invincible's climactic and gut-wrenching Season 1 finale. While Amazon recently clued fans in on the adult animated series' return with a cheeky teaser, fans of Robert Kirkman's Invincible comics have had fewer insights into a…
It's been nearly two years since we last saw a super-powered father beat his super-powered son to a pulp in Invincible's climactic and gut-wrenching Season 1 finale. While Amazon recently clued fans in on the adult animated series' return with a cheeky teaser, fans of Robert Kirkman's Invincible comics have had fewer insights into a…