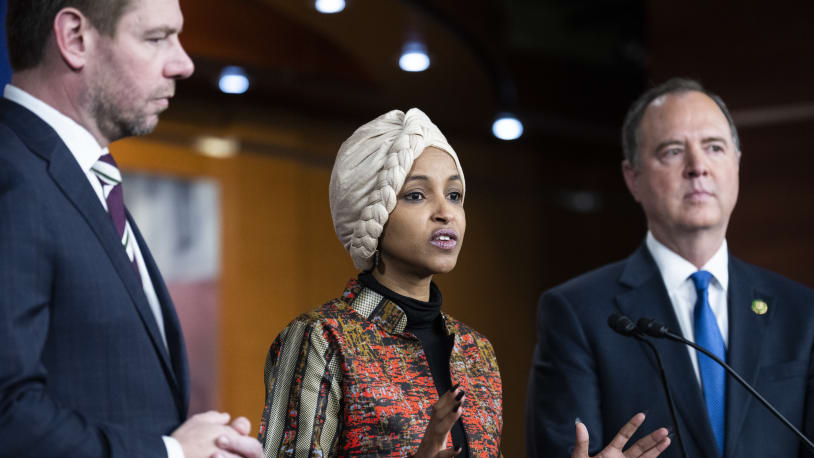 Democrats Schiff, Omar, and Swalwell unleash on Speaker McCarthy's committee rejections
Less than 24 hours after House Speaker Kevin McCarthy (R-Calif.) rejected their nominations to rejoin the House Intelligence Committee where they've served for years, Reps. Adam Schiff (D-Calif.) and Eric Swalwell (D-Calif.) lashed out against what they deemed an "act of political vengeance" and a "corrupt bargain" made between McCarthy and the most extreme members of his party. 
Joined by Minnesota Rep. Ilhan Omar, whom McCarthy has also threatened not to seat on the Foreign Affairs Committee, the representatives were unusually candid during a joint press conference on Wednesday, describing the speaker as a puppet of former President Donald Trump, as well as a hypocrite for having given committee seats to Republicans such as Marjorie Tayor Greene (R-Ga.) and George Santos (R-N.Y.). 
"The cardinal sin appears to be that I led the impeachment of his master in Mar-a-Lago," Schiff mused as a possible reason for McCarthy's decision not to seat him on the committee he had previously chaired.
Swalwell, who has been lambasted by McCarthy for a past association with someone later alleged as a Chinese intelligence agent, was even more critical of McCarthy's potential motives, insinuating that the speaker was complacent in threats against the three democratic lawmakers' lives. 
"The cost is not only removing us from the committee," Swalwell noted. "The cost is not only breaking, shattering the most precious glassware in the cabinet — a committee that's always been bipartisan. The costs are the death threats that Ms. Omar, myself, and Mr. Schiff keep getting because Mr. McCarthy continues to aim and project these smears against us. Even though we have said publicly 'these smears are bringing death threats' he continues to do it, which makes us believe that there's an intent behind it."
Speaking last, Omar, whose threatened removal from the Foreign Affairs Committee necessitates a full House vote expected sometime this week, drew upon her personal biography to highlight McCarthy's "purely partisan" effort. 
"As a child who survived war, lived in a refugee camp, I would have never imagined that I would one day have the opportunity to serve on a subcommittee on Africa, Global Health, and Global Human Rights," Omar explained. "I would not have believed that I would one day not just serve as the first African-born member of Congress, but on a committee that oversees policies toward the continent."
"Kevin McCarthy's purely partisan move to strip us of our committee is not only a political stunt," she concluded, "but also a blow to the integrity of our democratic institution and a threat to our national security."
Less than 24 hours after House Speaker Kevin McCarthy (R-Calif.) rejected their nominations to rejoin the House Intelligence Committee where they've served for years, Reps. Adam Schiff (D-Calif.) and Eric Swalwell (D-Calif.) lashed out against what they deemed an "act of political vengeance" and a "corrupt bargain" made between McCarthy and the most extreme members…
Less than 24 hours after House Speaker Kevin McCarthy (R-Calif.) rejected their nominations to rejoin the House Intelligence Committee where they've served for years, Reps. Adam Schiff (D-Calif.) and Eric Swalwell (D-Calif.) lashed out against what they deemed an "act of political vengeance" and a "corrupt bargain" made between McCarthy and the most extreme members…