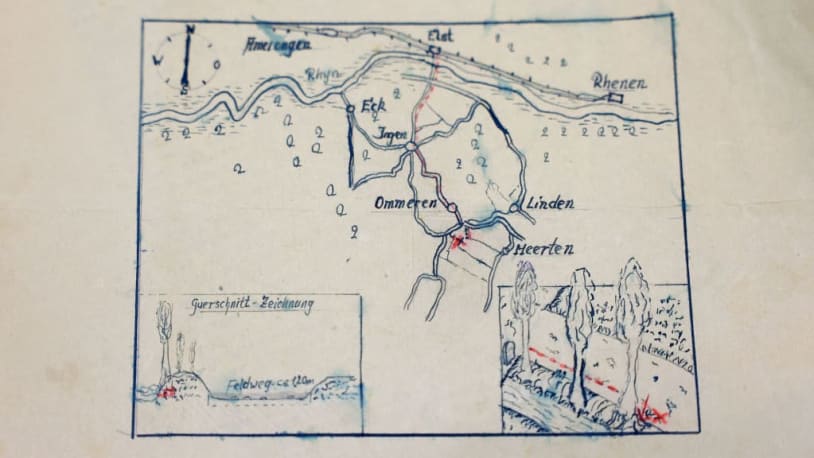 WWII-era map leads to Dutch treasure hunt
A hand-drawn map from the World War II era released in early January has sparked a treasure hunt in the Netherlands. The map, released by the Dutch National Archive, depicts a red X, which reportedly represents a stash of jewelry looted from a bank vault by Nazis, per The Associated Press. 
The treasure is supposed to be buried in the village of Ommeren in the east of the country with a population of just 715 people. It was buried by four German soldiers in World War II and was never found. "We don't know for sure if the treasure existed. But the institute did a lot of checks and found the story reliable," said spokeswoman for the National Archive Anne-Marieke Samson.
The trove includes "Four ammunition boxes and then just some jewelry that was kept in handkerchiefs or even cash money folded in," according to National Archive researcher Annet Waalkens. It is expected to be worth approximately $19.1 million, The Guardian reports. This has led to many making their way to Ommeren with metal detectors in hopes of snagging the riches for themselves. However, the local government has advised against searching for the treasure, "because of possible unexploded bombs, land mines and shells."
The treasure is yet to be found, leading to some theories that the Germans who buried it already took it back or even that American soldiers found it. During the third dig of the area by the Dutch Institute of Asset and Property Management, the team was approached by American soldiers who reportedly told them, "'we don't know what you're doing, but please mind your business, and this is our affair.'"
A hand-drawn map from the World War II era released in early January has sparked a treasure hunt in the Netherlands. The map, released by the Dutch National Archive, depicts a red X, which reportedly represents a stash of jewelry looted from a bank vault by Nazis, per The Associated Press.  The treasure is supposed to…
A hand-drawn map from the World War II era released in early January has sparked a treasure hunt in the Netherlands. The map, released by the Dutch National Archive, depicts a red X, which reportedly represents a stash of jewelry looted from a bank vault by Nazis, per The Associated Press.  The treasure is supposed to…