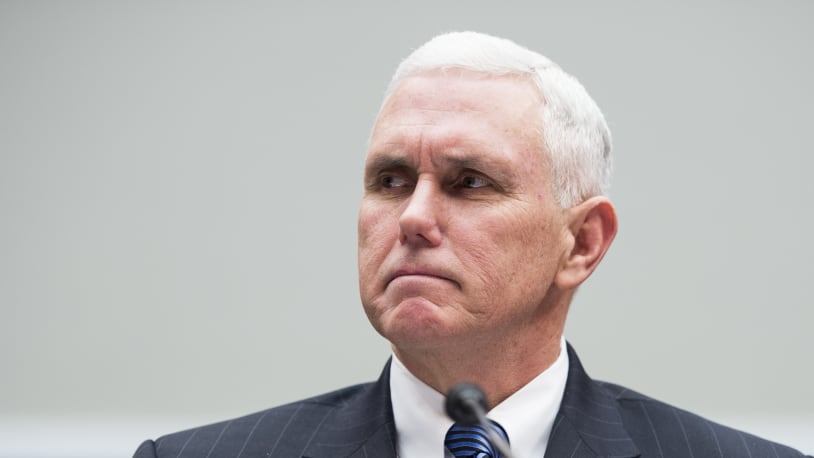 Classified material uncovered in Mike Pence's Indiana home
A small tranche of documents with classified markings was discovered in the Indiana home of former Vice President Mike Pence, according to a letter from a Pence representative to the National Archives dated January 18, CNN reported on Tuesday.
In his communication with the National Archive, Pence representative Greg Jacob wrote that "a small number of documents bearing classified markings that were inadvertently boxed and transported to the personal home of the former Vice President at the end of the last Administration." Jacob also wrote that Pence was "unaware" of the classified material in his home, and "stands ready and willing to cooperate fully with the National Archives and any appropriate inquiry." Jacob did not expand upon what sort of material was uncovered, and notes that the items were immediately locked in a safe by Pence. Accordingly, Jacob wrote, "counsel did not review the contents of the documents once an indicator of potential classification was identified." 
The disclosure that Pence had uncovered classified material in his private possession follows — and was in part prompted by — the ongoing investigation into classified material discovered in both the office and home of President Biden, dating back to his term as vice president. As Jacob stated: "Following press reports of classified documents at the personal home of President Biden, out of an abundance of caution, on Monday, January 16, Vice President Pence engaged outside counsel, with experience in handling classified documents, to review records stored in his personal home."
Attorney General Merrick Garland did not respond to questions about the documents found in Pence's possession. Garland has named a special counsel to oversee a Justice Department investigation into Biden's documents, as well as another to supervise the investigation into former President Donald Trump, following the court-approved FBI search at his Mar-a-Lago compound which uncovered a significant batch of classified material allegedly covering Chinese intelligence operations and Iran's nuclear program. While both Biden and now Pence have reportedly been fully cooperative with the Justice Department, the search of Trump's property followed months of negotiations and obfuscation by the former president prompted by National Archives concerns that he possessed documents legally required to be turned over at the end of his presidential term. 
In a November interview with ABC News' David Muir, Pence was directly questioned about Trump's possession of classified documents, with Muir saying at one point: "let me ask you, as we sit here in your home office in Indiana, did you take any classified documents with you from the White House?"
Pence answered simply "I did not."
A small tranche of documents with classified markings was discovered in the Indiana home of former Vice President Mike Pence, according to a letter from a Pence representative to the National Archives dated January 18, CNN reported on Tuesday. In his communication with the National Archive, Pence representative Greg Jacob wrote that "a small number…
A small tranche of documents with classified markings was discovered in the Indiana home of former Vice President Mike Pence, according to a letter from a Pence representative to the National Archives dated January 18, CNN reported on Tuesday. In his communication with the National Archive, Pence representative Greg Jacob wrote that "a small number…