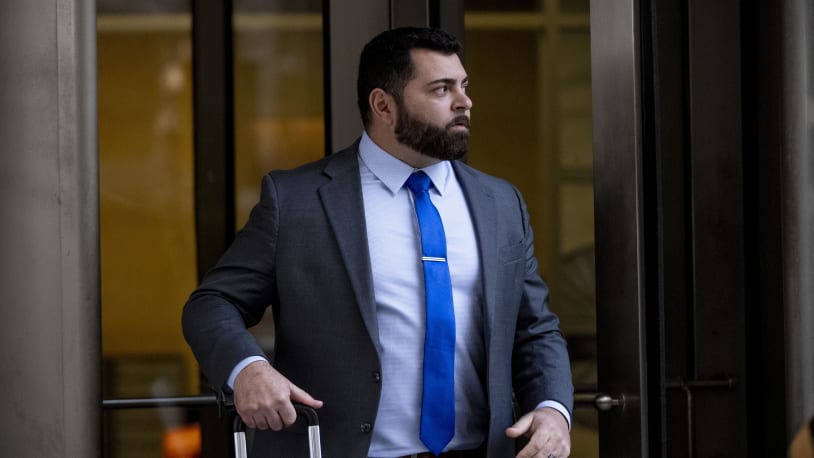 4 Oath Keepers found guilty of seditious conspiracy
Four members of the far-right Oath Keepers group were convicted of seditious conspiracy on Monday, for their role in trying to keep former President Donald Trump in power after his 2020 election loss.
The defendants — 52-year-old Joseph Hackett of Florida, 38-year-old Roberto Minuta of Texas, 45-year-old David Moershel of Florida, and 64-year-old Edward Vallejo of Arizona — were also convicted on two additional conspiracy charges and obstruction of an official proceeding. Minuta, Hackett, and Moerschel were found not guilty of lesser charges, including destruction of government property.
In a separate trial held last fall, the founder of the Oath Keepers, Stewart Rhodes, and Florida Oath Keepers leader Kelly Meggs were found guilty of seditious conspiracy.
Attorneys for the defendants claimed they joined the Oath Keepers for protection from anti-fascist protesters and criminals, and didn't plan on participating in an overthrow of the government on Jan. 6, 2021, with the Capitol breach a surprise. "Responsibility really rests at our politicians' feet," Scott Weinberg, Moerschel's attorney said. "The president and Stewart Rhodes were claiming that the world is coming to an end even before the election."
Federal prosecutors accused the men of being traitors who launched into an attack after Trump did not invoke the Insurrection Act on Jan. 6. "They claimed to wrap themselves in the Constitution, but they trampled it," prosecutor Jeffrey Nestler said during closing arguments. "They ignored the will of the people, [but] had the audacity to claim to be oath-keepers."
Four members of the far-right Oath Keepers group were convicted of seditious conspiracy on Monday, for their role in trying to keep former President Donald Trump in power after his 2020 election loss. The defendants — 52-year-old Joseph Hackett of Florida, 38-year-old Roberto Minuta of Texas, 45-year-old David Moershel of Florida, and 64-year-old Edward Vallejo…
Four members of the far-right Oath Keepers group were convicted of seditious conspiracy on Monday, for their role in trying to keep former President Donald Trump in power after his 2020 election loss. The defendants — 52-year-old Joseph Hackett of Florida, 38-year-old Roberto Minuta of Texas, 45-year-old David Moershel of Florida, and 64-year-old Edward Vallejo…