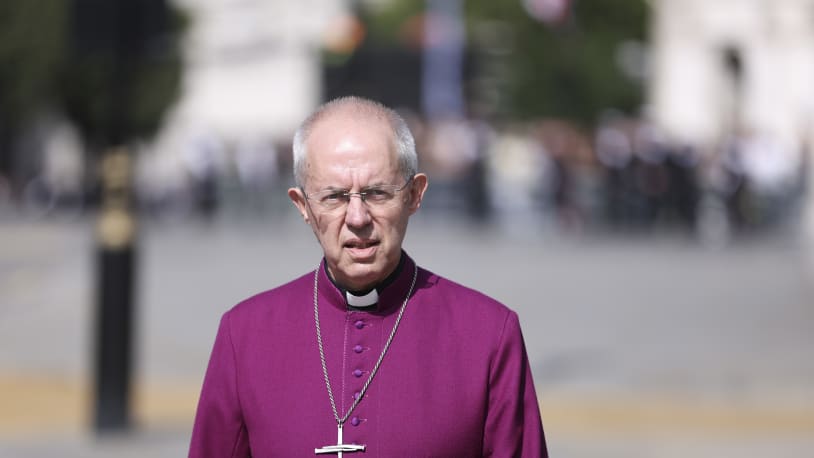 Church of England refuses to lift ban on same-sex marriages
The Church of England said Wednesday that it will still not allow same-sex weddings in its churches, though it would start allowing blessings for those who have married in a civil ceremony. 
In a statement, the Church said that it will issue an apology later this week for the "rejection, exclusion and hostility" that LGBTQ+ individuals have faced. However, the statement added, "The formal teaching of the Church of England as set out in the canons and authorized liturgies — that [marriage] is between one man and one woman for life – would not change."
"Same-sex couples would still not be able to get married in a Church of England church, but could have a service in which there would be prayers of dedication … following a civil marriage or partnership," the Church said.
The head of the Church, Archbishop of Canterbury Justin Welby, acknowledged that the move would seem "not nearly far enough" for some, though he hoped it would be seen as a decision for the common good.
The Associated Press noted that Wednesday's decision followed five years of contentious debate with the Church of England, and it is expected to be officially outlined in a report to the Church's national assembly in February. 
Same-sex marriage has been legal in England and Wales since 2013, but the Church has never changed its teachings. 
Charlie Bell, a priest who lives in London with his partner, told BBC News he felt a "deep disappointment" with the decision.
"It leaves same-sex couples in a bit of a limbo and also as second-class citizens. We're still saying to gay couples that their relationships are less than relationships between people of opposite sexes."
The Church of England said Wednesday that it will still not allow same-sex weddings in its churches, though it would start allowing blessings for those who have married in a civil ceremony.  In a statement, the Church said that it will issue an apology later this week for the "rejection, exclusion and hostility" that LGBTQ+…
The Church of England said Wednesday that it will still not allow same-sex weddings in its churches, though it would start allowing blessings for those who have married in a civil ceremony.  In a statement, the Church said that it will issue an apology later this week for the "rejection, exclusion and hostility" that LGBTQ+…