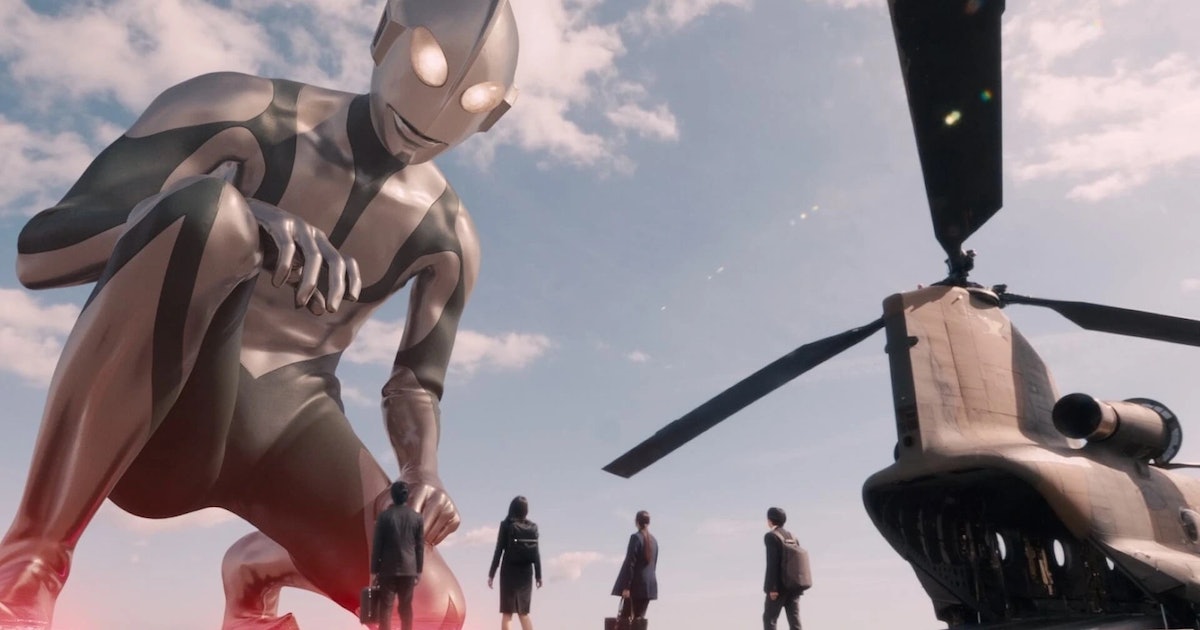 Japanese superheroes set their sights on the West
Eric McEver was six years old when a Godzilla flick changed his world.
"I was watching Invasion of Astro-Monster," the filmmaker tells Inverse. "I've seen Godzilla films on repeat, all dubbed, and in a childlike way I just assumed these were made in America by Americans. Because I'm American."
But while sitting in front of the TV in his childhood home in Oklahoma, one dialogue-heavy scene altered McEver's sense of geography.
"I was like, the words don't match their mouths. And that city doesn't look like America. It was a profound realization that the world is bigger than I realized."
McEver didn't know the name for it back then, but the Godzilla flicks and episodes of Mighty Morphin Power Rangers he marathoned were, and are, part of a long artistic tradition from Japan called "tokusatsu."
English-speakers may find it hard to pronounce – slowly now, "toe-koo-sat-soo" – but you know tokusatsu when you see it. Translating into "special effects" in Japanese, tokusatsu refers to the fantastical, effects-heavy media typically made in Japan.
It isn't a genre, per se, but a philosophy of filmmaking. Tokusatsu is Godzilla stomping over miniaturized Tokyo, or karate-kicking superheroes transforming into colorful costumes. Originating in Japan's post-war economy, tokusatsu inhabits a sub-division of sci-fi and fantasy with its own history and identity. Now in 2023 — starting with the U.S. release of Shin Ultraman in theaters — tokusatsu is finally on the cusp of more mainstream recognition.
In 2021, McEver released his feature film, Iké Boys, a coming-of-age comedy about '90s teens who obtain powers inspired by Japanese superheroes. The movie, which premiered to positive reviews at Fantastic Fest, is one of several pieces of domestic art that pays homage to tokusatsu and indicates increasing familiarity by Westerners of its tropes. Earlier that same year, Image Comics published the first volume of Radiant Black by Kyle Higgins, a superhero comic with heavy tokusatsu-inspired iconography that continues to be a best-seller. Kamen Rider Zero-One, another English-language comic book series, is based on the Japanese tokusatsu franchise Kamen Rider and started publishing last November by Titan.
On the film and TV front, this year will see the release of Knights of the Zodiac, a live-action adaptation of the anime Saint Seiya that includes tokusatsu tropes (like the transforming hero). Home media publisher Shout! Factory will spend 2023 continuing to import tokusatsu content in both physical media and its streaming service TokuSHOUTsu. Shin Ultraman is now in theaters, and precedes an original film now in production at Netflix. And yes there's more Godzilla, including a new series for Apple TV+ coming later this year.
2023 is a step forward for tokusatsu in the Western id, with high-profile releases that distinguish themselves from American sci-fi (like Star Wars) and superheroes (like Marvel). Not one new movie or show is poised to open the floodgates. And no project is the same. But the rollout of all these at once indicates a trend that, as some experts tell Inverse, will cue a new generation on the artform and its unique appeal.
"I see it growing and expanding," McEver observes, "I see how popular anime was in the '90s, but then how vastly more popular it's become now. I see tokusatsu in the same way."
"The Monster Boom"
No one created tokusatsu intentionally. When effects artist Eiji Tsuburaya and director Ishiro Honda teamed up to make Gojira, the first Godzilla film in 1954, their goal was to make a movie like King Kong. But their artistic innovations, like dressing up an actor to play the title monster and using scaled miniatures to represent a city under attack, laid the foundations for a new art form.
Tokusatsu is principally about filmmaking techniques rather than storytelling. (Holistically, one can say that Marvel and Star Wars are tokusatsu, due to the sheer amount of effects wizardry needed.) But the history of tokusatsu frames it today as an artistic aesthetic with Japanese influences, with stories encompassing giant monsters ("kaiju"), transforming ("henshin") superheroes, and sometimes both.
After the success of Gojira, a "monster boom" saw an uptick in tokusatsu productions, including spinoffs and competitors to Godzilla. The de facto mascot of Japan and embodiment of unrestricted nuclear proliferation is easily the biggest representative for tokusatsu. But other icons exist in the Western consciousness too. Ultraman, a silver-and-red superhero of giant proportions, has left his own footprint through several stateside releases since his debut in 1966. This includes a recent anime sequel streaming now on U.S. Netflix.
Other Japanese heroes brought tokusatsu to TV. In the early '70s, manga artist Shotaro Ishinomori leapt to the medium for Kamen Rider, about a motorcyclist who transforms into a superhero with a grasshopper costume. The concept of a transforming superhero who "changes" at the utterance of a catch-phrase, rather than spinning in a phone booth, was revisited by Ishinomori in other tokusatsu shows like Android Kikaider (1973), Inazuman (1974), and Himitsu Sentai Goranger (1975). The latter founded the annual Super Sentai series, which was adapted into the American Power Rangers franchise in the early 1990s.
Coming to America
In 2014, Shout! Factory, led by Brian Ward, had just finished releasing the entirety of Power Rangers on DVD when they asked themselves a simple question: What now? A conversation with then-owner Haim Saban compelled Shout! Factory to try the impossible: bring the original version to America.
"We believed there was no chance Super Sentai was ever going to make it to the English speaking world," Brian Ward tells Inverse. "We finished what we could do with Power Rangers, and Saban said, 'We've got a great relationship with [Sentai owners] Toei. They want to know if we're interested in releasing Super Sentai in the United States.' We said absolutely. There was an instant market for it."
For years, Shout! Factory has leveraged its recognition as a distributor of cult classic content into servicing starved fans of tokusatsu media in the west. After a few years releasing English DVD sets of Super Sentai, Shout! expanded its efforts with TokuSHOUTsu, a streaming service and digital channel. After a pause to navigate Power Rangers' new corporate ownership by Hasbro, Shout! is resuming releasing newer seasons of Super Sentai in the U.S. in 2023.
"There's a maturity level that's different," Ward offers on what audiences find appealing about tokusatsu content. "Ostensibly [the shows] are for kids, but like anime, it's not strictly for children. It's teaching things that people in the west are scared to teach youngsters." Ward cites a standout storyline in the 1992 series Kyoryu Sentai Zyuranger— the basis for the first season of Mighty Morphin — that centered around children in despair in an enchanted forest.
"There's a three-episode arc about going through a forest of despair, where if you feel despair you'll turn to stone. A child turns to stone because they don't trust [the Zyurangers]. The fact they're willing to teach the lesson about what it means to believe in yourself and believe one another is not a distance many American writers would go."
The future of tokusatsu doesn't have one possible outcome, but several. As Japanese franchises like Kamen Rider and Ultraman foster familiarity here in the States, audiences who grew up with it are making inspired art of their own.
While filmmakers like Guillermo del Toro and Nacho Vigalondo (director of the 2017 dramedy Colossal, in which Anne Hatheway controls a kaiju in Seoul) cite Ishiro Honda as an influence, a different generation of creators tell Inverse that Power Rangers – which ruled the early '90s with the same fervor as Pokemon did at the end of the decade – was their gateway to tokusatsu.
"I was aware for many years, growing up a fan of Power Rangers and learning early on that a lot of the action footage was from Super Sentai in Japan," Kyle Higgins tells Inverse. "I was aware of that: 'Oh, you mean there's other shows like this?'"
What's next?
In 2016, Higgins penned Mighty Morphin Power Rangers, a comic book reboot of the TV series for Boom! Studios. Higgins has since written other Western tokusatsu comics like Ultraman — a licensed, English-language series for Marvel Comics — and Radiant Black, an original series with clear nods to his past work.
"Writing Power Rangers changed the way I write," Higgins says, "I became comfortable and interested in optimism. A lot of the stuff we're doing [with Radiant Black and Ultraman], there's bright colors by design, but also the idea of what a superhero means in this day and age. You're getting down to the idea that anyone can be a hero. There's something fantastically efficient and endearing about the transforming hero that I think is having a bit of a moment."
Higgins partners with Matthew Groom on Ultraman, which debuted in 2020. The two describe a creative challenge that other creators of tokusatsu content in the West should expect to ask themselves: How does this translate? Groom says that when Ultraman's owners Tsuburarya approached Marvel "the mandate was, 'We want to see Ultraman through the Marvel lens.'"
"The same way that Spider-Man had that experience," Groom says, "where Spider-Man was translated for Japan. What's the Marvel version of this?"
"A lot of new tokusatsu we're seeing seems to be a loving homage to things that have come before."
Not unlike how Godzilla was a socio-political metaphor for nuclear weapons, Higgins and Groom grounded the series' "kaiju crisis" as a "generational problem."
"Reframing the fundamental allegory through a contemporary lens was appealing to us," Higgins says, "The idea of taking the kaiju and applying issues to our world that have been kicked down the curb for future generations to deal with. Like climate change, gun control. That's what we're talking about [with Ultraman]."
While tokusatsu could wane in the States as it did once before, as in the aftermath of Mighty Morphin Power Rangers that saw a brief burst in short-lived shows just like it, its maturation in 2023 means tokusatsu at least has a second chance on this side of the world.
"I know for a fact that a lot of the people who really, really wanted us to start doing Super Sentai were people who had grown up with bootleg copies imported from Japan or at conventions," Ward says. "The Venn diagram was: things they grew up with on Sunday afternoons. It suddenly becomes part of one bigger culture that they want more and more."
"I think the interest and awareness of it is rising," says McEver, whose film Ike Boys found a distributor in Shout! Factory's Shout! Studios – a natural fit. "A lot of it is tinged with nostalgia. A lot of new tokusatsu we're seeing seems to be a loving homage to things that have come before. I'm curious about the next frontier we're not seeing. There is a sense of respect in the old."
Eric McEver was six years old when a Godzilla flick changed his world. "I was watching Invasion of Astro-Monster," the filmmaker tells Inverse. "I've seen Godzilla films on repeat, all dubbed, and in a childlike way I just assumed these were made in America by Americans. Because I'm American." But while sitting in front of…
Eric McEver was six years old when a Godzilla flick changed his world. "I was watching Invasion of Astro-Monster," the filmmaker tells Inverse. "I've seen Godzilla films on repeat, all dubbed, and in a childlike way I just assumed these were made in America by Americans. Because I'm American." But while sitting in front of…