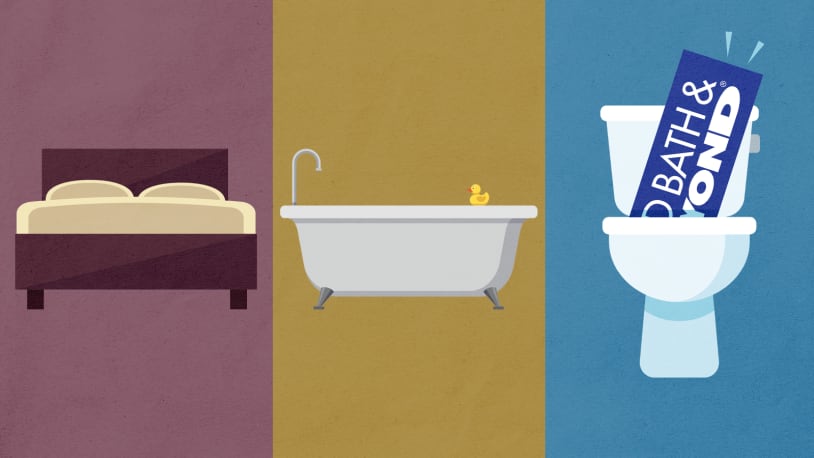 What's going on with Bed Bath & Beyond?
Are Bed Bath & Beyond's days numbered? Here's everything you need to know:
What's happening?
In short, things are not good. Strapped for cash, the longtime home goods retailer is considering filing for bankruptcy in the coming weeks, as it meanwhile plans more layoffs, added cost cuts, and store closures to compensate for its lagging numbers. Per results released Jan. 10, net sales fell 33 percent last quarter, when the company's net loss grew to $393 million — a 42 percent increase from a year ago. "Although we moved quickly and effectively to change the assortment and other merchandising and marketing strategies, inventory was constrained and we did not achieve our goals," CEO Sue Gove said of the quarterly data. Just a few days prior, Bed Bath & Beyond had warned in a regulatory filing that there was "substantial doubt about the company's ability to continue," given its dire financial situation. 
How did we get here?
Bed Bath & Beyond has been in hot water for some time now, having struggled for years to pivot to e-commerce despite its best efforts. Its most recent hiccup, however, is what The Wall Street Journal describes as a "failed makeover," in which many name-brand goods were replaced by those of a BB&B private label — a strategic shift executives hoped would bolster lagging sales. But shoppers, unfortunately, were not impressed by the change-up, and a leadership exodus soon followed. Even as Gove took the reins, sales continued to slide in the lead-up to the crucial holiday season, "in large part because Bed Bath & Beyond did not have enough stuff on shelves from suppliers," CNN writes.
Is a bankruptcy filing guaranteed? 
Not necessarily. Per people familiar with the matter, the company is "likely to secure the financing that would see it through the bankruptcy process from existing creditors," the Journal reports.
What has the company done to try and fix its problems?
When releasing the quarterly results on Jan. 10, Gove said Bed Bath & Beyond is taking steps to solve its inventory issues, and explained "that credit constraints and vendors demanding better payment terms made it harder for the company to keep its shelves stocked during the [holiday] period," the Journal summarizes. Once stores improve their stock levels, sales will improve in turn, Gove said. Further, the company is consulting with advisers "as we consider all strategic alternatives," Gove added. Such efforts are in addition to the aforementioned layoffs, cost savings, and store closures.
Does this portend bad news for the retail industry as a whole?
Not really — at least according to Michael Baker, a senior research analyst at DA Davidson. "Growth trends in retail do seem to have slowed from the record pace set in 2021 and early 2022," Baker recently told Fox Business, "but Bed Bath & Beyond's troubles are more about company-specific issues rather than retail as a whole."
Are Bed Bath & Beyond's days numbered? Here's everything you need to know: What's happening? In short, things are not good. Strapped for cash, the longtime home goods retailer is considering filing for bankruptcy in the coming weeks, as it meanwhile plans more layoffs, added cost cuts, and store closures to compensate for its lagging numbers.…
Are Bed Bath & Beyond's days numbered? Here's everything you need to know: What's happening? In short, things are not good. Strapped for cash, the longtime home goods retailer is considering filing for bankruptcy in the coming weeks, as it meanwhile plans more layoffs, added cost cuts, and store closures to compensate for its lagging numbers.…