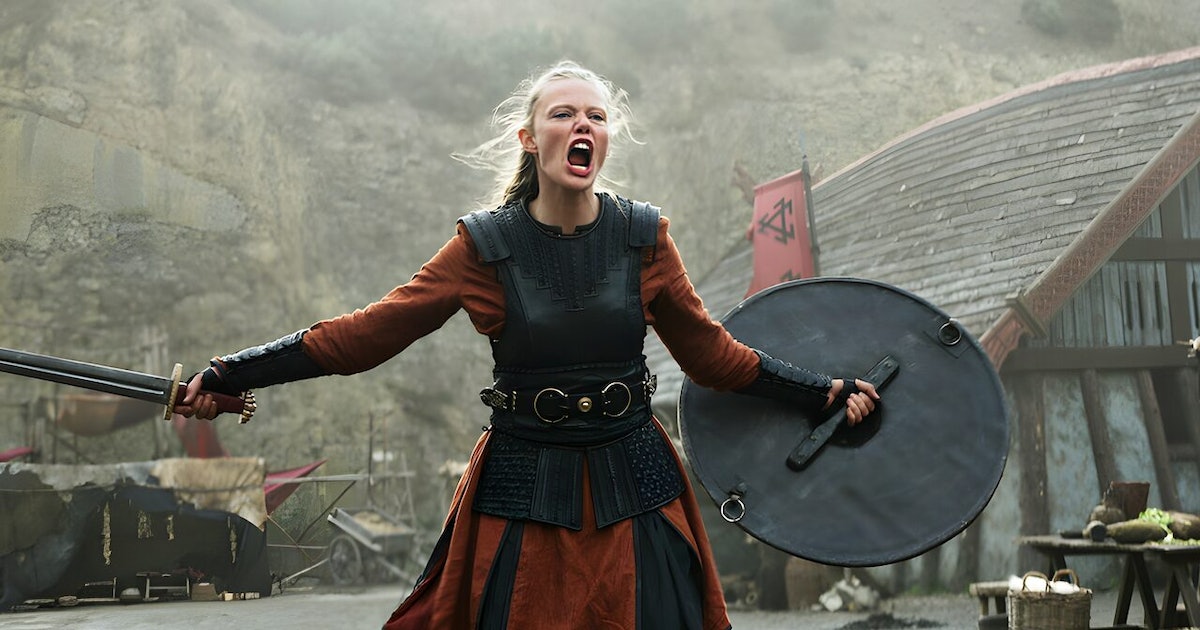 Valhalla' Season 2 release date, time, plot, cast, and trailer for the Netflix Norse epic
Sharpen your axes and sound the horns, because the epic old-world adventures of Vikings: Valhalla Season 2 arrive soon on Netflix with all new dangers to unfold.
Set in the early 11th Century — and over 100 years after the series' History Channel predecessor, Vikings — the historical action drama takes place at the end of the Viking Age when decedents of powerful Vikings are split into warring factions and greater imperialistic powers lie in the world beyond. After the disastrous events of last season's finale, the leading trio are now fugitives of Kattegat, leaving them with no choice but to follow their destinies elsewhere across the globe. The sophomore season is set to expand outside of Scandinavia and Northern Europe and feature a new set of compelling characters, such as devout pagan Vikings, Muslim astronomers, con men, and Byzantine Empire generals.
Ahead, everything you need to know before Vikings: Valhalla Season 2 premieres, including the release date, time, plot, cast, and trailer.
When is the release date for Vikings: Valhalla Season 2?
The entirety of Vikings: Valhalla Season 2 lands on Netflix on Thursday, January 12.
What is the release time for Vikings: Valhalla Season 2?
Netflix releases new movies and TV shows at midnight Pacific, which is 3 a.m. Eastern.
How many episodes are in Vikings: Valhalla Season 2?
The second season of Vikings: Valhalla will consist of eight episodes, just like the previous season.
What is the plot of Vikings: Valhalla Season 2?
The second season picks up shortly after the final scenes of Season 1. Leif, Harald, and Freydís are now fugitive refugees following the fall of Kattegat. After escaping Jarl Kare and Olaf, the courageous Viking trio must set off to new destinations beyond Scandinavia. While Freydís finds herself in the legendary, harsh Viking stronghold of Jómsborg in Pomerania, Leif and Harald set a lawless course down the Dnieper River toward Constantinople. The three will establish new relationships among both friends and enemies during their far-flung travels — with plenty of battle cries and bloodshed along the way.
If you want to get caught up on or revisit the thrilling action building up to the Season 2 drop, all of Season 1 of Vikings: Valhalla is available on Netflix.
Who is in the cast for Vikings: Valhalla Season 2?
The stars of last season top the cast once again in Season 2 of Vikings: Valhalla, with Sam Corlett as the famed explorer, Leif Eriksson; Frida Gustavsson as his headstrong sister, Freydís Eiríksdóttir; and Leo Suter as the zealous prince of Norway, Harald Sigurdsson. Along with the leading trio, Jóhannes Haukur Jóhannesson returns as Jarl Olaf Haraldsson, Bradley Freegard as King Canute, Caroline Henderson as Jarl Estrid Haakon, Laura Berlin as Queen Emma of Normandy, and David Oakes as Earl Godwin.
Bradley James as Lord Harekr, Hayat Kamille as Mariam, Tolga Safer as Kurya, Marcin Dorociński as Grand Prince Yaroslav the Wise, Nikolai Kinski as Emperor Romanos, Florian Munteanu as George Maniakes, Sofya Lebedeva as Eleana, Joakim Nätterqvist as Birkir, and Set Sjöstrand as Magnus Olafsson.
Is there a trailer for Vikings: Valhalla Season 2?
Yes, Netflix released the Season 2 trailer on December 12, and it teases lots of drama in the ancient world to come. With a bounty on their heads from Olaf, the gang of Leif, Harald, and Freydís decide they must split up for now. On her solo journey, Freydís encounters a terrifying mystic in the forest who warns her about her future and she is later welcomed into the city of Jómsborg. Meanwhile, Harald and Leif get involved in some shady money-making schemes with ties to something precious en route to the Emperor of Constantinople. Ultimately, the trailer shows that the heroes must continue to fight to get what they each want.
Will there be a Vikings: Valhalla Season 3?
Yes, there will likely be a third season of Vikings: Valhalla. The showrunners announced that the series was officially renewed for both a second and third season in March of last year, after having received a 24-episode order back in 2019. So, if everything goes according to plan, there will be at least one more season of ancient Norse escapades to come.
Sharpen your axes and sound the horns, because the epic old-world adventures of Vikings: Valhalla Season 2 arrive soon on Netflix with all new dangers to unfold. Set in the early 11th Century — and over 100 years after the series' History Channel predecessor, Vikings — the historical action drama takes place at the end…
Sharpen your axes and sound the horns, because the epic old-world adventures of Vikings: Valhalla Season 2 arrive soon on Netflix with all new dangers to unfold. Set in the early 11th Century — and over 100 years after the series' History Channel predecessor, Vikings — the historical action drama takes place at the end…