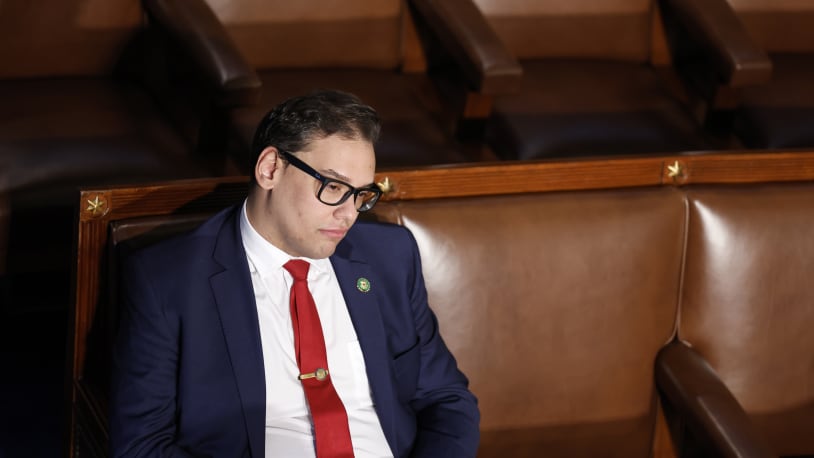 The calls for Rep. George Santos to quit are coming from inside the house
but not the House house… yet
It's been nearly one month since The New York Times published an explosive exposé highlighting then-Congressman-elect George Santos' (R-N.Y.) extensive lies concerning everything from where he went to school to where he worked before running for office. And in that time, Santos has admitted to "embellishing my résumé" while nevertheless insisting that he is "not a criminal," despite several newly-launched investigations that suggest otherwise — all while more and more instances of his alleged penchant for embellishment were uncovered by the national press. 
Nevertheless, Santos now sits as a full-fledged member of the United States House of Representatives, and, with the backing of Speaker Kevin McCarthy (R-Calif.), will be assigned to at least one congressional committee.
While Democrats have, unsurprisingly, been demanding Santos' resignation for weeks now, those demands were on Wednesday echoed from across the political aisle, when Nassau County Republican officials, and later the New York State GOP as a whole, called for the freshman congressman to step down.
"George Santos' campaign last year was a campaign of deceit, lies, and fabrication," Nassau County GOP Chairman Joe Cairo told reporters, adding that among Santos' many falsehoods was a previously unheard claim that he'd helped Baruch College's volleyball team win a league championship — an impressive feat considering he never attended that particular institution. Later that afternoon, N.Y. GOP Chairman Nick Langworthy agreed with Cairo, saying in a brief press release that "it's clear [Santos] cannot be an effective representative and it would be in the best interest of the taxpayers to have new leadership."
Despite both the county and state he ostensibly represents having demanded his resignation, Santos himself has remained obstinately committed to staying in Congress, tweeting that he "regret[s] to hear that local officials refuse to work with my office to deliver results to keep our community safe and lower the cost of living."
I was elected to serve the people of #NY03 not the party & politicians, I remain committed to doing that and regret to hear that local officials refuse to work with my office to deliver results to keep our community safe and lower the cost of living.I will NOT resign!

— George Santos (@Santos4Congress) January 11, 2023
Santos' stubbornness is bolstered in part by McCarthy, who has conspicuously refused to call for the congressman's resignation and said Wednesday that "the voters elected him to serve. If there is a concern, and he has to go through the Ethics, let him move through that."
McCarthy's refusal to demand Santos step down may well be informed by electoral math as it is by any sense of loyalty; New York's 3rd Congressional District had been a solidly Democratic stronghold for nearly a decade before Santos' narrow victory there in November. Should Santos indeed resign, McCarthy's already razor-thin House Majority would become that much thinner, and his already Sisyphean task of leading a party that spent its first week of the new legislative session demonstrating a historical unwillingness to heed his authority would be made all the more difficult, putting both his speakership and the GOP majority as a whole at risk. 
but not the House house… yet It's been nearly one month since The New York Times published an explosive exposé highlighting then-Congressman-elect George Santos' (R-N.Y.) extensive lies concerning everything from where he went to school to where he worked before running for office. And in that time, Santos has admitted to "embellishing my résumé" while nevertheless insisting…
but not the House house… yet It's been nearly one month since The New York Times published an explosive exposé highlighting then-Congressman-elect George Santos' (R-N.Y.) extensive lies concerning everything from where he went to school to where he worked before running for office. And in that time, Santos has admitted to "embellishing my résumé" while nevertheless insisting…