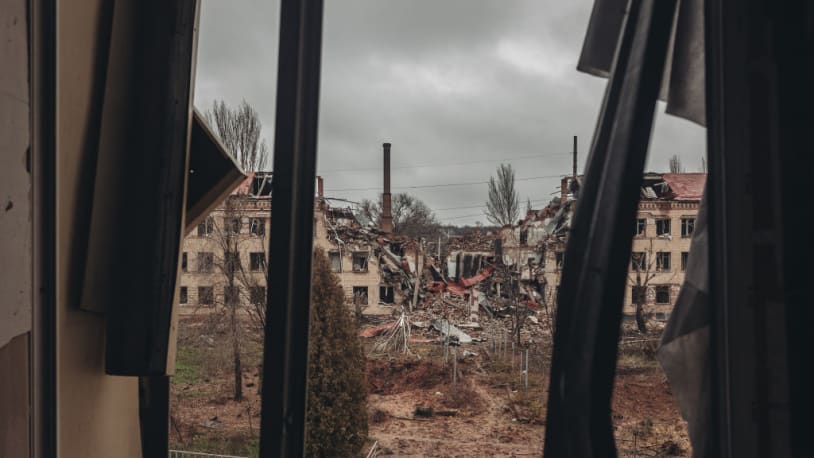 Russia's Wagner mercenaries claim bloody, disputed win in Ukraine's Soledar, with eye toward Bakhmut
'This is what madness looks like'
The owner of Russia's Wagner Group, Yevgeny Prigozhin, claimed late Tuesday that his mercenary army had captured the small salt-mining town of Soledar, though he said fighting was continuing in the town center. A spokesman for Ukraine's Eastern Group of Forces, Serhiy Cherevaty, said early Wednesday that Russia has not captured Soledar, and Ukrainian air reconnaissance commander Robert Magyar said that while the fighting is "hell," Ukrainian forces still held the town. 
Wagner has thrown waves of troops, including elite forces, at Soledar, gaining a beachhead in the town on Jan. 6. While Soledar itself is of little intrinsic value, it lies six miles north of the ruined city of Bakhmut, which Wagner forces and Russia's military have been trying to capture since last summer. Seizing Soledar would also allow Russia to claim a win after months of humiliating setbacks.
"The whole land near Soledar is covered with the corpses of the occupiers and scars from the strikes," Ukrainian President Volodymyr Zelenskyy said late Monday. "This is what madness looks like." Hanna Malyar, Ukraine's deputy defense minister, said late Tuesday that a bloody battle was "going on to hold Soledar," and "the approaches to our positions are simply strewn with the bodies of dead enemy fighters." 
Taking Bakhmut would disrupt Ukraine's supply lines and give Russia a path to the rest of Donetsk province, especially the Ukrainian strongholds of Kramatorsk and Sloviansk. "Even taking the most generous Russian claims at face value, the capture of Soledar would not portend an immediate encirclement of Bakhmut," the Institute for the Study of War think tank said Tuesday night.  
But Soledar's fall would make "holding Bakhmut much more precarious for Ukraine," Michael Kofman, a Russia expert at the CAN research organization, told The Associated Press. At the same time, given the heavy casualties Russia is incurring, "I don't think the outcome at Bakhmut is that significant compared to what it costs Russia to achieve it."
Ukraine "is also taking high casualties on the Bakhmut-Soledar front, quickly depleting the strength of several brigades sent there as reinforcements in the past month," The Wall Street Journal reports. "Western — and some Ukrainian — officials, soldiers, and analysts increasingly worry that Kyiv has allowed itself to be sucked into the battle for Bakhmut on Russian terms, losing the forces it needs for a planned spring offensive as it stubbornly clings to a town of limited strategic relevance." 
'This is what madness looks like' The owner of Russia's Wagner Group, Yevgeny Prigozhin, claimed late Tuesday that his mercenary army had captured the small salt-mining town of Soledar, though he said fighting was continuing in the town center. A spokesman for Ukraine's Eastern Group of Forces, Serhiy Cherevaty, said early Wednesday that Russia has…
'This is what madness looks like' The owner of Russia's Wagner Group, Yevgeny Prigozhin, claimed late Tuesday that his mercenary army had captured the small salt-mining town of Soledar, though he said fighting was continuing in the town center. A spokesman for Ukraine's Eastern Group of Forces, Serhiy Cherevaty, said early Wednesday that Russia has…