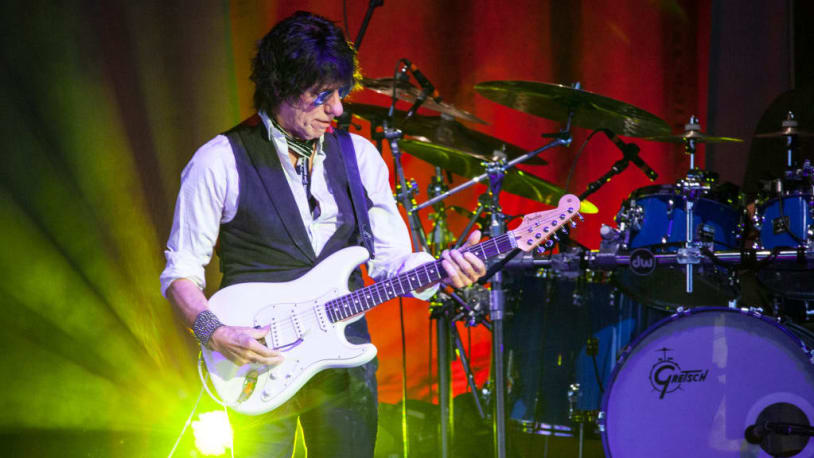 Legendary guitarist Jeff Beck dies at 78
Jeff Beck, considered by many to be among the greatest modern guitar players, died on Tuesday after contracting bacterial meningitis, his website announced Wednesday. He was 78.
The guitar virtuoso rose to prominence in the 1960s as a member of the Yardbirds, and was known for his love of the Fender Stratocaster and ability to blend hard rock with jazz and blues. The Grammy winner performed with a diverse roster of musicians, including Rod Stewart, Cyndi Lauper, Luciano Pavarotti, and Wynonna Judd, and was twice inducted into the Rock & Roll Hall of Fame — first with the Yardbirds and later as a solo artist.
Beck landed in the No. 5 spot on Rolling Stone's 100 Greatest Guitarists list, and his fellow musicians lauded his talent, with Mike Campbell of the Heartbreakers writing that Beck had "the combination of brilliant technique with personality," and said that after seeing him perform, he "went home and started practicing. Maybe that's what I took from him: If you want to be Jeff Beck, do your homework."
Beck's childhood friend and former bandmate, Jimmy Page, remembered him on Wednesday as a "six stringed warrior," who was able to cast a "spell … around our mortal emotions. Jeff could channel music from the ethereal. His technique unique. His imaginations apparently limitless. Jeff I will miss you along with your millions of fans. Jeff Beck rest in peace."
Jeff Beck, considered by many to be among the greatest modern guitar players, died on Tuesday after contracting bacterial meningitis, his website announced Wednesday. He was 78. The guitar virtuoso rose to prominence in the 1960s as a member of the Yardbirds, and was known for his love of the Fender Stratocaster and ability to…
Jeff Beck, considered by many to be among the greatest modern guitar players, died on Tuesday after contracting bacterial meningitis, his website announced Wednesday. He was 78. The guitar virtuoso rose to prominence in the 1960s as a member of the Yardbirds, and was known for his love of the Fender Stratocaster and ability to…