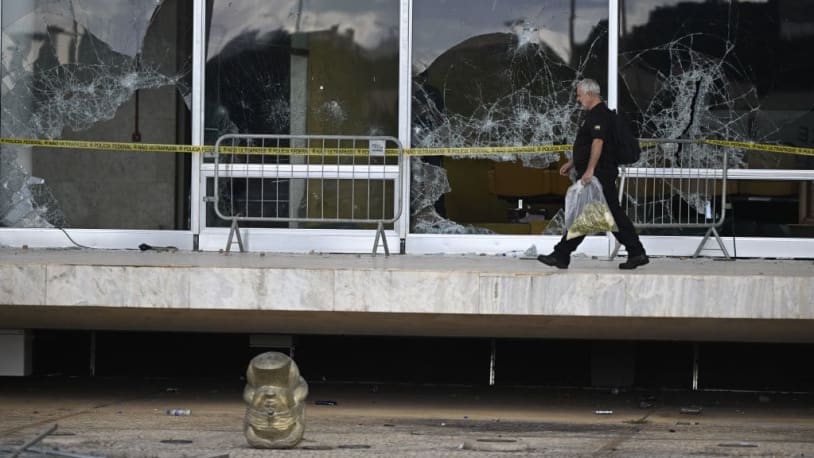 Brazil: Judge orders arrest of top security officials in connection with riot
In Brazil, 599 people who were detained after storming the country's Congress, Supreme Court, and presidential palace on Sunday have been released for "humanitarian reasons," the Brazilian Ministry of Justice said Tuesday, as prosecutors moved to seize the assets of former President Jair Bolsonaro and a judge signed arrest warrants for two top security officials.
The rioters came to Brasília to show support for the right-wing populist Bolsonaro, who has claimed without evidence that he lost October's election to President Luiz Inácio Lula da Silva, commonly referred to as Lula, because of voter fraud. More than 1,500 rioters were detained on Sunday, and those released Tuesday include people with health issues, mothers with children, and the elderly. The Congress, Supreme Court, and presidential palace sustained damage, with rioters breaking windows and defacing or destroying pieces of artwork and other valuable objects.
Lula has accused police of colluding with the rioters, The Washington Post reports, and a senior judge on the Supreme Court ordered the arrests on Tuesday of Anderson Torres, public security secretary for the federal district of Brasília, and Col. Fábio Augusto Vieira, commander of the military police in the district, a court official told the Post. The arrest warrants say the men did not ensure that there was adequate police presence in Brasília on Sunday, and they allowed a pro-Bolsonaro encampment filled with his loyalists to be set up and expanded.
Many of the rioters were bused to Brasília from other parts of Brazil, and Brazilian Justice Minister Flavio Dino on Tuesday said investigators have determined that several business executives, including those in agribusiness, advertised the free bus rides on social media and then paid for the transportation. Dino did not release the names of any of the suspected financiers.
Bolsonaro, who is in Florida and said on Tuesday he will be returning to Brazil sooner than expected to receive health care, has denied responsibility for riling up his base. While he has not been charged in connection with the riot, Brazilian prosecutors have asked a court to seize his assets, stating that the money should be used to cover the cost of damages to the government buildings on Sunday.
In Brazil, 599 people who were detained after storming the country's Congress, Supreme Court, and presidential palace on Sunday have been released for "humanitarian reasons," the Brazilian Ministry of Justice said Tuesday, as prosecutors moved to seize the assets of former President Jair Bolsonaro and a judge signed arrest warrants for two top security officials.…
In Brazil, 599 people who were detained after storming the country's Congress, Supreme Court, and presidential palace on Sunday have been released for "humanitarian reasons," the Brazilian Ministry of Justice said Tuesday, as prosecutors moved to seize the assets of former President Jair Bolsonaro and a judge signed arrest warrants for two top security officials.…