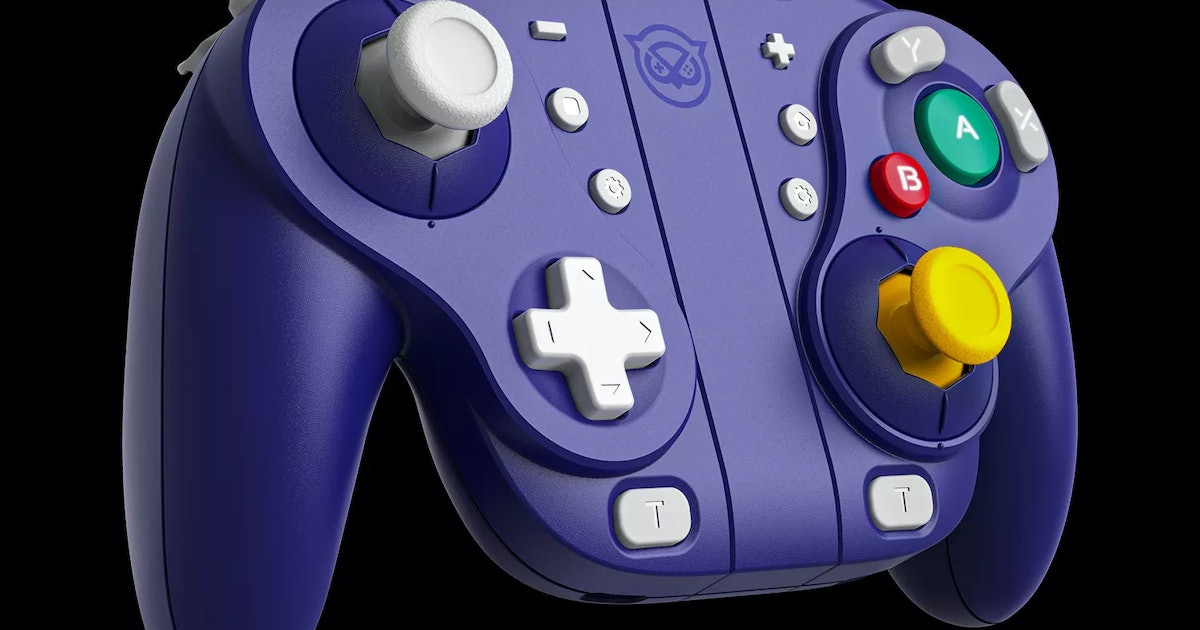 This GameCube controller for Nintendo Switch is basically drift-proof
The perfect Nintendo Switch controller doesn't exi–. We finally have a controller solution that addresses joystick drift while still being able to split apart and attach to a Switch. Nyxi released its Wizard Wireless Joy-pad controller designed specifically for the Switch.
It's the perfect combination of throwback Nintendo aesthetics with an all-around improved design that gets rid of the perpetual problem plaguing Joy-Cons: stick drift. The Wizard updates that iconic design from GameCube's beloved Wavebird controller with Hall Effect sensors, back buttons, and improved triggers. The fact that the Nyxi Wizard can split apart and connect to a Switch is just the cherry on top.
No more stick drift — While the Wizard's Wavebird-inspired design drew us all in, it's the Hall Effect sensors that keep us around. Nyxi may have addressed the most egregious flaw with the Joy-Cons by using Hall Effect sensors for its Wizard joysticks, which drastically reduce instances of joystick drift and have fewer dead zones.
On top of addressing stick drift, Nyxi added some crucial features to make the Wizard feel like a pro controller. The controller also has back buttons and burst settings, more tactile triggers that have 0.3 mm trigger distances, and illuminated ABXY buttons. The Nyxi Wizard even lets you adjust the amount of rumble with five levels.
You can further customize the Wizard by choosing which joystick ring you want, between a round one for more fluidity when it comes to racing games or an octagonal joystick ring for more precision on directional inputs for fighting games.
These all may feel like minor upgrades compared to Hall Effect sensors, but they combine to make a controller that's worth the premium price tag. Nyxi says its Wizard controller can get 8.5 hours of playtime and will take 2.5 hours to fully charge.
Already sold out — Nyxi's Wizard is definitely more expensive than Nintendo's default Joy-Cons or its improved Hori Split Pad Pro since it retails for $69.99. However, if you consider the cumulative costs of constantly replacing your Joy-Cons due to stick drift, the Wizard seems like a more cost-effective way of enjoying your Switch. Unfortunately, the Nyxi Wizard is already sold out.
There are some alternatives out there, like GuliKit's Switch controller that uses Hall Effect joysticks, but can't be attached to a Switch screen. Alternatively, if you wanted that GameCube style, you could go for PowerA's wireless controller, which also doesn't use Hall Effect joysticks, nor can it be split in half for a Switch. However, none of these options do as good a job as the Nyxi Wizard controller at combining everything a Switch owner is looking for. No wonder these controllers sold out so quickly.
The perfect Nintendo Switch controller doesn't exi–. We finally have a controller solution that addresses joystick drift while still being able to split apart and attach to a Switch. Nyxi released its Wizard Wireless Joy-pad controller designed specifically for the Switch. It's the perfect combination of throwback Nintendo aesthetics with an all-around improved design that…
The perfect Nintendo Switch controller doesn't exi–. We finally have a controller solution that addresses joystick drift while still being able to split apart and attach to a Switch. Nyxi released its Wizard Wireless Joy-pad controller designed specifically for the Switch. It's the perfect combination of throwback Nintendo aesthetics with an all-around improved design that…