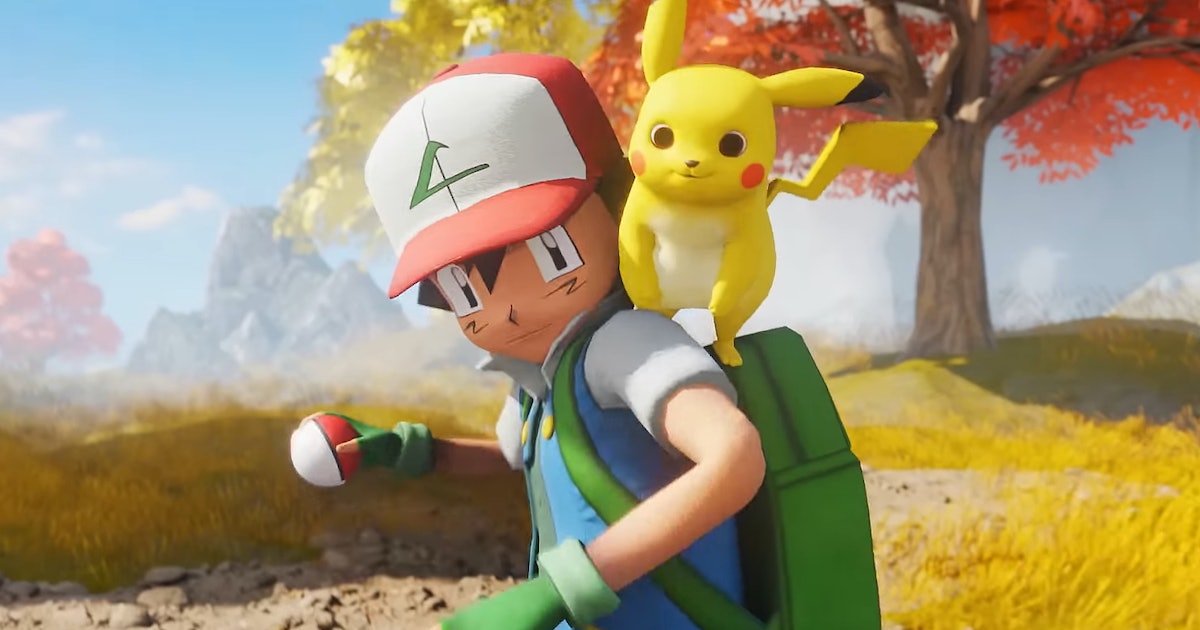 Is Pokémon coming to Fortnite? An investigation into those collab rumors
Epic Games is the king of in-game collaborations as evidenced by the sheer volume of licensed characters available in Fortnite. Famous examples include Dragon Ball Z, Naruto, Marvel, and Star Wars. Recently, a Fortnite video appeared online featuring none other than Ash, Pikachu, and Charizard from the Pokémon series. This video is fan-made but has sparked speculation about whether Pokémon will actually come to Fortnite one day. While it's certainly not impossible, it's very unlikely a Pokémon Fortnite collab will happen, at least anytime soon. Here are three reasons why it could, and three reasons why it likely won't happen.
3 reasons Fortnite x Pokémon could happen
YouTuber FeraalsVFX did an excellent job with this fan-made trailer.
1. It would print money
The most obvious argument is that a Pokémon Fortnite collaboration would likely make an obscene amount of money for all involved. Selling cosmetics from the Fortnite Item Shop is a major source of revenue for Epic Games, and given Pokémon's popularity, there's no doubt it would be profitable.
2. A perfect Ash sendoff
Given how Ash's story arc in the show has finally come to an end after 25 years, what better sendoff than to include the character in Fortnite? It makes sense as an exclamation point, giving Ash, Pikachu, and Charizard one last hurrah in a wild and momentous fashion.
3. There are plenty of anime collab precedents
Fortnite does have a history of highlighting other anime such as Dragon Ball, My Hero Academia, and Naruto, so it's within the realm of possibility for Pokémon to join the fray. Sure, Pokémon is focused on cute cuddly creatures rather than powerful human-like characters, but surely, there's a way to make it work in-game.
3 reasons Fortnite x Pokémon won't happen
1. Pokémon crossovers are rare
While we'd love to will a Fortnite Pokémon collab into existence, it likely won't happen.
This is because there isn't much history of Pokémon being featured in other games. This is especially true outside of games associated with Nintendo. That's not to say it's impossible, but Pokémon video game collaborations are rare.
2. There's no need
The Pokémon Company and Nintendo aren't hurting for cash right now. In fact, the most recent entries in the video game series, Pokémon Scarlet and Violet became the fastest-selling Nintendo games of all time, reaching 10 million copies sold in just three days. So, rather than focus on other business ventures, Nintendo has a clear formula that works, so there's no need to deviate.
3. Pokémon with guns?
The main argument against a Fortnite Pokémon collab is that The Pokémon Company and Nintendo likely don't want their beloved characters running around with guns. Pokémon does have combat, sure, but it's a far cry from using a sniper to shoot your foes in the head.
It's tough to imagine Nintendo greenlighting a collab in which Pikachu can blow enemies away with a rocket launcher, or the plethora of weapons available at your disposal. Fortnite isn't the most gratuitously violent game, but it still seems like way too much for Pokémon.
Nonetheless, even if a collab isn't in the works, there's still plenty to enjoy across both series, including yet another stellar Fortnite season, along with Pokémon Scarlet and Violet.
Epic Games is the king of in-game collaborations as evidenced by the sheer volume of licensed characters available in Fortnite. Famous examples include Dragon Ball Z, Naruto, Marvel, and Star Wars. Recently, a Fortnite video appeared online featuring none other than Ash, Pikachu, and Charizard from the Pokémon series. This video is fan-made but has…
Epic Games is the king of in-game collaborations as evidenced by the sheer volume of licensed characters available in Fortnite. Famous examples include Dragon Ball Z, Naruto, Marvel, and Star Wars. Recently, a Fortnite video appeared online featuring none other than Ash, Pikachu, and Charizard from the Pokémon series. This video is fan-made but has…