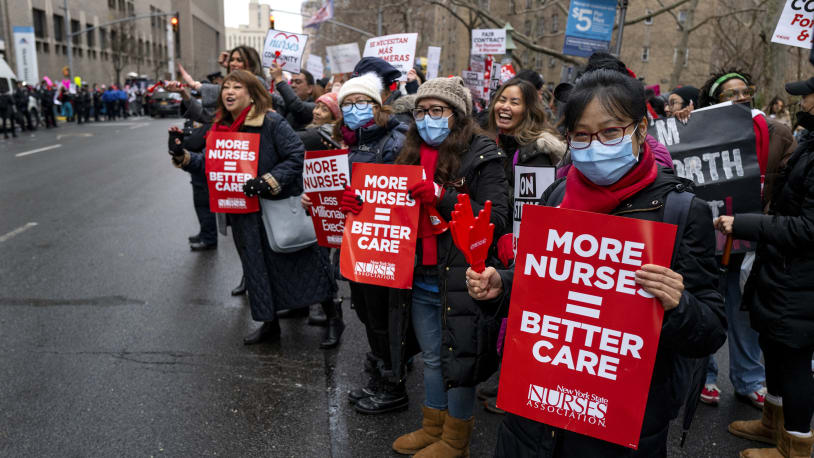 More than 7,000 nurses are on strike in New York. Now what?
Over 7,000 nurses are on strike from two major New York City hospitals after the New York State Nurses Association (NYSNA) staged a walkout from Montefiore Medical Center in the Bronx and Mount Sinai Hospital in Manhattan, The Associated Press reports.
The strike regarding working conditions, salaries, and staffing policies arrived after the union could not reach an agreement with the hospitals at a bargaining session on Sunday. Nurses say they have been stressed since the start of the pandemic and are now experiencing burnout, which negatively impacts patient care.
"We do not take striking lightly, but that's what's going to happen if our bosses give us no other choice," said Nancy Hagans, NYSNA president. The union shared a similar sentiment in its statement: "Nurses don't want to strike. Bosses have pushed us to strike by refusing to seriously consider our proposals to address the desperate crisis of unsafe staffing that harms our patients." Other New York City care centers, like New York-Presbyterian Hospital, were able to reach union agreements and avoid a walkout, AP continues.
The affected hospitals have been preparing for a strike for the last 10 days, with Montefiore, for example, sharing instructions on how nurses can leave the union and continue treating patients, CNN reports. Both facilities also plan to bring on temporary staff and transfer patients as needed. "Our first priority is the safety of our patients. We're prepared to minimize disruption," Mount Sinai said. Still, the walkouts present quite the challenge for the hospitals, especially as doctors deal with the current "tripledemic" of COVID-19, RSV, and the flu, The New York Times reports.
Even with the strike, nurses aren't discouraging those who need it from seeking care. "Going into the hospital to get the care you need is NOT crossing our strike line," NYSNA wrote in a statement. "We would rather be the ones providing that care, but our bosses have pushed us to be out here instead."
Over 7,000 nurses are on strike from two major New York City hospitals after the New York State Nurses Association (NYSNA) staged a walkout from Montefiore Medical Center in the Bronx and Mount Sinai Hospital in Manhattan, The Associated Press reports. The strike regarding working conditions, salaries, and staffing policies arrived after the union could not reach an agreement…
Over 7,000 nurses are on strike from two major New York City hospitals after the New York State Nurses Association (NYSNA) staged a walkout from Montefiore Medical Center in the Bronx and Mount Sinai Hospital in Manhattan, The Associated Press reports. The strike regarding working conditions, salaries, and staffing policies arrived after the union could not reach an agreement…