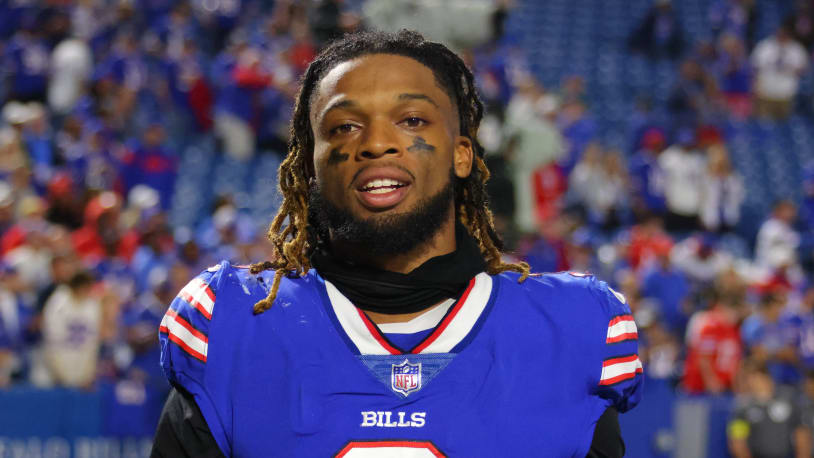 Damar Hamlin released from hospital 1 week after collapsing on field
Just one week after his heart stopped on the football field, Buffalo Bills safety Damar Hamlin has been released from a Cincinnati hospital, doctors said Monday. 
Health officials at the University of Cincinnati Medical Center confirmed during a press conference that Hamlin had been discharged from their care and flown to a medical center in Buffalo earlier in the day. 
"Mr. Hamlin has been released and returned to Buffalo," Dr. William Knight told the media. "He is doing well and this is the beginning of the next stage of his recovery."
Hamlin, who had to be revived with CPR after suffering a cardiac arrest last week following a routine tackle during a game against the Cincinnati Bengals, tweeted that he was "grateful for the awesome care I received at UCMC" and "happy to be back in Buffalo."
Following the news that Hamlin had been released from the hospital, the supportive sports world chimed in to express their relief and adoration. 
Bengals Head Coach Zac Taylor called Hamlin's release "unbelievable."
"That was … not even a week ago," Taylor added. "God is great, he works miracles, this is certainly a miracle."
Free agent quarterback Robert Griffin III had a similar sentiment, tweeting, "Damar Hamlin has been released from the hospital! GOD IS GOOD!!!"
Hamlin played college football at the University of Pittsburgh, and Pennsylvania Rep. Susan Wild (D) tweeted, "[Hamlin's] quick recovery is a testament to the strength of modern medicine and the quick actions of the emergency medical personnel."
Just one week after his heart stopped on the football field, Buffalo Bills safety Damar Hamlin has been released from a Cincinnati hospital, doctors said Monday.  Health officials at the University of Cincinnati Medical Center confirmed during a press conference that Hamlin had been discharged from their care and flown to a medical center in Buffalo…
Just one week after his heart stopped on the football field, Buffalo Bills safety Damar Hamlin has been released from a Cincinnati hospital, doctors said Monday.  Health officials at the University of Cincinnati Medical Center confirmed during a press conference that Hamlin had been discharged from their care and flown to a medical center in Buffalo…