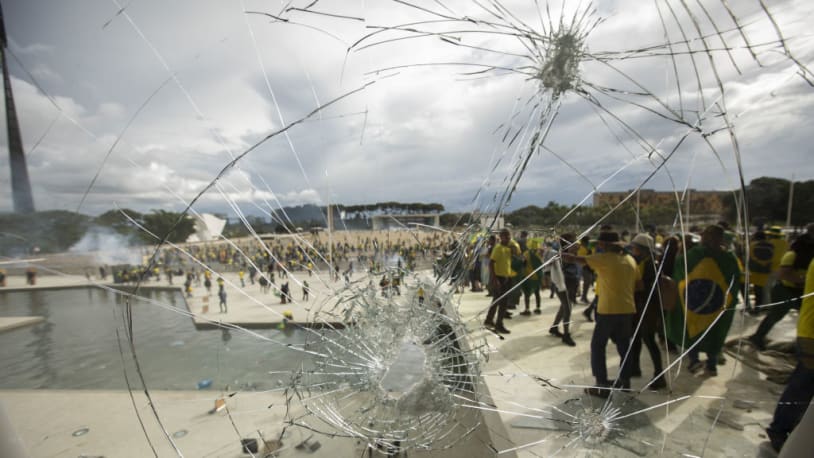 Brazil's Supreme Court removes Brasilia governor for failing to prevent capital riot
Brazilian Supreme Court Justice Alexandre de Moraes temporarily removed the governor of Brasilia's federal district late Sunday in response to the assault on Brazil's Congress, Supreme Court, and presidential palace by thousands of supporters of former President Jair Bolsonaro, CNN reports.
Brasilia Gov. Ibaneis Rocha was "painfully silent" during Sunday's riot, Moraes said after handing down the three-month suspension. Rocha "not only made public statements defending a false 'free political demonstration in Brasilia,'" but "also ignored all appeals by the authorities to carry out a security plan."
Rocha posted a video earlier Sunday apologizing to President Luiz Inácio Lula da Silva "for what happened today in our city," calling it "simply unacceptable." He also said at least 400 people have been arrested from the riot, more will be identified, and those "who participated in these terrorist acts this afternoon" will "pay for the crimes committed."
Brazilian federal prosecutors asked the Supreme Court to issue an arrest warrant for Federal District Public Security head Anderson Torres and "other public agents responsible for acts and omissions" leading to the breach. Rocha had appointed Torres, a justice minister in Bolsonaro's Cabinet, but fired him after Sunday's riot. "Local media reported that Torres is currently in the U.S.," The Associated Press reports. 
Before returning to the capital Sunday evening, Lula signed a decree putting the federal government in charge of the Brasilia federal district. "The coup plotters who promoted the destruction of public property in Brasilia are being identified and will be punished," he posted on Facebook.
It isn't clear yet how the throng of Bolsonaro supporters was able to march the five miles from the army headquarters in Brasilia to the plaza with Congress, the Supreme Court, and the presidential palace, then enter the buildings and vandalize them, BBC News reports. The presidential palace, for example, has an army brigade stationed permanently inside. 
"Brazilian authorities had two years to learn the lessons from the (U.S.) Capitol invasion and to prepare themselves for something similar in Brazil," Maurício Santoro, political science professor at the State University of Rio de Janeiro, told AP. "Local security forces in Brasilia failed in a systematic way to prevent and to respond to extremist actions in the city. And the new federal authorities, such as the ministers of justice and of defense, were not able to act in a decisive way."
Brazilian Supreme Court Justice Alexandre de Moraes temporarily removed the governor of Brasilia's federal district late Sunday in response to the assault on Brazil's Congress, Supreme Court, and presidential palace by thousands of supporters of former President Jair Bolsonaro, CNN reports. Brasilia Gov. Ibaneis Rocha was "painfully silent" during Sunday's riot, Moraes said after handing down…
Brazilian Supreme Court Justice Alexandre de Moraes temporarily removed the governor of Brasilia's federal district late Sunday in response to the assault on Brazil's Congress, Supreme Court, and presidential palace by thousands of supporters of former President Jair Bolsonaro, CNN reports. Brasilia Gov. Ibaneis Rocha was "painfully silent" during Sunday's riot, Moraes said after handing down…