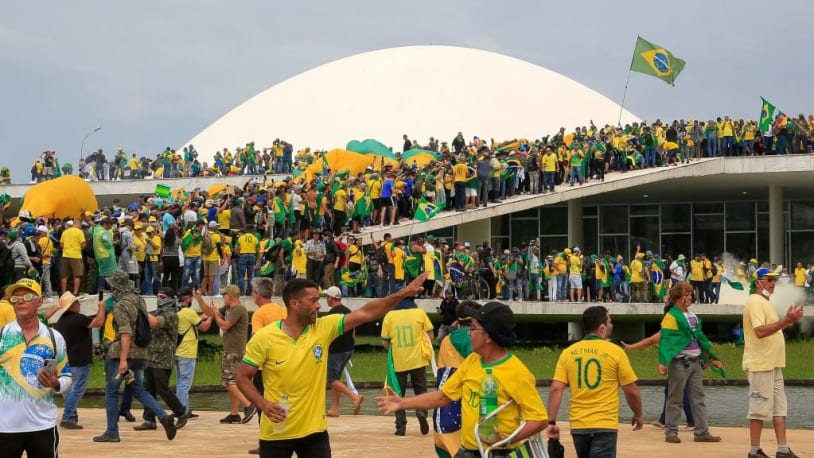 Brazilian authorities: Rioters have been cleared out of government buildings, 200 arrested
Brazilian authorities announced on Sunday night that the rioters who stormed the country's Congress, Supreme Court, and presidential offices earlier in the day have been cleared out.
It took more than five hours to clear the thousands of rioters out, authorities said, and in an attempt to break up the crowd outside, police fired rubber bullets and tear gas canisters from helicopters. Officials in Brasília are now investigating the damage done to the buildings, as well as reports that the rioters, who are supporters of former Brazilian President Jair Bolsonaro, attacked journalists and carried "bladed weapons," The New York Times reports.
Bolsonaro is a right-wing populist who has falsely claimed that he lost October's election to President Luiz Inácio Lula da Silva, better known as Lula, due to voter fraud. Lula was in São Paulo when the protesters first started entering the government buildings, and he accused Bolsonaro of having "triggered" the assault. In response, Bolsonaro, who is in Florida, tweeted that there was "no proof" of this, and said demonstrations should never involve the "destruction and invasions of public buildings, like what occurred today."
At least 200 people have been arrested in connection with the rioting, Brazil's justice minister, Flávio Dino, said. He told reporters that law enforcement officials have determined that about 40 buses brought rioters to Brasília, and those who paid for these trips will be held responsible.
President Biden tweeted his support of Lula, saying he looks forward to "continuing to work" with him, and condemned the "assault on democracy and on the peaceful transfer of power in Brazil. Brazil's democratic institutions have our full support and the will of the Brazilian people must not be undermined." Several South American leaders agreed, with President Alberto Fernandez of Argentina saying "democracy is the only political system that guarantees freedoms and obliges us to respect the popular verdict," and President Luis Lacalle Pou of Uruguay tweeting, "We regret and condemn the actions carried out in Brazil that threaten democracy and institutions."
Brazilian authorities announced on Sunday night that the rioters who stormed the country's Congress, Supreme Court, and presidential offices earlier in the day have been cleared out. It took more than five hours to clear the thousands of rioters out, authorities said, and in an attempt to break up the crowd outside, police fired rubber…
Brazilian authorities announced on Sunday night that the rioters who stormed the country's Congress, Supreme Court, and presidential offices earlier in the day have been cleared out. It took more than five hours to clear the thousands of rioters out, authorities said, and in an attempt to break up the crowd outside, police fired rubber…