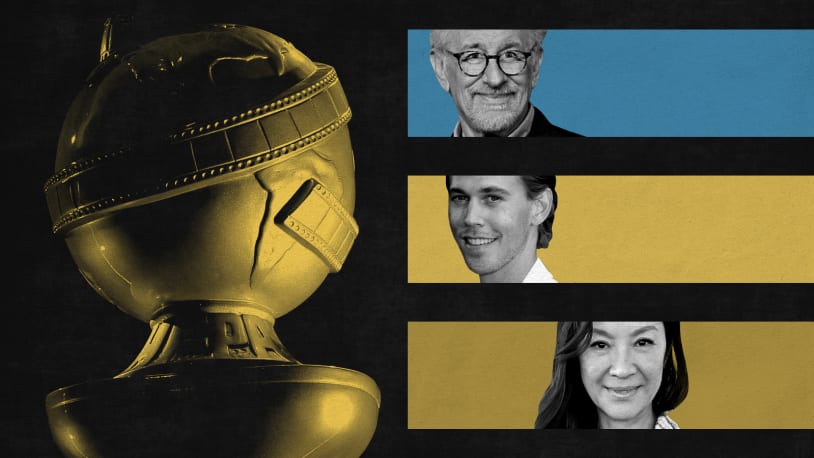 2023 Golden Globes: Who will win, and who could surprise?
January 9, 2023
January 9, 2023
The Golden Globe Awards will attempt a comeback this week after being yanked from the air over a diversity scandal. So just how chaotic will the winners be this year, and could the group's picks shake up the Oscar race? Here's our best attempt to predict how an often unpredictable ceremony will shake out:  
Best Picture – Drama
Will win: The Fabelmans
Could win: Elvis
After being declared the frontrunner before anyone had even seen it, Steven Spielberg's The Fabelmans appears to be losing some momentum in the Best Picture Oscar race. But could the Golden Globes put it back on track? 
At the Oscars, The Fabelmans' biggest competition is currently Everything Everywhere All at Once. But at the Globes, that film is nominated in a different Best Picture category, Musical or Comedy. So we think the Hollywood Foreign Press Association will get behind Spielberg's semi-autobiographical drama the same way they backed The Power of the Dog and Nomadland during the past two years at a time when both seemed destined for Oscar gold. To honor The Fabelmans would be, in some ways, to honor Spielberg's entire career considering the film is so personal. Besides, Spielberg movies have actually fared better at the Golden Globes than the Oscars; Saving Private Ryan and West Side Story both won a Best Picture Golden Globe, though that's mainly thanks to the Globes having two of these awards.  
On the other hand, The Fabelmans didn't perform as well as expected in the nominations, missing nods for Paul Dano and Judd Hirsch. So believe it or not, the surprise dark horse might be Baz Luhrmann's Elvis. Let's not forget that the HFPA shocked pundits in 2019 by giving this top prize to the Queen biopic Bohemian Rhapsody. So it would make sense for them to embrace another splashy musical biopic, and voters clearly loved Elvis based on Luhrmann earning an unexpected Best Director nod. 
Avatar: The Way of Water also shouldn't be counted out considering the first film won in this category. But it's possible Avatar and Top Gun: Maverick could split the vote among those looking to honor a big blockbuster. And if Top Gun were going to win, Tom Cruise probably wouldn't have been snubbed for Best Actor, and Joseph Kosinski probably would have been nominated for Best Director. The only movie that seems like a long shot to win, though, is Tár. It could be a bit too cryptic and emotionally cold for the HFPA, especially when voters know they'll be honoring it in another category. 
Best Picture – Musical or Comedy 
Will win: Everything Everywhere All at Once
Could win: The Banshees of Inisherin
It comes down to a movie about hot dog fingers and a movie about a man cutting off his fingers. 
Everything Everywhere All at Once has emerged as a surprisingly strong Oscar contender in recent weeks after winning at the Gotham Independent Film Awards and racking up numerous critics' prizes. It also has six Golden Globe nominations, the second most of any film and even more than The Fabelmans, indicating broad support within the HFPA. If voters want to give a boost to at least one contender that's seemingly on a path toward the Best Picture Oscar, hoping to demonstrate they're still a relevant precursor worth paying attention to, wins for The Fabelmans and Everything Everywhere All at Once may be the way to go.
But watch out for The Banshees of Inisherin, which overperformed in the Globe nominations with an impressive eight nods, the most for any film since 2003's Cold Mountain. That certainly doesn't mean a win is guaranteed; Mank earned the most nominations in 2021, yet didn't win a single trophy. Still, if the chaotic wackiness of Everything Everywhere is too out there for the HFPA, Banshees could be the go-to, more grounded alternative. 
Best Director
Will win: Steven Spielberg (The Fabelmans)
Could win: Daniel Kwan and Daniel Scheinert (Everything Everywhere All at Once)
The thinking with The Fabelmans winning Best Picture is that honoring it will also be a way to honor Steven Spielberg's entire lifetime of contributions to cinema. But even if voters go a different way for Best Picture, they can do so by giving him Best Director for the first time since 1999. So it's likely the HFPA will check Spielberg's name here to ensure he doesn't walk away empty-handed, even if The Fabelmans loses the top prize. Besides, what film is more inextricably linked to the man who made it than the one about the man who made it? 
Spielberg's main competition is Daniel Kwan and Daniel Scheinert for Everything Everywhere All at Once, a spectacular filmmaking achievement full of visual spectacle. They could pull off an upset if the HFPA is high on that film, but it won't be easy given their name recognition isn't nearly as strong. 
Best Actor – Motion Picture Drama
Will win: Austin Butler (Elvis)
Could win: Brendan Fraser (The Whale)
As previously mentioned, the Globes loved Bohemian Rhapsody, not only giving Rami Malek an award for his Freddie Mercury performance, but also awarding the film Best Picture – Drama. This year, the HFPA clearly also loved Elvis based on its surprise Best Director nomination. The kind of transformative performance into a real person that Butler gives is catnip for awards bodies, and besides, voters could see this as their best chance to honor Elvis if they're going for The Fabelmans in Best Picture and Best Director. 
But then there's the question of Brendan Fraser. He has a complicated history with the HFPA after accusing the group's former president of groping, and the actor has confirmed he won't attend this year's ceremony as a result. You'd assume that would make voters more likely to vote for Butler, as opposed to someone who they know won't be present to give a speech — unless the way Fraser was treated by the HFPA makes them feel so badly, they're inclined to give him the prize in hopes it will set things right. Spoiler alert: it won't.  
Best Actress – Motion Picture Drama
Will win: Cate Blanchett (Tár)
Could win: Michelle Williams (The Fabelmans)
The Best Actress Oscar race seems like it's down to Cate Blanchett and Michelle Yeoh, so given the latter is in a different category at the Globes, this should be an easy win for Blanchett. She undeniably delivers a tour de force in Tár, possibly the best performance of her career, and it's not even necessary to like the film itself to recognize that. Plus, the HFPA has historically loved Blanchett, who has won three times and has a whopping 12 nominations.  
But let's not fully count out Michelle Williams, another HFPA favorite who has been nominated seven times and has the benefit of starring in a more accessible film than Tár. Some might see her performance in The Fabelmans as too "big," but as far as the HFPA is concerned, there's no such thing. 
Best Actor – Motion Picture Musical or Comedy
Will win: Colin Farrell (The Banshees of Inisherin)
Could win: Diego Calva (Babylon)
This may be the category that's easiest to predict, as Colin Farrell has surely got this in the bag for The Banshees of Inisherin. He's one of three Oscar frontrunners this year along with Austin Butler and Brendan Fraser, but he has the benefit of not competing against either of them thanks to being in the Musical or Comedy category. Besides, he's starring in a film that received a whopping eight nominations and could win Best Picture, and critics have dubbed it one of his best performances ever. 
The HFPA did seem to really like Babylon, though, given it received as many nods as The Fabelmans. So if we had to choose a dark horse, it would be Diego Calva. But a win by anyone other than Farrell would be a shock. 
Best Actress – Motion Picture Musical or Comedy
Will win: Michelle Yeoh (Everything Everywhere All at Once)
Could win: Margot Robbie (Babylon)
Given the Best Actress Oscar race appears to be down to Cate Blanchett and Michelle Yeoh, it stands to reason both will win their respective Globes. Besides, Yeoh has never even been nominated for a Globe before let alone won, so voters will likely feel moved to finally recognize her for her years of great work. 
Her main competition is Margot Robbie, but defeating Yeoh will be tough given Everything Everywhere isn't as divisive as Babylon, and the latter is also a bit more of an ensemble. 
Best Supporting Actor – Motion Picture
Will win: Ke Huy Quan (Everything Everywhere All at Once)
Could win: Brendan Gleeson (The Banshees of Inisherin)
Ke Huy Quan has emerged as a dominant Oscar frontrunner, which makes sense given he's arguably the heart of Everything Everywhere All at Once. But he also has the most compelling narrative of this year's nominees as a former child star who quit acting for 20 years due to difficulty finding roles, only to make his grand return thanks to this film. Who wouldn't want to get behind that kind of heartwarming comeback story and see Short Round stand on stage triumphant? 
Brendan Gleeson would be the possible surprise based on the strength of The Banshees of Inisherin. But he doesn't have nearly as strong of a narrative as Quan — or much of a narrative at all — and there's always the danger of Gleeson splitting the Banshees vote with his co-star, Barry Keoghan. Quan benefits from being the only representative from Everything Everywhere in the category. 
Best Supporting Actress – Motion Picture
Will win: Jamie Lee Curtis (Everything Everywhere All at Once)
Could win: Kerry Condon (The Banshees of Inisherin)
When Tom Cruise was snubbed for Best Actor this year, some wondered whether his public criticism of the HFPA — which included giving back his Golden Globes — played a part. Well, with Jamie Lee Curtis, it's the opposite. She was one of the few people in Hollywood to stand with HFPA amid the controversy over its lack of diversity and alleged ethical lapses. Indeed, she was the only celebrity to appear (virtually) at 2022's show, which NBC refused to air due to the backlash. Curtis has also been nominated for a whopping eight Golden Globes and won twice, whereas she's never been nominated for an Oscar. So she loves the HFPA, and the HFPA loves her, which could translate into a win — especially given she's been picking up steam in the Oscar race and actively campaigning for the award. 
If voters really have Banshees fever, though, they could go with Kerry Condon. She seems like the more likely supporting winner than Brendan Gleeson, as she arguably has the more emotional role in the film, whereas Gleeson's character can come across as a bit inscrutable. 
Best Screenplay
Will win: The Banshees of Inisherin
Could win: Everything Everywhere All at Once
Generally speaking, The Banshees of Inisherin is seen as more of a writing achievement than an achievement in directing; it was written and directed by a playwright, after all, and certainly isn't the assault on the senses visually that Everything Everywhere All at Once is. So if the HFPA loved both Banshees and Everything Everywhere, their way of honoring both could be giving the latter Best Picture, but the former Best Screenplay. This screenplay prize doesn't always align with Best Picture, after all. Just last year, Belfast defeated The Power of the Dog to win Best Screenplay, but the latter still won Best Picture.
That doesn't mean Everything Everywhere isn't a serious contender, though, as it certainly also boasts a creative script. But we're leaning toward a win for the established playwright — who has already won a screenplay Golden Globe for Three Billboards Outside Ebbing, Missouri — over the first-time nominees.
Best Original Score
Will win: Justin Hurwitz (Babylon)
Could win: John Williams (The Fabelmans)
Will HFPA voters take the opportunity to honor John Williams a potentially final time? The legendary composer has said he may retire from working on films after Indiana Jones and the Dial of Destiny, in which case The Fabelmans would be his final score for a Steven Spielberg-directed film. That could mean voters will feel the urge to honor perhaps the greatest film composer to ever live again while they still can.
On the other hand, Williams hasn't won this Golden Globe for best score since 2006, and the film score that arguably sticks with viewers more than any other is Justin Hurwitz's for Babylon. It does a lot to underline that film's sense of cocaine-fueled anxiety, and it's present throughout nearly the entire movie. The Fabelmans' score, on the other hand, is more subtle, and the film also makes use of pre-existing classical music in key scenes, so voters could hold that against it. Besides, Hurwitz has already won this award for Damien Chazelle's last two films, First Man and La La Land. 
Best Original Song
Will win: "Hold My Hand" – Lady Gaga (Top Gun: Maverick)
Could win: "Lift Me Up" – Rihanna (Black Panther: Wakanda Forever)
Is Top Gun: Maverick really going to walk away from the Golden Globes totally empty-handed? Maybe not, as Lady Gaga has a solid chance of taking Best Original Song for "Hold My Hand." She already won this once for "Shallow" from A Star Is Born, and with her help, the HFPA can avoid the bad look of completely snubbing one of the year's biggest movie phenomenons after its star criticized them.
But Rihanna is certainly in the mix for "Lift Me Up," which may not be a particularly standout song on its own, but plays at a particularly emotional moment in Black Panther: Wakanda Forever while the audience is feeling real grief over Chadwick Boseman's death. 
Best Picture – Animated
Will win: Guillermo del Toro's Pinocchio
Could win: Turning Red
Of the five animated feature nominees, Guillermo del Toro's Pinocchio is the only one with additional nominations outside of this category; it's also nominated for Best Original Score and Best Original Song. So if voters liked it enough for three nods, they'll probably give it this win, particularly because it's one of the year's most acclaimed animated films and the passion project of an award-winning filmmaker.
Of course, voters could just be lazy and almost instinctively check off the Disney film in contention, in this case Turning Red. After all, the studio tends to dominate this category more often than not. But the HFPA has shown a willingness to go for a more interesting pick over the safe Disney choice, as when they gave this award to Missing Link over Frozen II and Toy Story 4 in 2020.
Best Picture — Non-English Language
Will win: All Quiet on the Western Front 
Could win: RRR
One of 2022's biggest surprise movie phenomenons was the three-hour Indian epic RRR, a movie that wowed critics with its hilariously over-the-top action sequences and elaborate dance numbers. 
It's a strong nominee to win this award, especially since it's the only foreign-language contender with an additional nomination (for Best Original Song). But we're thinking All Quiet on the Western Front may have the edge, in part because it's a harrowing war drama that could be viewed as more "important" than a fun, unapologetically silly blockbuster like RRR. More importantly, though, All Quiet on the Western Front has Netflix's mighty awards campaign behind it, and we've already seen evidence that it could overperform this season, as it was short-listed in a surprising number of Oscar categories. 
Best Drama Series
Will win: Severance
Could win: The Crown
Moving over to TV, the HFPA has already given its top drama prize to The Crown twice, in 2017 and again in 2021. So a third win would be the safe bet here. On the other hand, this season of The Crown wasn't as well-received as the others, and the HFPA has been known to sometimes honor freshman shows in a surprise pick over the established favorite, as when The Affair won in 2015 and Mr. Robot won in 2016, in both cases beating Game of Thrones.  
This year, that freshman drama that pulls off the surprise victory could be Severance, the acclaimed Apple TV+ series that became a water cooler hit in 2022, and you can bet Apple will be sparing no expense campaigning for the win. Another freshman contender worth considering is House of the Dragon. But unlike at the Emmys, Game of Thrones actually never won the top prize at the Golden Globes, so it seems unlikely its prequel will. 
Best Musical or Comedy Series
Will win: Abbott Elementary
Could win: The Bear  
The top comedy race at the Emmys last year looked like it was down to the reigning champion, Ted Lasso, and the newcomer, Abbott Elementary. Ted Lasso ended up winning, but it wasn't nominated at the Globes because it didn't air a new season in time. So will it finally be Abbott's time to shine? The ABC series has received euphoric reviews after breathing new life into the network comedy, and HFPA voters may want to be able to say they gave it a top prize before the Emmys. Besides, Abbott Elementary has the most nominations of any show this year. 
But let's not forget that the comedy frontrunner, Ted Lasso, actually lost in this category last year to Hacks, and voters have had some unexpected picks for best comedy before like Mozart in the Jungle and The Kominsky Method. So if the HFPA wants to go for a newer contender that's more of a dark horse, that could be The Bear. The show premiered more recently than Abbott Elementary, so it could be the pick for those who want to honor a newcomer —  so long as voters don't mind that it's arguably more of a dramedy than a flat-out comedy. 
Best Limited Series, Anthology Series or Television Motion Picture
Will win: The White Lotus 
Could win: Dahmer – Monster: The Jeffrey Dahmer Story
The White Lotus absolutely dominated at the Emmys for its first season, and the second season — the one that's nominated at the Golden Globes — is fresh in voters' minds. This should probably be an easy win, then.
But the HFPA does love its curveballs, and there's another show that's fairly fresh and was a major phenomenon: Netflix's Dahmer – Monster: The Jeffrey Dahmer Story, which actually has the same number of nominations as The White Lotus. Will voters be dissuaded by the criticism from the Dahmer victims' families and claims that the show is exploitative, though? This is the same body that nominated Blonde, so probably not. 
Best Television Actor — Drama Series
Will win: Bob Odenkirk (Better Call Saul)
Could win: Adam Scott (Severance)
This is Bob Odenkirk's fifth nomination for Better Call Saul, but he has yet to win. Now is probably the time, especially considering it was the show's final season combined with the fact that he literally almost died making it; Odenkirk famously survived an on-set heart attack during production. He didn't win at the Emmys, but his competition was also more fierce with nominees from Succession and Squid Game who aren't eligible at the Globes.
Odenkirk's main competitor is Adam Scott, though, especially if Severance wins the top prize.  
Best Television Actress — Drama Series
Will win: Zendaya (Euphoria)
Could win: Emma D'Arcy (House of the Dragon)
Zendaya is now a two-time Emmy winner for the HBO phenomenon Euphoria, but believe it or not, she wasn't even nominated at the Golden Globes for season one. The HFPA surely feels embarrassed about that at this point, enough to make it up to her with a win.
They could also go with Emma D'Arcy from House of the Dragon, though keep in mind, Game of Thrones only ever won a single Golden Globe during its entire run (for Peter Dinklage), and the HFPA didn't like the show enough to nominate Paddy Considine or Matt Smith. We're also not counting out Imelda Staunton for The Crown, but it may not help that this season was less focused on Queen Elizabeth II than in past years. 
Best Television Actor — Musical or Comedy Series
Will win: Jeremy Allen White (The Bear)
Could win: Bill Hader (Barry)
The HFPA loves to crown a first-time winner who the Emmys haven't already recognized, even if that means overlooking more established names. In 2020, for instance, they gave this award to Ramy Youssef for Ramy instead of Bill Hader for Barry, and the year before, they also overlooked Hader in favor of Michael Douglas for The Kominsky Method, a show that has never won a single Emmy.
So we see them overlooking Hader yet again and going with the underdog nominee for the first time: Jeremy Allen White for The Bear. Yes, chef! 
Best Television Actress — Musical or Comedy Series
Will win: Jenna Ortega (Wednesday)
Could win: Quinta Brunson (Abbott Elementary)
We see Abbott Elementary winning the top comedy prize, so you'd think a win for Quinta Brunson would go along with that — especially considering she's not only the star, but also creator of the show. 
On the other hand, the HFPA has shown it has no problem ignoring the obvious pick to recognize someone unexpected who's more of a newcomer, as when they gave this award to Gina Rodriguez for Jane the Virgin and Rachel Bloom for Crazy Ex-Girlfriend — in both cases over Julia Louis-Dreyfus for Veep. That newcomer this year would be Jenna Ortega. The 20-year-old has been completely blowing up in recent months thanks to her performance on Wednesday, and the Globes may find the opportunity to get behind this rising star irresistible. Plus, they clearly liked the Netflix show considering it's nominated for the top comedy prize. 
The fact that Brunson is the creator and writer of Abbott Elementary could also actually work against her in the case, as voters will feel like they're already honoring her achievements by awarding the show itself the top comedy prize. Ortega better be planning to dance her way to the stage. 
Best Actor in a Limited or Anthology Series or Television Film
Will win: Evan Peters (Dahmer – Monster: The Jeffrey Dahmer Story)
Could win: Sebastian Stan (Pam & Tommy)
Given the HFPA sometimes likes to get behind a recent show that hasn't yet been showered with Emmy love, Ryan Murphy's Monster: The Jeffrey Dahmer Story fits the bill. It was one of Netflix's most popular shows of all time, and star Evan Peters hasn't yet been honored for his work, so the HFPA will likely jump at the chance to do so. 
It also helps that Dahmer is fresher in voters' minds than some of the other contenders, though perhaps Sebastian Stan could squeeze out a victory for Pam & Tommy instead; that seems like the kind of splashy, star-studded, slightly controversial series the HFPA might love. 
Best Actress in a Limited or Anthology Series or Television Film
Will win: Amanda Seyfried (The Dropout)
Could win: Jessica Chastain (George & Tammy)
Amanda Seyfried has already been showered with praise for her performance as Elizabeth Holmes on The Dropout, and she easily won the Emmy. So will the HFPA be inclined to go another way? In this case, Seyfried's performance is so impressive, we think they'll just stick with the obvious pick. 
But if the HFPA does want to go with a surprise, they could be the first to honor Jessica Chastain for her performance as Tammy Wynette on George & Tammy. Like Seyfried, she's a big star taking on a transformative role as a real person on TV. But George & Tammy will be fresher in voters' minds, having just premiered in December, whereas The Dropout debuted nearly a year ago. Plus, it helps that Chastain has the momentum of coming off an Oscar win. Still, Seyfried's career-best performance is probably undeniable. 
Best Supporting Actor — Television Series 
Will win: John Turturro (Severance)
Could win: John Lithgow (The Old Man)
John Turturro gives an emotional supporting performance on Apple's Severance in a storyline that pairs him with Christopher Walken, so this seems like a good place to honor the show, even if it comes up short in the other categories we have it predicted in. It helps that Turturro has been around for years and was first nominated in 1995 for Quiz Show, but he's never won, so he could be seen as overdue for some recognition. 
John Lithgow is also a possible contender for The Old Man. He's already won two Golden Globes, though none in the last ten years. 
Best Supporting Actress — Television Series 
Will win: Elizabeth Debicki (The Crown)
Could win: Sheryl Lee Ralph (Abbott Elementary)
Ask any Crown fan to name the standout of season five, and they'll tell you it was Elizabeth Debicki, who earned rave reviews for her performance as Princess Diana. She'll probably take this prize, which also went to a Crown star for its previous season when Gillian Anderson won for playing Margaret Thatcher.
But Sheryl Lee Ralph is also very much in the mix for Abbott Elementary, particularly after winning at the Emmys and delivering possibly the night's most memorable speech. Still, she's at a disadvantage in that the Globes, weirdly, mix comedy and drama in the supporting acting categories, and they haven't honored anyone from a comedy with this award in the past decade. 
Best Supporting Actor — Limited or Anthology Series or Television Film
Will win: F. Murray Abraham (The White Lotus)
Could win: Paul Walter Hauser (Black Bird) 
It was easy for Emmy voters to just check off The White Lotus in every category it was nominated in last year, and the HFPA might follow suit, honoring F. Murray Abraham for the show's most recent season. Like John Turturro, he's another beloved actor who's been turning in great performances for years, but he hasn't won a Globe since Amadeus in 1985. A potential surprise, though, would be Paul Walter Hauser, who's been earning buzz for his performance on Apple's Black Bird. 
Best Supporting Actress — Limited or Anthology Series or Television Film
Will win: Jennifer Coolidge (The White Lotus)
Could win: Niecy Nash (Dahmer – Monster: The Jeffrey Dahmer Story)
Jennifer Coolidge has been giving one of the best performances of her career on The White Lotus, and she brought the house down at the Emmys after delivering a hilarious speech — capped by her dancing to the wrap-it-up music. She probably secured the Globe win with that speech alone; who wouldn't want to see Coolidge up on stage accepting an award again? Besides, she actually lost for the first season at the Globes, so voters may want to make it up to her. 
The White Lotus' Aubrey Plaza is also nominated, but it's hard to imagine someone winning for that show besides Coolidge. So the potential surprise could be Niecy Nash, who had a standout role as Jeffrey Dahmer's neighbor on Dahmer and has never been nominated at the Globes before. Still, we expect to see Coolidge up on stage again … and hopefully leaning into making her speech a full-on dance number.
January 9, 2023 January 9, 2023 The Golden Globe Awards will attempt a comeback this week after being yanked from the air over a diversity scandal. So just how chaotic will the winners be this year, and could the group's picks shake up the Oscar race? Here's our best attempt to predict how an often…
January 9, 2023 January 9, 2023 The Golden Globe Awards will attempt a comeback this week after being yanked from the air over a diversity scandal. So just how chaotic will the winners be this year, and could the group's picks shake up the Oscar race? Here's our best attempt to predict how an often…