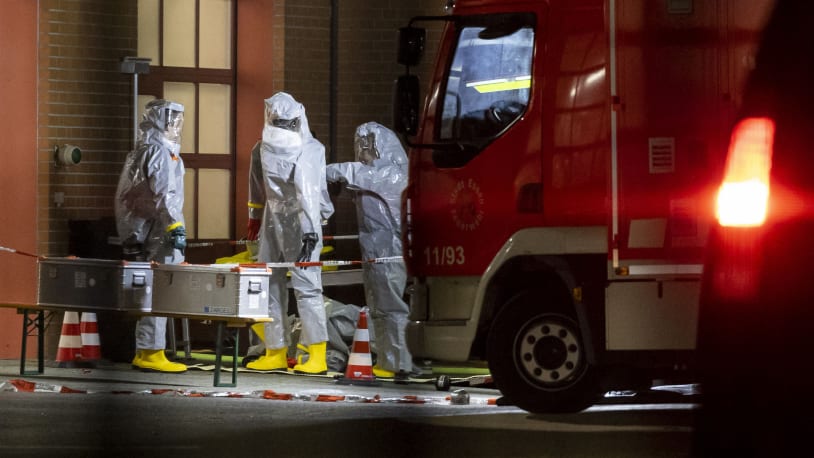 Iranian man detained in Germany for allegedly plotting chemical attack
An Iranian man was detained in Germany on suspicion of plotting a suspected chemical attack, officials said Sunday. 
Police from the German state of North Rhine-Westphalia said in a statement that the unidentified 32-year-old man was "suspected of having prepared a serious act of violence that endangers the state by procuring cyanide and ricin to commit an Islamist-motivated attack." Both substances are extremely toxic, and even small amounts of the latter can easily kill a human.
The man's home in the town of Castrop-Rauxel was raided after this information was obtained, and he was taken into custody along with one other person suspected of being an accomplice to the plot. Herbert Reul, a North Rhine-Westphalia security official, told German news agency dpa that "we had a serious tip that led the police to intervene that very night."
The Associated Press reported that this tip came from U.S. security officials, seemingly in line with a local prosecutor who told reporters the time was from a "friendly foreign intelligence service."
While the search of the man's residence didn't turn up any toxic substances, the investigation remains ongoing. 
According to dpa, it is not thought that this man was working at the behest of the Iranian government. However, officials believe he was a member of a minority extremist group of Sunni Muslims. 
"Our security services take any information about Islamist terror threats very seriously, and act," Interior Minister Nancy Faser said in a statement, lauding the quick efforts of law enforcement to detain the suspetc. 
An Iranian man was detained in Germany on suspicion of plotting a suspected chemical attack, officials said Sunday.  Police from the German state of North Rhine-Westphalia said in a statement that the unidentified 32-year-old man was "suspected of having prepared a serious act of violence that endangers the state by procuring cyanide and ricin to commit…
An Iranian man was detained in Germany on suspicion of plotting a suspected chemical attack, officials said Sunday.  Police from the German state of North Rhine-Westphalia said in a statement that the unidentified 32-year-old man was "suspected of having prepared a serious act of violence that endangers the state by procuring cyanide and ricin to commit…