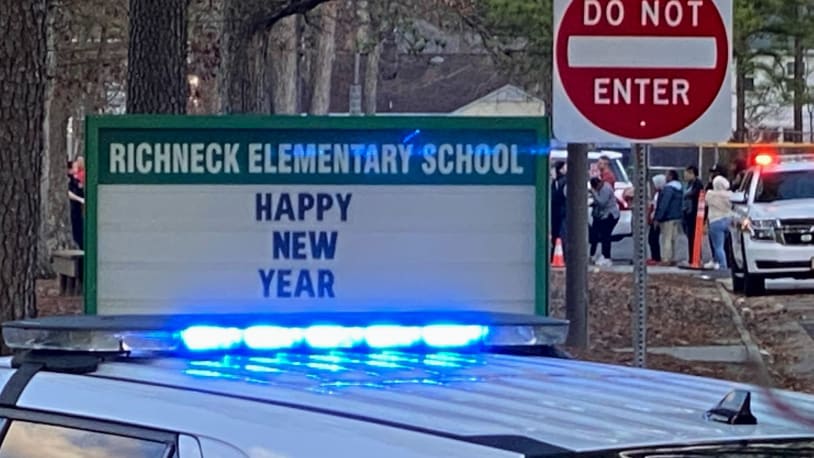 Virginia teacher shot and wounded by 6-year-old in classroom
A schoolteacher in Virginia was shot and severely wounded by a six-year-old student in a first-grade class on Friday, law enforcement officials said. 
The shocking incident occurred at Richneck Elementary School in the city of Newport News. Authorities said the unidentified 30-year-old teacher was taken to the hospital with "life-threatening" injuries, according to a statement from the Newport News Police Department, though her condition had slightly improved by Friday afternoon. 
While details of the shooting have not been released, Newport News Police Chief Steve Drew told reporters during a press conference, "The individual is a six-year-old student. He is right now in police custody." 
Drew added, "We have been in contact with our commonwealth attorney and some other entities to help us best get services to this young man." 
The shooting is not believed to have been accidental, and Drew said the suspect had shot the teacher once with a handgun. Officials are investigating how the gun could have ended up in the hands of a six-year-old, and Drew advocated for preventing violence among children. 
This sentiment was echoed by Newport News Public Schools Superintendent Dr. George Parker, who added during the press conference, "Today our students got a lesson in gun violence, and what guns can do disrupt to not only an educational environment but also a family, a community."
Joselin Glover, whose son is in the fourth grade at Richneck, told The Virginian-Pilot, "My heart stopped. I was freaking out, very nervous. Just wondering if that one person was my son."
A schoolteacher in Virginia was shot and severely wounded by a six-year-old student in a first-grade class on Friday, law enforcement officials said.  The shocking incident occurred at Richneck Elementary School in the city of Newport News. Authorities said the unidentified 30-year-old teacher was taken to the hospital with "life-threatening" injuries, according to a statement from…
A schoolteacher in Virginia was shot and severely wounded by a six-year-old student in a first-grade class on Friday, law enforcement officials said.  The shocking incident occurred at Richneck Elementary School in the city of Newport News. Authorities said the unidentified 30-year-old teacher was taken to the hospital with "life-threatening" injuries, according to a statement from…