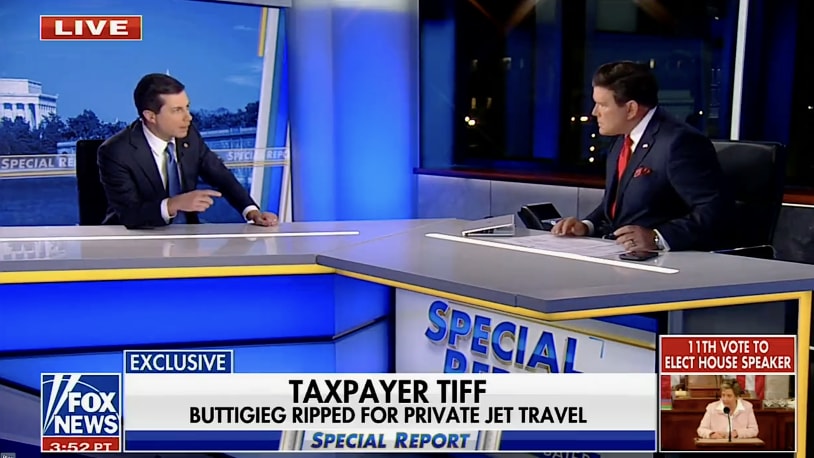 Pete Buttigieg goes on Fox News to tackle Fox News criticism of husband's travel to 'sporting event'
Fox News Digital reported Wednesday that Transportation Secretary Pete Buttigieg brought his husband, Chasten, with him on a "military aircraft" to attend a "sporting event" in the Netherlands last May. Fox News anchor Brett Baier on Thursday asked Buttigieg about various "controversies" from his tenure in President Biden's Cabinet, including that he brought "Chasten on a military aircraft to attend a sporting event in the Netherlands."
"That's quite a spin to put on it," Buttigieg said, pointing out that he was leading a presidential delegation to the fifth Invictus Games to support competing wounded U.S. service members. "The diplomatic protocol on a presidential delegation is that the principal is often accompanied by their spouse," he said, and when Baier asked if he would reimburse taxpayers for his husband's travel, Buttigieg shot back, "Of course not." He listed previous officials who led presidential delegations to the Invictus games, including first ladies Michelle Obama and Melania Trump, and most recently, Defense Secretary Mark Esper and his wife.
"And I guess the question on my mind is, if no one's raising questions about why Secretary Esper and his wife led that delegation, as well they should have, then why is it any different when it's me and my husband?" Baier replied, "Understood," and moved on.
Baier also pressed Buttigieg on other critiques, including his paternity leave during part of the supply chain crisis, his vacation before a looming (and ultimately averted) rail strike, and the flight cancelations during a big storm before Christmas, most notably by Southwest Airlines. Buttigieg appeared happy to answer all the "nonsense" criticisms. 
Buttigieg: And what happened with that supply chain crisis? Well, before the holidays last year, there were all kinds of news organizations, not just this one, running stories, saying Christmas was going to be canceled. What actually happened? pic.twitter.com/3bXWSfMYJM

— Acyn (@Acyn) January 5, 2023
Regarding the Southwest meltdown, Buttigieg said the airline had failed to invest in its scheduling system for years, and while he doesn't run the airline, he does regulate it. "So what we're doing right now is using the full force of this department to make sure customers get taken care of," he said. "And this is important for anybody who's watching this to know: You are required to get your money back if your flight was canceled and you're required to get it within seven days," and "they are now required to cover lodging, to cover ground expenses, to cover hotels for these delays and cancelations that were their responsibility."
Fox News Digital reported Wednesday that Transportation Secretary Pete Buttigieg brought his husband, Chasten, with him on a "military aircraft" to attend a "sporting event" in the Netherlands last May. Fox News anchor Brett Baier on Thursday asked Buttigieg about various "controversies" from his tenure in President Biden's Cabinet, including that he brought "Chasten on…
Fox News Digital reported Wednesday that Transportation Secretary Pete Buttigieg brought his husband, Chasten, with him on a "military aircraft" to attend a "sporting event" in the Netherlands last May. Fox News anchor Brett Baier on Thursday asked Buttigieg about various "controversies" from his tenure in President Biden's Cabinet, including that he brought "Chasten on…