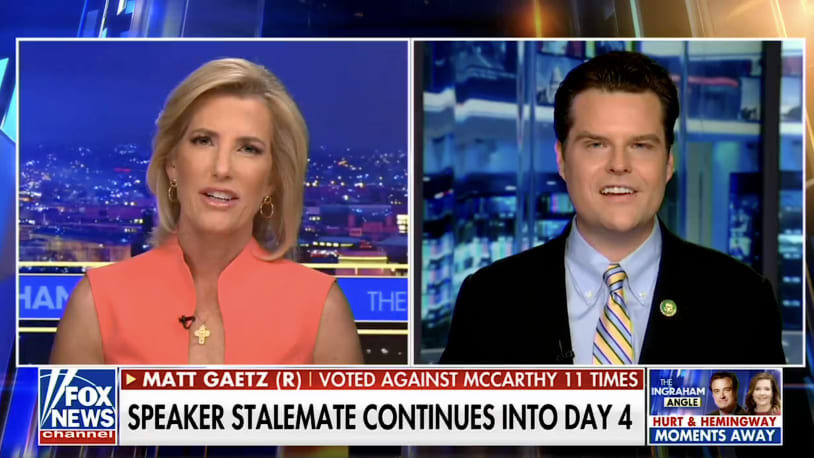 Matt Gaetz says he'll resign 'if Democrats join up to elect a moderate Republican' to elect a speaker
If House Republican leader Kevin McCarthy is bothered by the humiliation of losing vote after vote after vote for House speaker, he's not showing it publicly. "If this takes a little longer, and it doesn't meet your deadline, that's okay," he told reporters after losing the 11th vote Thursday night. "Because it's not how you start, it's how you finish."
On CNN Thursday night, Jake Tapper half-joked that he's betting on 29 ballots before the House breaks it deadlock, and he laid out three possible resolutions: Changing the rules so a speaker can be elected with a plurality instead of a 218-vote majority, settling on a consensus candidate, and "just grinding it out" until "somebody blinks." Tapper said he's leaning toward the "grind-out" option, but he's not sure McCarthy will emerge victorious since "there seem to be at least five or six House Republicans that will never vote" for him. He can only lose four Republicans.
Allowing a plurality of votes to elect a speaker would be risky for Republicans, because Democratic House leader Hakeem Jeffries (D-N.Y.) is consistently getting a 212-vote plurality. A consensus candidate could either be one amenable to 218 Republicans or to some coalition of moderate Republicans and Democrats. One of McCarthy's biggest tormentors, Rep. Matt Gaetz (R-Fla.), told Fox News host Laura Ingraham late Thursday that "if Democrats join up to elect a moderate Republican, I will resign from the House of Representatives."
McCarthy could also neuter Gaetz and his fellow "Never-Kevin" caucus by cutting a deal with Democrats himself. But, as he has during his entire congressional career, he's opting to make concessions to his hard-right detractors. His allies say they believe those giveaways will peel off most of the 20 dissident Republicans consistently voing against him. "Phase 2" would be to "aggressively apply pressure to the holdouts that remain until they can find a pathway for only four to vote against McCarthy," The Washington Post reports. As Friday morning, none of the 20 have flipped. 
Even if McCarthy's plan works, the concessions he has already made would leave him a weak speaker "at the mercy of the right wing at all times," The New York Times reports. In the meantime, he'll just have to put up with taunting from Gaetz and the other three or four Republicans who say they will never, ever, vote for him.
If House Republican leader Kevin McCarthy is bothered by the humiliation of losing vote after vote after vote for House speaker, he's not showing it publicly. "If this takes a little longer, and it doesn't meet your deadline, that's okay," he told reporters after losing the 11th vote Thursday night. "Because it's not how you…
If House Republican leader Kevin McCarthy is bothered by the humiliation of losing vote after vote after vote for House speaker, he's not showing it publicly. "If this takes a little longer, and it doesn't meet your deadline, that's okay," he told reporters after losing the 11th vote Thursday night. "Because it's not how you…